Commercial Carpet Tiles - Modular Carpet Flooring
In recent years, the carpet flooring market has been marked by a trend in commercial interior decoration that is opening up more and more space and attracting people's interest. It is about modular carpet tiles also known as heavy traffic carpets, which is the ideal affordable floor covering solution bringing warmth and style to corporate environments and any interior area.
Regarding the internal decoration of a company, the floor and the use of carpets is an important to factor to have a space with a fresh, avant-garde, and dynamic atmosphere. Are you thinking about decorating or re-decorating your office or conference room? Modular carpet tiles are a great solution.
Commercial carpet is a type of carpet that is made for heavy-duty areas. It is usually used in offices, hotels, or restaurants. They are also known as commercial-grade carpets. Commercial carpets are made from synthetic materials such as polypropylene and nylon, which give them excellent durability and resistance to stains. They can remain clean for longer because of the unique matting system underneath the carpet pile. These systems allow dirt to be deposited on the non-looped side of the carpet while trapping it within the loops where it remains invisible while looking fresh and clean from above. Commercial carpets can either have a frieze finish or a plush finish depending upon its use by end-user requirement - The former being preferred for office spaces. Apart from being stain resistant, commercial carpets have high abrasion resistance and low water absorption rates. This means that they are easy to clean and maintain, thus saving time and cost for you. Because it does not absorb liquids easily, spills dry up quickly on the carpet, ensuring a fast turnaround of cleaning or replacement when necessary.Commercial carpets can be installed in virtually any commercial environment, including restaurants, hospitals, airports, offices, and factories, among others. The pile comes in a wide range of colors that don't fade with time even after repeated usage and exposure to light, which is usually the case with cheaper grades of carpets such as residential grade carpets at home.
What Is Commercial Carpet Tile?
Commercial carpet actually refers to small square or rectangular carpet swatches (available in a range of shapes and sizes – 50 x 50, 25x100, 50x100, 60 x 60, 91.44 x 91.44 and 100x100 cm) made of Nylon or PP material that resembles a tile square shape. The mechanism of modular carpet is totally different from traditional carpet, as it consists of small partitions or planks that are arranged on the floor like a puzzle according to our needs. As carpet tiles are made up of independent parts, it is easier to change them from one location to another.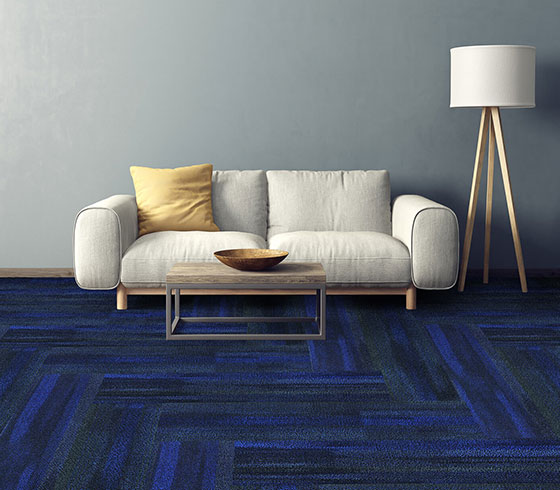 Commercial Carpet Flooring Advantages
Easy Installation - Extremely easy and versatile installation, user can simply place modular designs following the instructions indicated by the manufacturer to make them look great in any space.

Durability - The main using of modular carpet is protect the floor, be it from high traffic of people, pets, dirt, among others, therefore, this commercial carpet tiles are more wear-resistant and dirt-resistant.

Easy Maintenance - When stained with permanent substances or breaks, modular carpet tiles allow you to replace only the damaged section, which in turn helps save money on cleaning or maintenance services.

Ease of Mobility - Can be easily moved and laid freely, Unlike these, modular carpets have the advantage that they are assembled and organized in independent modules that facilitate their mobility.

Flexibility To the Environment - Either for architectural reasons or for the distribution of furniture, carpet tiles are an excellent option for asymmetrical or uneven areas, it is possible to place only a small number of modules in order to cover the desired area.

Aesthetics Design - Endless possibilities to design and modify the order of the carpet tiles, which allow you to combine colors and patterns to your liking, in such a way that you can try different color palettes, mix smooth modules with patterns.

Acoustic Solution - Use carpet tiles or modular carpet in high traffic areas to reduce noise. In fact, these floor covering materials are being investigated as an important variable in the acoustic problem.
Commercial Carpet Tile Application
In terms of their mobility, durability, continuous reorganization, extremely easy installation, and ability to provide a fresh, dynamic and hygienic environment, modular carpet tiles have become a trend that has shaken the decoration market. Suitable for homes, offices, game rooms, schools, airports, casinos, and hotels, among others, this type of carpet has become essential for spaces with high traffic of people, as well as for floors that require unique design and customization.
Elegant, Quality and Functional Carpet Tile Suppliers & Manufacturers
At AccessFloorStore.Com, you can discover wide range of carpet tile collections that take into account the advantages of quality and price, provided by leading carpet flooring suppliers and manufacturers. First for style, then for acoustics, and finally for practicality, the carpet tiles or sheet carpets for wholesale here has become the most popular commercial carpet flooring as an excellent ally between style and pragmatism for your business.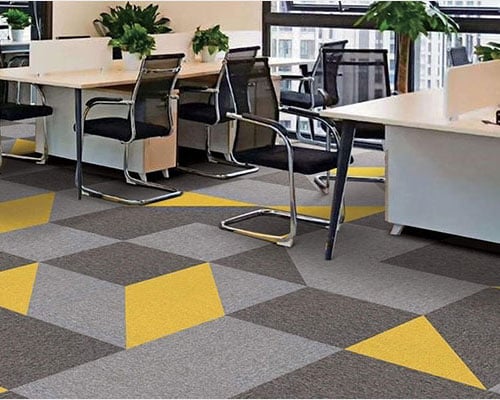 What are the advantages of using commercial carpets?
Commercial carpet cleaning is a very specialized service with many advantages to both shop owners and customers alike. A good, local commercial carpet cleaner is an excellent resource for keeping your store neat and clean. They can provide you with all sorts of amenities such as:
- Speed - Commercial cleaners understand how time-sensitive keeping a store's carpet clean is, so they work fast and efficiently at removing dirt and stains from your carpets. Emergency spill/stain removal services are also usually available 24 hours a day by most companies. This means if there's an accident with no warning or time to clean it up before opening or closing, then the company will come in right away to save the day.
Great equipment - Carpet cleaners use powerful, industrial-strength machines to clean carpets as quickly as they do. These devices are similar to those used by professionals but on a smaller scale to be transported from place to place easily by hand or with a small vehicle.
Indeed effective products - Many companies use environmentally safe and non-toxic cleaning solutions for their commercial customers. This is especially important if you have pets, children, or anyone else in your store who may come into contact with the cleaned carpet regularly. Non-toxic cleaners will not cause allergies or other health problems if they're accidentally ingested through licking paws, etc., which is excellent for all concerned since nobody wants to deal with a sick pet due to unclean carpets.
Different types of carpet - A cleaning company can handle all sorts of other rugs, even those damaged or are very old. For instance, if the chemical cleaner from a former commercial tenant has left a nasty stain on your otherwise spotless carpet, it's possible to remove this as well as many other difficult stains with advanced equipment and chemicals.
Carpet dyeing service - In some cases, it may be required that certain stains just won't come out no matter how hard you try, so instead of getting rid of an otherwise perfect piece of rugs, it's possible to dye over the stained area. Since dyeing is typically done before sewing together a carpet, finishing a rug should not be affected as a result.
As you can see, there are many advantages of using commercial carpet cleaning services, so it's probably best to find one as soon as possible unless you have the time and money to do it yourself.
How to choose the right commercial carpet?
Commercial carpets are widely used in restaurants, hospitals, and offices. They can be made of different materials such as nylon, wool, and polyester. Commercial carpet will make your office look more appealing and attract customers to do business with you. If you will purchase commercial carpet for your company or business, choose wisely by keeping these factors in mind:
Commercial carpets must be durable and long-lasting, which means they should be made of good quality material with a high denier count (this denotes the yarn's durability).
Commercial carpets must provide safety, especially if they will be placed on stairs or near swimming pools because people could slip on them if they are not non-slip type.
The colors of commercial carpets should be limited to two or three bold shades because if customers see too many colors, it will create a wrong impression. Commercial carpets should be stain-proof and easy to maintain.
Commercial Carpet Factory Buy From China? Advantages

Competitive price. Because of the short distance, so there is no expensive shipping cost. And most areas of China are manufacturing bases, so fewer production costs.

There's strict quality control during the process, from material to the final products; every product will be checked one by one before packing and sending out. Moreover, our QC team has over 20 years of experience working in this industry; they can guarantee all products' high quality at the first time.

Many kinds of designs for your reference; hundreds of designs are available every day; also, we have professional designers to make unique designs as per customers' requests (OEM).

The materials are 100% new wool, 100% nylon, or 80/20 (wool/nylon) for commercial carpets, all very soft and comfortable. Except for special requests, our price is based on the material; if you use another material with a similar quality level, we can provide a better price for you first.

What is considered commercial carpet?

Commercial carpet, also known as business flooring, is used to describe a specific type of carpet that can be purchased for office or commercial spaces. There are many types of commercial carpets available on the market today, explicitly designed with different functions, styles, and budgets in mind. Due to the many options available may take some research and investigation before you find a commercial carpet product that fits your specific needs.

Commercial carpets come in a variety of thicknesses and depths, which allows them to be suitable for a range of applications, including high traffic areas such as hallways and lobbies, low traffic areas such as conference rooms, showrooms, and executed along with other areas where comfort is of the utmost importance such as waiting and reception areas.
What does commercial carpet cost?
Commercial carpet costs can vary significantly by project, so it can be challenging to give an exact cost. The price for commercial carpet installation will depend on the type of carpet you choose, any design elements, and if you plan to replace existing flooring material when installing your new carpet.
There are dozens of styles, colors, and patterns available to meet all individual needs and tastes. Depending on the manufacturer or supplier, a one-square-yard minimum may apply before prices are available from them directly. If this is the case, consider using an experienced carpet retailer who will have a variety of choices in stock that may not be reflected online or through a quick quote.
Commercial carpets typically range between $6-$95 per square yard installed.
Commercial carpets typically range between $6-$95 per square yard installed.
What is the difference between commercial and residential carpets?
Commercial carpets are designed for use in high-traffic areas of commercial or industrial buildings. Commercial rugs are usually very durable so that they can stand up to heavy foot traffic, chemicals, stains, and wear and tear.
Commercial carpeting is available in both woven and tufted styles. Woven commercial carpets have the appearance of being machine-made, whereas tufted styles have a handcrafted quality. Because commercial mats are made with stain-resistant material, most tend to be dark colors that won't show dirt as readily as lighter colors would. The durability ensures their ability to hold up under daily wear and tear over time which may cause natural fibers used on residential rugs such as cotton and wool to fray more efficiently than commercial carpets. Commercial carpets are often made with materials such as nylon, polyester, or olefin fibers which help commercial carpeting maintain its shape and color for years of use without fading or soil ingress.
Commercial Carpeting Installation
When installing commercial carpeting in the workplace, there are a few things that you should keep in mind. Most building codes need commercial carpeting to be at least 2 feet away from any doors opening into the room where it is being installed. You will also want to make sure that your commercial carpet is installed with an adequate "cushion" underneath it so that it can effectively reduce noise levels while also providing sufficient comfort for its users. The cushion can be made of rubber or similar materials to ensure that the carpeting can effectively do its job.
Commercial Carpet Manufacturers
There are several manufacturers of commercial carpets on the market today, but one of the most prominent is Tandus Centiva. The company offers products for all types of commercial and industrial jobs and ensures customers with a product line that they can trust and use for years to come.
How much does the hotel carpet cost?
Carpet can add a lot of personality and style to a room in the home. While you probably don't want a rug throughout your entire home, it can look lovely in specific spaces such as bedrooms or living rooms. The cost of a hotel carpet is typically much lower than the carpet price for use in homes, but this doesn't mean that a hotel carpet isn't high-quality. Here's some information on what types of hotel carpets there are and how much they generally cost.
How long does commercial carpet last?
If you're in the carpet market, there are many different things you need to consider before picking out a style and color. You'll want to focus on things like your budget, how your home is decorated or furnished, and what type of lifestyle you lead. Another thing you should think about is how long the carpet will last.
If you go shopping for commercial carpet tiles, it's important to note that these aren't going to last forever. Most experts suggest replacing them every 10 years or so. So if your home has a few kids and pets running around all day, expect the wear on your flooring to happen more quickly than it would if you were living by yourself.
Since carpet is made to absorb spills and stains, you'll have to keep up with routine cleaning if you want it to last for a long time. If your flooring starts looking dingy or dirty much sooner than 10 years, it might be time to replace it. Then again, if you're not noticing any signs of wear after that period has passed, you can try stretching out its lifespan by giving it an occasional deep clean. However, once the fibers start showing through due to constant wearing away at the top layer, then it's safe to say that you should probably go ahead and make another purchase.
Deciding When To Replace Carpet?
If your pets are still young when your carpet reaches this 10-year mark, you'll probably want to hang onto it until they start scratching away at the material. At that point, it's going to be a lot less expensive to replace the flooring than having it repaired or replaced.
However, if your furry friends have already found their way into your heart and home, then you might not want to spend a ton of money on a new carpet just because they can't help being who they are. In these cases, you'll have to hold off on replacing the flooring until you can go back and fix some of those areas where there is permanent damage.
In addition to pets, another factor that'll impact how long your commercial carpet lasts is heavy foot traffic in certain areas. If this is an issue, think about finding an area rug with the same design as your flooring. That way, you can alternate which one you bring out or put away.
Why You Should Replace Carpet?
If you want to save money on energy costs, carpet is not the way to go. Most of this type of flooring doesn't allow heat and air through like hardwood does. If you're looking for something that'll help keep your home cooler during the summer months, check into purchasing hardwood planks or tiles instead.
For those who are concerned about their pets having accidents on the carpet, it's important to note that some carpets don't absorb liquids well at all. Instead, they soak up pee and leave a lingering odor behind.
Pets aren't the only reason you might want to switch out your commercial carpet. If you have a lot of noise coming from upstairs or elsewhere in your home, then installing hardwood flooring somewhere else could be a good solution for this problem.
If you're unsure whether it's time to replace the carpet in your house, some simple things can help point you in the right direction. For example, if your pets are ripping holes into the material or wearing away at its top layer, then perhaps it's time to invest in new flooring. And if every step on the stairs sounds like thunder shaking through your whole house, consider switching out your carpet for something more sound absorbent like tile.
Can you put padding under the commercial carpet?
If you're thinking about putting carpet padding under your commercial carpet, the answer is yes. It's possible to install padding under commercial carpeting in almost any situation where there isn't already an existing floor covering like ceramic tiles or natural stone like slate or marble.
However, it's essential to understand how thoroughly this will change your entire room. The padding adds thickness to the overall surface of the room, making it much more difficult for cabinets, chairs, and tables to roll easily across the floor. You may also find that standard-sized furniture doesn't always fit well when its legs are sunk several inches into a thick piece of foam beneath them.
Also, keep in mind that just because you can put something under that doesn't mean that you should. For example, if your carpeting comes already attached to a pad that's well suited to its needs, there may be no need to put anything else beneath it. The same goes for padding in areas where water is likely to accumulate.
What is the best commercial carpet?
Carpet is a type of flooring that is mainly made from synthetic or natural fibers. This can be used on hardwood floors and other surfaces as well. Carpet is famous because it gives more cushion and will make your home warmer during winter.
There are various types of carpet you can choose from depending on the area where you want to install them. The most important factors to consider are color, softness, pile height, thickness, water resistance, noise absorption properties, stain resistance, durability, and price. With so many options available in the market today, finding the best commercial carpet isn't easy, especially if you have no clue how to distinguish between value for money products vs. low-quality ones. Here's a buyer's guide that will help you make the right choice