All Steel Access Floor Panels
All-Steel Access Floor Panels - Full-Steel Raised Floor Tiles
All-steel access floor panel (Steel Raised Floor Tiles) is also referred to as the all-steel raised floor, which is made of high-quality steel plate by stamping and welding and injecting high-strength lightweight materials, its surface is coated by epoxy and electrostatic painting. All-Steel Raised Floor Panels to deliver solid strength and durability, excellent waterproof, fireproof and moisture-proof, suitable for the computer room flooring, equipment room flooring, server room flooring, data center flooring, monitoring room flooring and other areas with high load.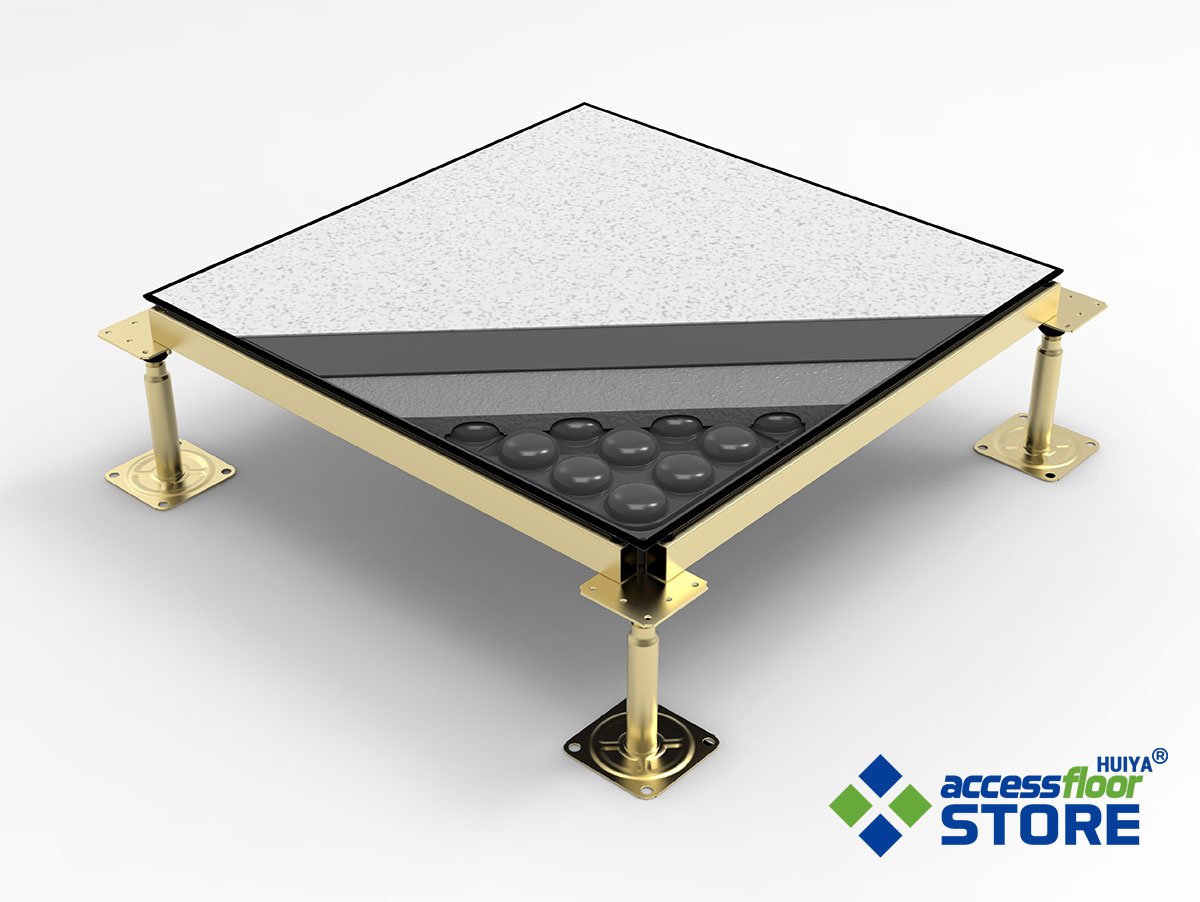 Materials, Structure, Components, and Features of HuiYa All Steel Raised Floor Panels
The All-Steel Raised Floor Panels offered on AccessFloorStore.com are manufactured by HuiYa with high-quality alloy cold-rolled steel plate, which is spot-welded after drawing. The surface is phosphatized and then electrostatically sprayed. The inner cavity is filled with standard pure cement, and the upper surface is coated with highly wear-resistant and fireproof HPL or PVC covering. Our full steel access floor panels are cast with cement in the stamped and welded metal shell to ensure the high durability and impact resistance of the Raised Floors. In addition, the mechanical structure of all-steel floor science makes it 30% more load-bearing than other floors of the same specification.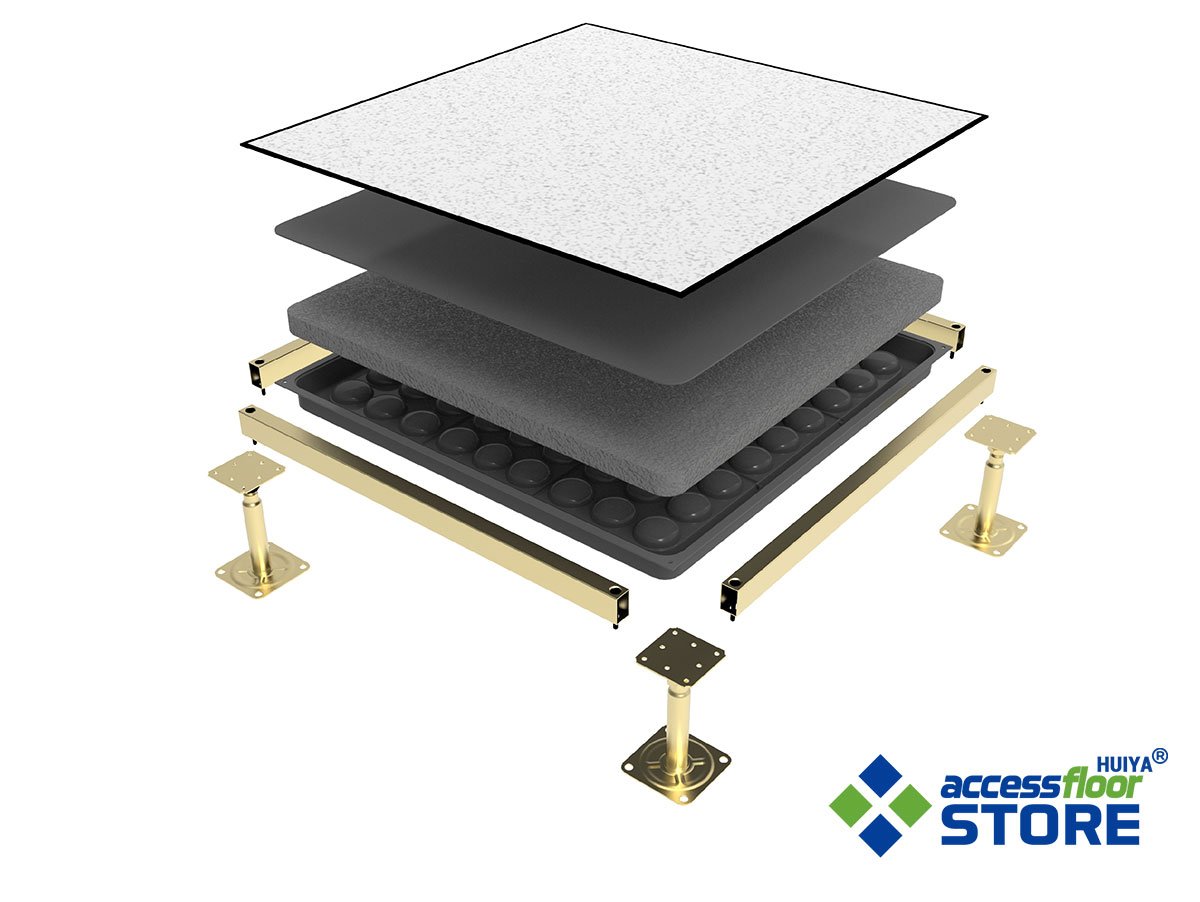 What Benefits Our All Steel Raised Floor Panels Can Offer?
On the basis of strict tolerance and high technology, HuiYa's non-combustible versatile steel panels are manufactured with excellent durability and convenient lightweight construction. Prominent high resistance to fire, load, and humidity ensure our Raised Floor Tiles can be widely used to computer room, data center and other areas in many industries! We can customize the access flooring solution according to local conditions, help customers save access floor costs while ensuring high quality and purchase the most satisfactory raised floor at the most affordable all-steel raised floor panel prices.
All Steel Access Floor Tile Features:
All steel welded construction

Good durability, easy to install and maintain

Non-combustible lightweight materials

Ultimate load performance

Powder paint finish for protection from corrosion

Solid electrical conductivity

A dust-free environment

Excellent fire resistance, Class A flame spread rating

Cost-Saving customized solutions, competitive access floor panel prices


Outstanding decorative design, comfort
All Steel Raised Flooring Application
Computer Rooms

Data Centers

Internet Service Providers


Telecom Switch Centers


Electrical / Telecom Closets


Offshore Drilling Platform Motor Control Centers


Industrial Control Rooms
All Steel Raised Panel Weight & Load Capacity
System Performance Criteria (Tested on Actual Understructure)

System Type

SYSTEM WEIGHT

STATIC LOADS

ROLLING LOADS

IMPACT LOADS

Panel

Understructure

Design Loads

Ultimate Loads

Safety Factor

10 Passes

10,000 Passes




Steel Bare Floor(SBF1000)

Conrner lock

7.8 lbs/ft2 (38kg/m2)

1000lbs (454kg)

Min. 2000lbs (Min. 908kg)

Min. 2

800lbs (363kg)

600lbs (272kg)

150lbs (68kg)

Bolted Stringer

8.2lbs/ft2 (40kg/m2)

1000lbs (454kg)

Min. 2000lbs (Min. 908kg)

Min. 2

800lbs (363kg)

600lbs (272kg)

150 lbs (68kg)