Hifloor Raised Floor System
HIFLOOR Raised Floor System - Egypt Best Access Floor Supplier
HIGH TOUCH CO. (HIFLOOR) is was founded in 2010 is one of the most competitive raises floor companies in the Arab Republic of Egypt, which supplies affordable and durable raised access floor systemin high quality raw materials, and various designs for the Egyptian and surrounding markets. As the Sole Agent of Huiya Factory from China, HIFLOOR has successfully provided solid and reliable services for many large-scale local projects and has become the pioneer supplier of raised floors in Egypt.
HIGH TOUCH CO. specializes in providing a wide variety of high quality raised floors which are welcomed by Egyptian consumers. They are distinguished by the presence of permanent goods of Chinese and Italian products (raised floor panels, support structures, and other accessories) in the company's warehouses in quantities that suit the requirements of the Egyptian market, professional flooring solution to meet customer's special requirements, a group of the best and most skilled technicians ensures a fast safe installation, sincere service covering all maintenance works for raised access floors.
Benefits of Choosing HIFLOOR Raised Floor In Egypt
Most reliable raised floor supplier in the Egyptian market with excellent quality

Offer the most cost-effective raised floor in the Egyptian market

Extensive experience in participating in the construction of various projects

The best cost-saving solution to meet customer's special requirements

Comprehensive products in stock for raised floor installation and refurbish

Skilled technicians in high floor's accuracy, speed, and safe installation

Perform all maintenance works for raised floors immediately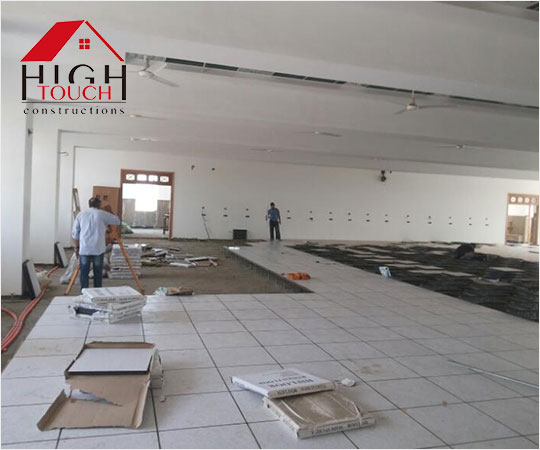 HIFLOOR Raised Floor Products
HIGH TOUCH promotes suitable solutions to provide flexible, durable, responsive, cost-efficient, and aesthetic raised floor system in commercial areas, offices, banks, casinos, educational areas, data centers, laboratory & clean rooms and technical facilities in Egypt. Their main products cover Calcium Sulfate Raised Floor, Wood Core Raised Floor, HPL Steel Raised Access Floor, OA Steel Trunking Raised Floor, and other access floor accessories.
HIGH TOUCH CO has a strict quality check of HIFLOOR raised floor products. The HIFLOOR Raised floor surface flatness requires to be kept within 0.6mm, and the resistance of the high pressure laminate covering is 106-108ohm. HIFLOOR product testing is based on CISCA and EN12825 as test principles to ensure HIFLOOR loading performance.
HIFLOOR helps local customers in Egypt choose the best raised floor products and installation schemes according to the actual situation and budget of your project so that you can benefit from their services in the long term. Welcome the Egyptian customers who are in the line to cooperate and develop hand in hand with HIFLOOR.
Sell Type: Local Store
Website: http://www.hightouchco.com
TEL: +201062969864
Email: [email protected]
WhatsApp: +201223393318