Huiya ESD Static Conductive Vinyl Floor Tile
Product Description
Huiya Static Conductive Vinyl Floor Tile is composed of polyvinyl chloride resin, plasticizer, stabilizer, coupling agent, conductive material, and other substances. It conducts electricity by using the static conductive network formed between the plastic particle interface and has a permanent antistatic function. The 2-3 mm homogeneous material incorporates carbon encapsulated granules throughout its full thickness and has a conductive backing to ensure optimal and consistent conductive properties throughout its full life expectancy.
Static Conductive Performance
The product operates in accordance with EOS and ANSI / ESD STM 7.1 (point-to-point and point-to-ground resistance, EOS / conductive 7.1, 25,000-1,000,000 Ohms), demonstrating consistent dissipation from a 5000 volt load to 0 volts in less than 0.01. Conductive PVC tiles allow to install with raised floor panels on top of copper tape to guarantee all its properties.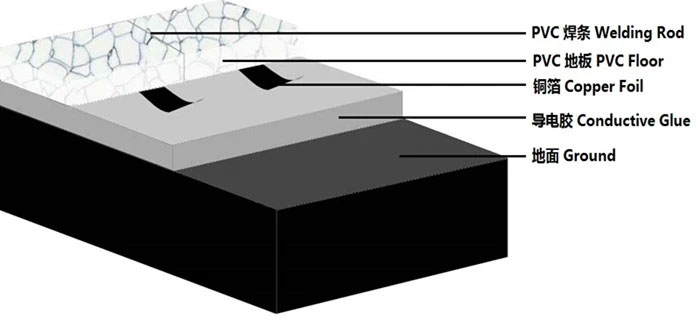 Specification
Size: 600 x 600mm, 590 x 590mm

Thickness: 2.0mm, 2.5mm, 3.0mm
Features
Durable, practical and economical covering especially for raised floor panel

Permanent static protection and electrical range 2.5×104 to 1.0×106

Consistent static conductive performance throughout the space

Excellent chemical, abrasion and puncture resistance

Moisture mitigating and waterproof underlayment available

Monolithic and sanitary

No waxing required, great life cycle value
Applications
IT/Telecommunications environments

Electronic laboratories, offices, school computer rooms

Hospital OR's still using flammable anesthetics

Clean rooms with extremely sensitive equipment

Electronics & microelectronics manufacturing

Emergency rooms, healthcare, medical diagnostic instrument areas

Other places where precision instruments and equipment operate
Static Conductive Vinyl Flooring Tile is a type of high-quality homogeneous vinyl flooring intended to prevent, mitigate, dissipate, conduct, remove or ground excessive static electricity charges on people, furniture, mobile carts, and equipment. With the incorporation of carbon particles or other minerals in their construction and an exclusive conductive layer completely covered on the back, Conductive Vinyl Floor Tiles achieve constant permanent electrostatic conductive properties. It is an outstanding covering whose resistance to the floor of electricity is low enough to allow its rapid discharge and derivation. Ideal and necessary in operating rooms, X-rays, electronic laboratories, MRI, server rooms, etc.