News Tag
Products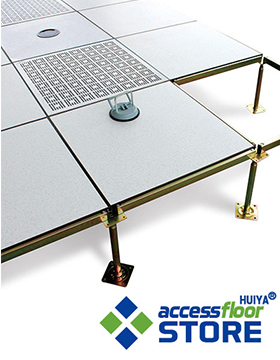 2020/9/22 18:15:08

What is the standard height for installing raised floors (access floors) in different environments? HUIYA raised floor experts bring you detailed answers. A modern and technologically advanced office, data center, server room, clean room, and other industrial workplaces will require the use of raised floors (technical floors) that will offer versatility, accessibility, and profitability in it...

2020/8/22 18:49:58

With a raised floor, panels and a floor finishing coating are laid on a load-bearing structure on top of a solid or light floor. A vacuum is thus created between the material and the raised floor. The lightweight design and technical void, accommodating conduits and pipelines, provide flexibility and insulation against airborne and impact noise. A raised floor can be placed on a light or soli...

2020/6/29 19:24:52

Flexibility is the word for qualifying raised floors. The construction system is basically composed of modular plates of different materials and also modular support structures that, coupled directly on the substrate, create free spaces for the passage of electrical, data and telecommunications cables, pipes and even air conditioning.In office and commercial projects, where the volume of installat...

2020/6/26 14:43:19

Changzhou Huiya Decoration Materials Co., Ltd is a professional access floor manufacturer that specialized in producing raised access floor for years, has been founded in 2005 with registered capital of 60 million yuan. The factory is located in Henglin Town, Changzhou City, which is surrounded by convenient transportation and green shade, covering an area of more than 60,000 square meters and an ...

2020/4/28 17:53:16

Whether it is in an industrial purification workshop or a biological clean room, effective control of environmental pollution can ensure the safe production of large quantities of sensitive products. Therefore, the floor of the clean room is required to meet specific specifications: the ground should be good in integrity, flat, not cracked, wear-resistant, impact-resistant and moisture-proof, high...

2020/2/29 18:36:12

In the construction materials segment, raised floor stood out and had become a major trend in the flooring market, especially for office and IT rooms. In 2019, the consumption of Raised Access Floor in Qatar was over million tons, the volume represented about 4% more compared to the volume in 2018.Raised Floor System In Qatar MarketRaised Access Floor are being modernized and receiving technologie...

2020/2/22 3:10:03

Due to the development of e-commerce and other services, the application of the Internet is more frequent, and Indonesia is paying more and more attention to the construction and development of data centers. As a professional raised floor supplier, Huiya is proud to participate in the core part of the design and construction of large-scale data centers in Indonesia, by offering the top-grade but c...

2019/10/31 13:47:23

Oman Across Ages Museum project is located in Nizwa. it is a cultural and educational symbol for locals and tourists. Our company provides wood-based elevated raised floor materials. with  area of 525 square meters. The museum was designed by Sultan Qaboos by government.  Cultural and social renaissance since the 1970s. There are 5 computer monitoring rooms in the Oman Across Ages Museum...

2019/10/29 22:28:46

Dubai Office raised flooring Projects, Suppliers, Price, and FactoryThe Dubai raised floor Project case was applied to a five-star luxury hotel for the first time. The Omniyat Hotel is located in Burj Khalifa.  Omniyat used GRC raised flooring in more than 1,500 hotel rooms and suites.   "The used of GRC raised floors are an important part of the modern hotel design." Mark...

2019/10/7 20:14:46

ACCESSFLOORSTORE (HUIYA) has a project partner: Xtreme Works Inc. Xtreme Works Inc is the complete solution provider for the data center. The cooperation project covers an area of 1,450 square meters of raised access floor. The access flooring specification is 610mm x 610mm. This project uses the FS1500 CISCA standard. The access floor up  cold-rolled steel plate  thickness is 1.0mm and ...

2019/10/5 21:51:11

FDC2 data center project is handled by ATAL Engineering Group. its internal infrastructure includes anti-static raised access floor, wall-board panel, ceiling, and data cabinet. ACCESSFLOORSTORE(HUIYA) is the top ten professional producers of China's raised access floor.We has long-term partners in Hong Kong, South Korea, Australia and the United States. Raised floors are used extensively...

2019/9/30 23:03:43

International Business Tower Raised Floor Project in Dubai.ACCESSFLOORSTORE(HUIYA) is one of the leading raised floor manufacturer in China. We follow the Tate access floor quality (CISCA standard). and we made all steel raised floor and Calcium Sulphate raised floor . This Project case is International Business Tower in Dubai.International Business Tower is located in Al Amal St - Dubai - United ...