Concrete Access Floor Panels
Concrete Raised Floor - Lightweight Cement Access Floor Tiles
Concrete is a pretty strong material, so Concrete Access Floor Panels is an important type of flooring system products and widely used in lots of areas, as one of the top cement raised access floor OEM & manufacturer, we are always in the process of development and innovation of cement and concrete raised flooring system products, aiming to become a specialized modern access floor supplier. You can get affordable, reliable and versatile concrete floor tiles and more raised flooring accessories with certifications and approvals from numerous public institutions and lots of other benefits in our store.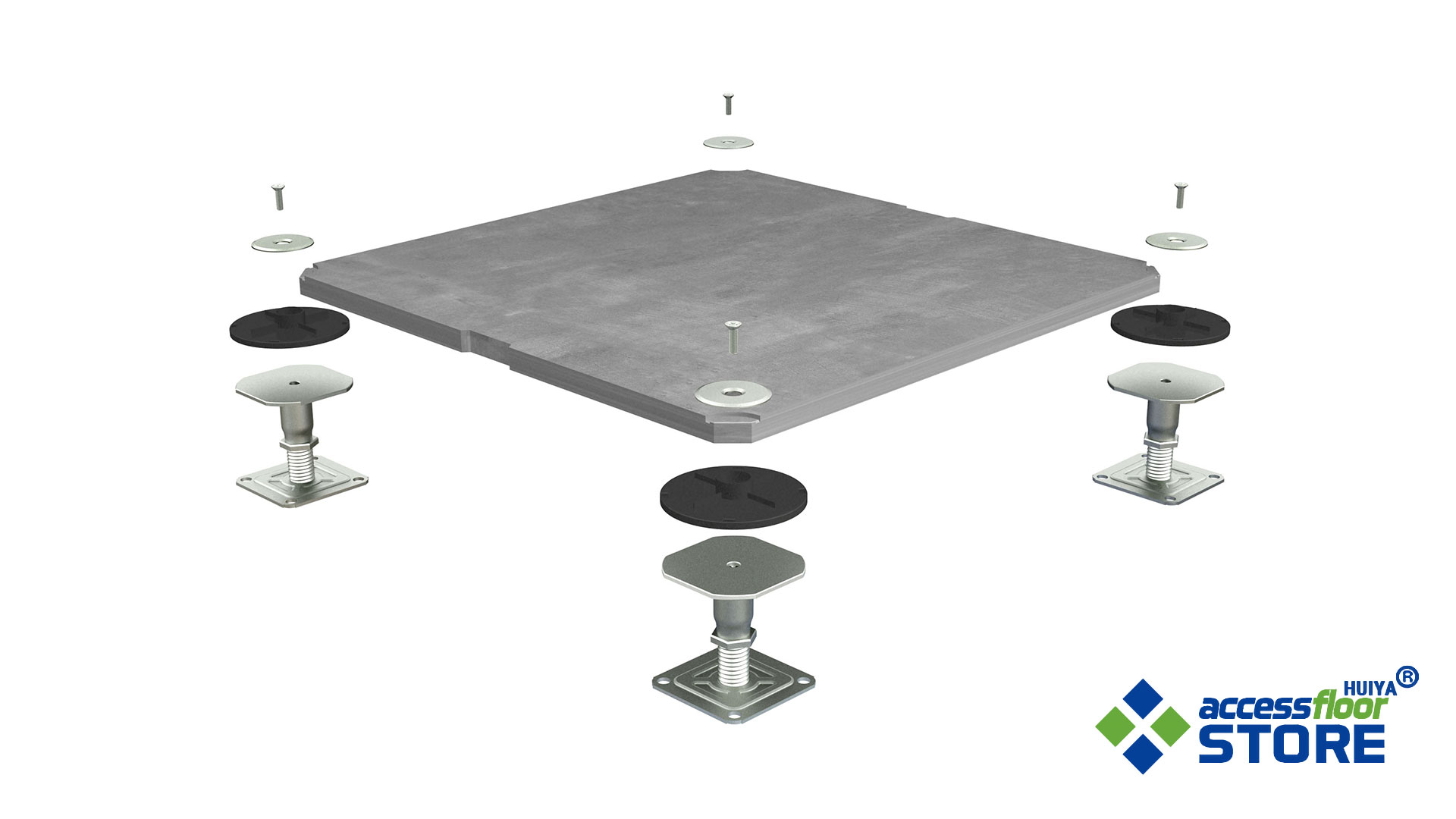 Materials, Structure, Components, and Features of Cement Floor Panels on Accessfloorstore.com
Our GRC Inorganic cement raised floor is made of silicate, inorganic fiber, mineral fiber, quartz sand, and more materials, each cement floor panel has holes for wires, four corners supported by raised floor pedestals, with no stringers. It has no volatile toxic chemicals and radiation and can be decomposed completely. And the OA Light Cement Infilled Network Office Raised Floor made of cold steel plate and infill with lightweight foamed cement, with corner lock. The plate surface of the cement raised floor embedded with conductive chips and can endure high temperatures at the same time. The raised floor pedestals and cross beams are wholly plated with zinc and the height of pedestals is adjustable and can be self-locked. We can offer the best customized raised floor solution according to local conditions, help customers save Concrete Floor Tile costs while ensuring high quality and purchase the most satisfactory raised floor at the most affordable Cement raised floor panel prices.
What Benefits Our Raised Concrete Floor Tiles Can Offer?
High dimension accuracy and excellent interchangeability.

Good loading capacity and sealability, incredibly hard and strong.

Waterproof, antisepsis heat, and sound insulation.

Multiple designs for good looking decoration.

Flexible and convenient installation.

Functional raised floor covering for longtime protection.

Certain earthquake resistance.

Easy to install and remove cables with it.

Saving cost on maintenance and construction period.

Comfortable to walk on.

Environment-friendly.