Chipboard Raised Floor System - Woodcore Raised Access Floor Panels
Access flooring is a very important part of decoration for buildings, computer rooms, libraries and more. With the change of people's consumption concept, woodcore access flooring systems (chipboard floor tiles) began to be more and more popular. In the past, some people like to use ceramic raised flooring, cause the tile is easy to clean, smooth and shiny and has beautiful visual effects, so that's very popular in the market. But in recent years, this phenomenon is changing, in addition to ceramic flooring, chipboard access floor panels are also commendable. Here Changzhou Huiya Decoration Material Co., Ltd supplies reliable and stable high density chipboard raised floors at the most favorable woodcore access floor panel prices in the whole market.
High Density Raised Floor Panels - Wooden Access Flooring Tiles
Huiya have specialized in OA network raised/access floor, anti-static raised floor, woodcore access flooring and more types flooring system for years, a variety of materials, multiple colors and style options are provided for you to choose. Our woodcore/chipboard flooring system is made of high-density composite wood core glue to and encased in hot-dipped galvanized formed steel sheets. These chipboard rasied access floor tiles have a class A flame spread rating and provide excellent rigidity, durability, and acoustic performance.
What Is Benefits of Huiya Wooden Raised Floor System:
Natural and Beautiful: The wood is naturally green and pollution-free. No harm to the human body, environmental proof.

Flexible and anti-skid: Our chipboard raised floor panel has a good anti-skid effect, it's relatively safe and not easy to slip.

High wear resistance and durability: Our raised wood floor panels are smooth and easy to clean without much maintenance and peacekeeping.

Hard texture: Huiya wooden raised access floor has good loading capacity.

Good sealing and water-proof: The top surface is stuck with High-Pressure Laminate (HPL) or Conduct PVC or granite, the bottom is covered with aluminum foil or galvanized steel sheet. Four edges are sealed with black PVC edge trim.

Customize the access floor solution according to local conditions, help customers save costs of Wooden Access Floor System while ensuring high quality, and buy the most satisfactory raised floor at the most affordable wooden raised floor prices.

Application For Chipboard Raised Flooring Panels
The wooden floor panel applies to high-grade rooms, such as:
- Banks
- Telecommunication centers
- Smart offices
- Computer rooms
- Areas of high humidity
Woodcore access floor panel system consists of high-density (720Kg/m3) chipboard. Galvanized steel sheet/aluminum foil is bonded to the bottom of the chipboard. HPL or PVC is stuck to the top of the chipboard, four edges are sealed with PVC edging strip.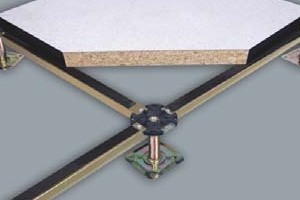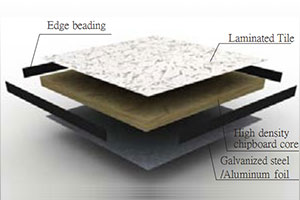 Feature
Lightweight, small noise when working

Dimension accuracy with nice interchangeability.

Strong loading capacity, fire resistance B2, and excellent anti-static properties.

Good sealing and water-proof.
Size:600×600×40mm
600×600×30mm
Type
Size
Concentrated
Impact Load
Ultimate Load
Uniform Load
Rolling Load
International
mm
N
N
N
N/M2
10
10000
Light duty
600×600
≥2990
670
≥8890
≥12500
2215
1548
Medium duty
600×600
≥3596
670
≥10799
≥19796
2959
2215
Heavy duty
600×600
≥4498
670
≥13494
≥23294
3596
2959
Structure
Floor panel is encapsulated to provide full steel encasement, steel to be high quality galvanized steel sheet as top and bottom. High-density chipboard as the core.
Application
Woodcore panel for raised floors is widely used in high-grade rooms, such as banks, telecommunication centers, smart offices and computer rooms.

This panel is particularly suitable for areas of high humidity.

High dimension accuracy and environmental proof.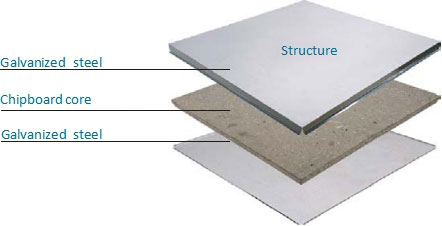 Size:600×600×30mm
600×600×25mm
Type
Size
Concentrated
Impact Load
Ultimate Load
Uniform Load
Rolling Load
International
mm
N
N
N
N/M2
10
10000
Light duty
600×600
≥2990
670
≥8890
≥12500
2215
1548
Medium duty
600×600
≥3596
670
≥10799
≥19796
2959
2215