Calcium Sulphate Floor Panels
Calcium Sulphate Raised Floor Panels & Tiles System
Calcium Sulphate floor panels or Calcium Sulfate panels, made with non-toxic and unbleached plant fibers as reinforcing materials, and combined with solidified calcium sulfate crystal and pressed by pulse. Calcium Sulphate floor panels are widely used in computer room flooring, clean room flooring and other places with anti-static requirements for communication, power electronics, medical and health industry as its advantages and characteristics like environmental protection, fire prevention, sound insulation, high strength, smoothness and more. Due to the rising demand for environmental protection and energy-saving, the use and market share of Calcium Sulphate floor panels are in a general uptrend.
Calcium Sulphate Raised Floor System on Accessfloorstore.com
As a reliable raised access floor supplier and flooring product specialist, Accessfloorstore.com are working on the best Calcium Sulphate access floor panels production and sales as well as developing more types of high quality economical raised floor and floor accessories, to ensure low cost and high performance on the international market. If you want to find out a kind of Calcium Sulphate panel used in intelligent buildings or high-end office, you can choose the Calcium Sulphate Galvanized steel raised floor panel if you required floor panels for computer rooms, the Calcium Sulphate HPL raised floor is a good option, then Calcium Sulphate Stone Raised Floor and Calcium Sulphate Nature Wood Raised Floor is ideal for high-grade decorative occasions and high-end offices respectively. We can customize the best Calcium Sulphate Access Flooring solution according to local conditions, help customers save costs while ensuring high quality, and purchase the most satisfactory raised floor at the most affordable Calcium Sulphate Raised Floor Panel Price.
Encapsulated Calcium Sulphate Raised Floor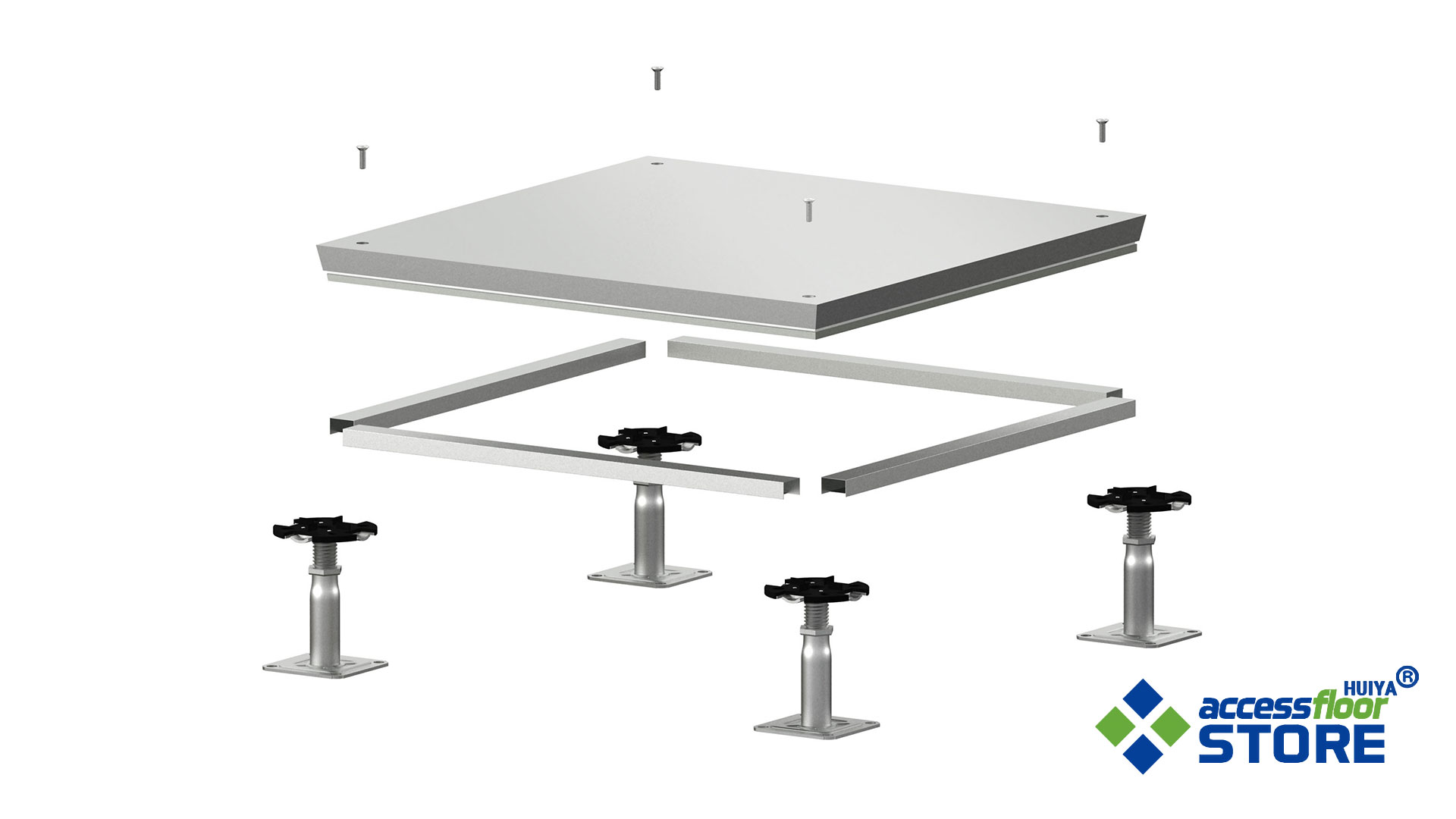 What Benefits and Features Our Calcium Sulphate Panels Provides?
Consistent and serious quality monitor for Calcium Sulphate floor and panels.

Cost-saving customized solutions, competitive Calcium Sulphate raised access floor prices


Advanced producing techniques, conditions, and quality guaranteed raw materials.

High strength, good loading capacity.

High dimension accuracy.

Moisture resistance. Our calcium sulfate tiles/panels are resistant to a degree of moisture make the floor easier to maintain and clean.

Fire, water, and sound insulation, stable and safe.

Multiple floor panels of different materials and functions can choose from based on the applications.

Excellent physical and mechanical properties.

Easy to install and move to other places.

Environment-friendly and recyclable.

Calcium Sulphate floor generates micro-holes due to crystallization provide great acoustic values.
Calcium Sulphate Panel Weight & Load Capacity
System Performance Criteria (Tested on Actual Understructure)
System Type
SYSTEM WEIGHT
STATIC LOADS
ROLLING LOADS
IMPACT LOADS
Panel
Understructure
Design Loads
Ultimate Loads
Safety Factor
10 Passes
10,000 Passes
Calcium Sulphate Floor(CSF1000)
Bolted Stringer
12.3bs/ft2 (60kg/m2)
1250lbs (570kg)
Min. 2000lbs (Min. 908kg)
Min. 2
1000lbs (454kg)
1000lbs (454kg)
150lbs (68kg)