Top Quality Commercial ESD Vinyl Flooring Tiles - Best Anti-static PVC Raised Floor Tile
Huiya ESD Conductive Vinyl Flooring Tile is the best ESD protection covering on the market and is ideal for many applications. Conductive PVC floor, static dissipative PVC floor or anti-static PVC floor, each of our homogeneous ESD floor tiles is designed to meet their respective requirements, becoming the preferred anti-static solution such as the anti-static raised flooring for data center. Mount our anti-static vinyl covering on a conductive copper foil or a conductive bottom layer with a carbon-containing adhesive so that the bottom layer forms a conductive ground plane. Our ESD static control vinyl flooring is perfectly compatible with our raised floors of various materials and is suitable for all commercial areas affected by static electricity. The high-end quality and cost-effective price make Huiya ESD vinyl flooring the first choice for many large enterprises. We can be your best anti-static PVC (vinyl) flooring manufacturer and supplier!
Huiya Anti Static Vinyl Flooring Specifications
Sizes:
600 x 600 x 2.0mm

600 x 600 x 2.5mm

600 x 600 x 3.0mm

590 x 590 x 2.0mm

590x 590 x 2.5mm

590x 590 x 3.0mm
Colors:
Can provide a variety of colors for users to choose from our static control flooring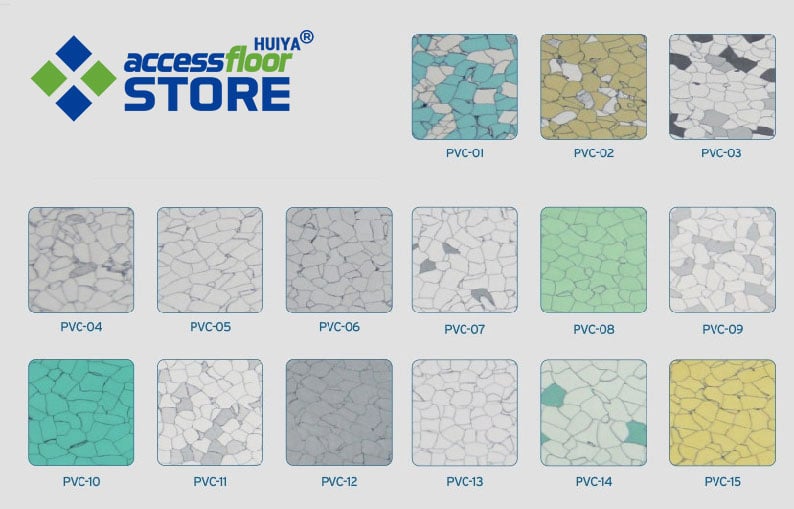 Advantages of Conductive Vinyl Floor
Green environmental protection, fire retardant, water moisture, anti-bacterial, soundproof

Extremely durable, super wear-resistant and pressure-resistant, can work under heavy loads up to 2000 psi

Lifetime electrical conductivity guarantee, necessary for protecting users, safe handling of static sensitive components

Suppresses risks related to static electricity: dust fixation, physical problems, degradation of electronic components

Ergonomic design and non-slip, Huiya static control flooring bring comfort and safety to users

Provides flexible installation, avoids damage to fragile parts, reduces downtime of your equipment, and is ideal for workstation transfer
ESD Conductive Vinyl Flooring Application
Huiya Anti-Static Dissipative & Conductive PVC Vinyl Tiles are particularly suitable for all industrial production areas affected by static electricity, electronics, electromechanical, computer, automotive, aerospace industries.
Workshop equipped with digital control equipment

Cleanroom

Data Center

Computer room

Computer control unit

Call Center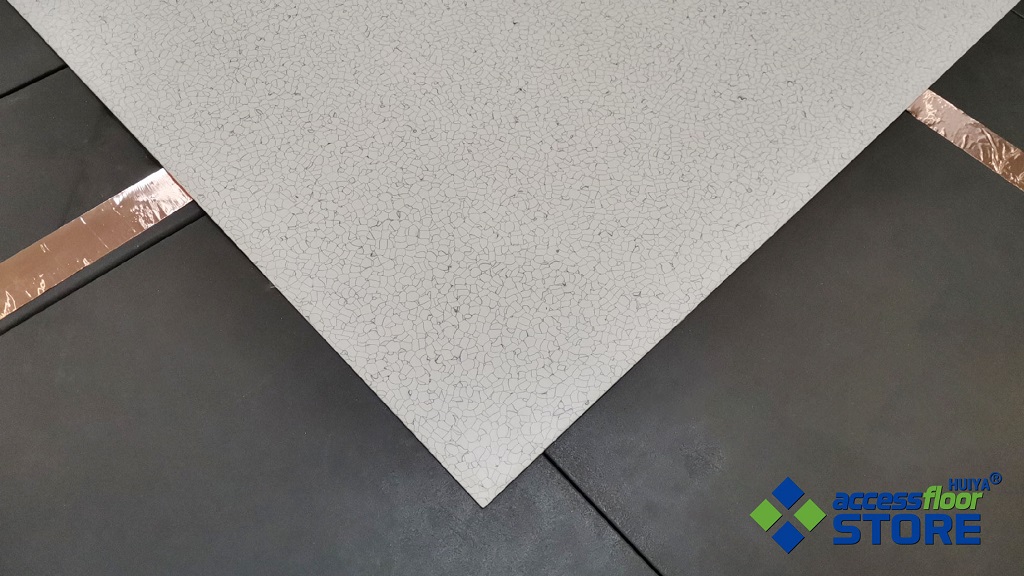 What is ESD Vinyl Flooring Tiles (Anti-Static PVC Tiles)?
ESD Vinyl Floor Tiles are made of PVC through a special processing process, millions of tiny carbon fibers or conductive carbon fibers are fused and distributed on the entire surface of vinyl tiles, and penetrate through the thickness of each tile to form a permanent antistatic function. In addition, usually the vinyl conductive floor tile looks like marble, has a good decorative effect, and is a perfect combination of functionality and practicality.
PVC Anti-Static Raised Floor Panel Finishes - ESD Conductive Vinyl Access Flooring System
When materials in different voltage states are charged by friction, electrostatic charging occurs. This is especially noticeable (and obvious) when the humidity of the air is greatly reduced, especially in the dry winter climate. Components and products produced in cleanrooms or in conventional industrial locations can be damaged by rapid and uncontrolled electrostatic discharge (ESD). If your business involves large-scale electronic equipment, computer equipment, etc., then you need to equip your industrial building with conductive floors. Especially high-tech industries need floors that can prevent static discharge. With conductive ESD floors, it is certain that even in cold and dry winters, computers and electronic equipment will not cause any failure due to static electricity. In addition to the anti-static function, ESD Vinyl flooring tile also has abrasion resistance, durability, fire resistance, water resistance, moisture resistance, and bacteria prevention. Therefore, ESD Vinyl Flooring is widely used as a functional floor covering in computer room, data center, and clean room raised floor systems.