Industrial And Commercial Vinyl Flooring
Huiya Industrial & Commercial Vinyl Floor Products
Huiya Industrial Vinyl Flooring is designed for a variety of unique commercial projects, including hospitals, healthcare, corporate offices, shopping malls, education, IT, and commercial interiors. Huiya commercial PVC flooring is very durable, can withstand heavy traffic, and requires little maintenance, helping to save and control costs. We also provide multiple color, texture and style options for our industrial vinyl floors. Our commercial vinyl flooring product series not only withstands the test of time, with unparalleled design possibilities, but it is also the perfect combination of durability and aesthetic style, designed to create an efficient and comfortable industrial and commercial environment for you.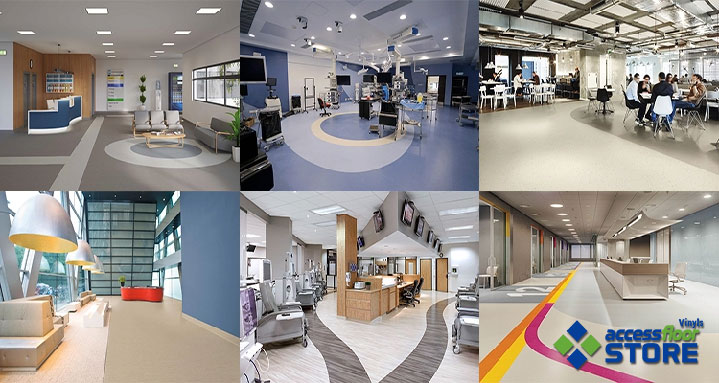 Huiya Industrial Vinyl PVC Flooring Applications
Hospital & Healthcare

Office & Anteroom

Server Room & IT Interiors

Electronic Workshop

School & Education

Retail & Shopping Mall
Why Choose HUIYA Industrial & Commercial Vinyl Floor?
High quality - Durable, covering all the common properties and benefits of vinyl flooring, advanced production technology increases its unmatched stability.

Good Price - The price of factory direct sales provides customers with the most cost-effective solution, but can still get the most satisfactory products.

Technical Support - A professional vinyl flooring manufacturer that provides customers with expertise from design to production.

Timely Delivery - Have sufficient production capacity to complete customer OEM orders in time to ensure that customers receive products within the agreed time.

Commercial & Industrial Vinyl Flooring
Industrial vinyl flooring refers to the PVC flooring material designed to meet the unique demands of a wide variety of commercial applications (healthcare, retail, office, educational facilities, IT, and commercial interiors). Industrial vinyl flooring represents a beneficial solution for floor covering in the industrial and commercial sectors, ensuring the resistance, safety, durability, manageability, and flexibility required for the flooring in these high traffic areas.
The versatility of vinyl flooring makes it a popular flooring material in many commercial and industrial applications, meaning that we can provide a variety of commercial vinyl flooring decorations for your projects, even can apply PVC tiles onto raised floor in wide applications. In industrial and commercial flooring applications, the materials you purchase will directly affect the severity of their ability to withstand various levels of people, and the benefits to the business environment. We know that not all industrial floors have the same purpose, but for the same purpose, there may be different industrial floors. Nevertheless, industrial vinyl flooring can always be used as a general flooring option.
Advantages of Industrial Vinyl Flooring Tiles & Sheets:
Offer good value for money-durability.

With anti-static performance, it can be used for static control and protection of the human body and equipment in the environment. So conductive vinyl floor tiles are widely used in data center and server room raised floor.


Resistant and suitable for load floors. Industrial vinyl floors have great mechanical resistance and withstand the traction of heavy loading and unloading vehicles.

Easy to install and repair. Therefore, its installation and potential repair will not interrupt its activity or its production.

Ergonomic and offer cushioning with every step.

Adaptable and can cover large areas, so they are a good option for all types of companies.

Hygienic and easy to clean. Industrial vinyl floors are also resistant to fungi, bacteria, and mites.

Perfect for any type of climate and environmental conditions.

Can be designed to meet the unique demands of a wide variety of applications.