Next Level Raised Floor System
NEXT LEVEL COMMERCIAL & RESIDENTIAL INC is a designs, supplies and installs flexible advanced systems for construction and renovation projects in both the commercial and residential sectors. Canada Raised Access Floor Systems and Data Center HVAC / UFAD Air Distribution are our main significant part of Our Business.
What we Sell about Raised Access Floor Systems?
Raised Floor Systems are mainly used in Commercial Raised Access Floor and Data Center Raised Access Floor. Steel Bare Raised Access Floor 1250lbs and 1500lbs (Size: 609mm x 609mm x 35mm) and HPL steel raised Access floor with hot dip galvanized pedestal and accessories are popular in Canada Market. With over 20 years of experience, our highly experienced staff has the know-how to guarantee that our clients are always completely satisfied with our service and the end results!
What is Raised Access Floor Size in Canada?
A raised access floor comprises an understructure and welded steel floor panels filled with lightweight cement. The understructure provides positive positioning and lateral retention, ensuring the floor is soundly supported on all contact points. The square floor panels size is 610 x 610-mm or 24 x 24 inch.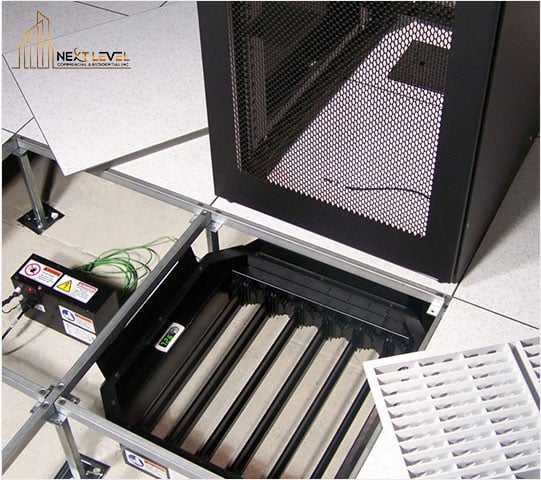 OUR SERVICES
We are a Local Canada Company. We have the local storage of raised access floor system products and expert raised access floor installation services. We offer a full-cycle service helping developers, designers and occupants design the perfect modular interior system to meet every type of need. With millions of square feet of raised access floor projects to our credit, Next Level helps design, supply, install and service our system solutions! Our systems are proven to reduce energy consumption by over 30%, reduce downtime, reduce absenteeism, provide superior indoor air quality, provide a higher level of occupant wellness and help to create an adaptable future-proofed space.
Raised access floors are flooring systems suitable for environments where there is a complex electrical and telecommunications infrastructure, such as corporate developments. The solution consists of modular plates fixed directly on supports, thus creating empty spaces between the substrate and the floor. Electric conductors, data cables, pipes, and even air conditioning installations pass through these gaps. We supply and install Raised Access Floor Systems that create a flexible, adaptable future-proofed space . Occupants can easily reconfigure their space with virtually no down time! Combined with our Modular Power systems and Under-Floor Air Distribution systems we provide a flexible indoor environment that caters to the Wellness of its occupants with superior Indoor Air Quality.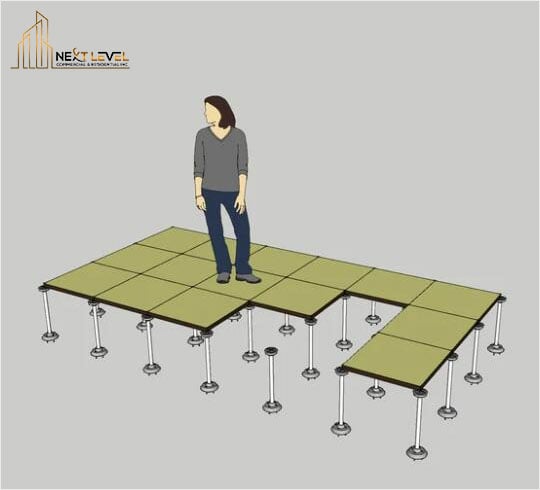 The type of raised access floor you need depends on several factors:
pplication type (data center, retail, office, etc.)

Cooling System/Air Distribution Setup

Cabling/Wiring Needs (Including routing and distribution/delivery)

Weight & Load Capabilities
Raised Access Floor Applications
Before diving in to specific information about raised access floors, it would be wise to note which types of applications would benefit from a raised floor:
Offices

Data Centers

Call Centers

Command Centers

911 Call Centers

Libraries

Classrooms (especially those with integrated learning technology)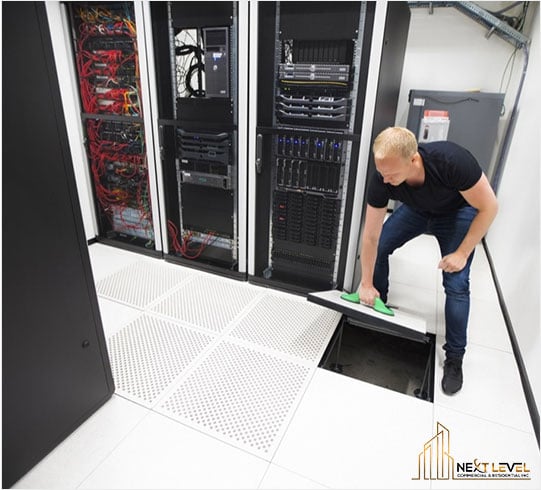 Offices Raised Access Floor Application
Traditionally, many architects, property managers and building owners and operators have been reluctant to utilize a raised floor in an office space. This is likely due to a few reasons, but the most common reason is that many of these professionals are used to the traditional raised floor types that are often several feet high. While quite practical in industrial applications, commercial buildings cannot afford to lose several feet of floor to ceiling height.

With the advent of low profile access floors, primarily for cable management, nearly any company with any office can benefit from this type of floor.
Data Centers Raised Access Floor Application
While "raised access floors are no longer a standard requirement for data centers rooms, they still off many benefits that are hard to ignore:
Underfloor Air Distribution

Chilled Water Piping

Cable Management

Water/Flood Protection
Contact Us
www.nextlevelcr.com
Address: 226 Elderwood Trail, Oakville ON L6H 5W2, Canada
E-mail : [email protected]
Call us: +1 905 580 1551