Weiss Raised Floor System - Top Grade Germany Access Floor Supplier
Weiss is the German market leader in flooring coverings and a major manufacturer of raised access floor products. It is a professional raised floor manufacturer with more than 40 years of experience. For many years, Weiss has been committed to providing customers in Germany and abroad with everything related to technical floors from a single source. For efficient raised floor systems, whether in smart offices or complex data centers, Weiss provides the perfect raised floor solution.
With a high standard of quality and technology, Weiss brings the Raised Floor system to the national & global market compatible with the most diverse types of coatings, providing the best option for commercial and technical environments. The flexible and intelligent of Weiss' Raised Floor System allows to quickly access, relocate, expand and upgrade the equipment or the whole system.
Advantages of Weiss Raised Floor System
Rich production experience

Robust quality assurance

The most cost-effective customized service

Diversified products adapt to different needs

Manufactured and tested according to a globally high standard

Technical support and assistance all time including installation

Greater production capacity

Quick and accurate installation

Ease of operation and low need for maintenance

Maintains level even after a long period of use

Maximize the optimization of Under Floor Air Conditioning and Cable Management

Help customers save energy consumption in required space and improve production efficiency

Greater convenience and time savings in reorganizing equipment, cables, etc. in technological

environments
Choose the below Weiss Raised Access Floors to achieve efficient flooring solution in your offices, workshops, call centers, computer rooms, IT rooms, command centers, and data centers: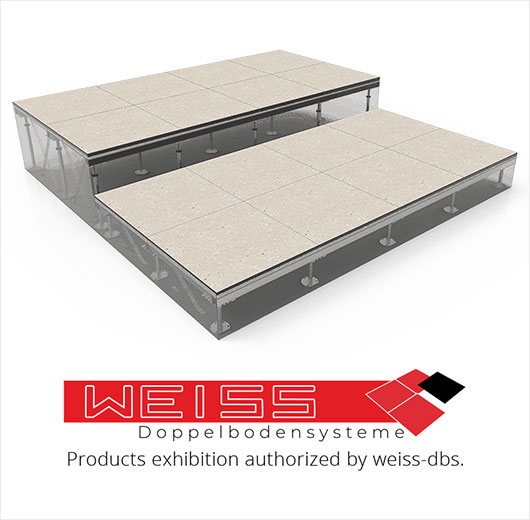 Weiss Raised Floor Panels
Raised floors create an additional installation level. Depending on the application, for example, cables or wirings get managed through the space created by raised floor pedestals and panels. The easy and always available access to the installations at the raised floor panels allows high flexibility and allows almost unlimited changes of the floor configuration.
All Weiss raised floor panels are compatible with each other due to the uniform size of 600 x 600 mm.
These kinds of raised floor panels are preferred in offices and/or technical rooms:
In offices mostly to increase the flexibility of use. Because of the infinite variation possibilities, a continuous change of use is possible by placing partitions in different places.

In technical rooms, the raised floor can be used for cabling the switch cabinets underfloor, in data centers it serves as an active panel or steel ventilation panel for the air conditioning of the servers.