Slip Retardant Vinyl Flooring - No-Slip Homogeneous Vinyl Flooring Rolls
Slip Retardant Flooring is a line of non-slip vinyl flooring manufactured in 2m wide rolls, are one of the most widely used slip-resistant flooring for wet areas. Plus its resistance and ease of cleaning, non slip homogeneous vinyl flooring rolls are perfect solutions for healthcare, educational environments, retail facilities, offices, gyms, leisure spaces or any room in the home or business. The homogeneous vinyl slip retardant flooring sheet has a surface treatment of carborundum, ceramic or aluminum oxide particles that gives it exceptional grip and fiberglass that reinforces and stabilizes.
Huiya Slip Resistance Vinyl Floor Rolls - Slip Retardant PVC Sheet Floor
When you work in a demanding environment that has a very high risk of falls, with the permanent presence of contaminants and in which it is impossible to avoid the risk of spills, you need a specialized floor capable of maintaining its non-slip properties. The slip resistance, durability, and hygienic properties of our top-quality non-slip vinyl flooring rolls make it are tough and ultra-durable flooring solutions for those areas. With special surface treatments and increased resistance to skidding, Huiya Anti Slip Vinyl Flooring is designed in an array of patterns and colors for use in humid, heavy, and very heavy traffic areas.
Specifications
Material: Homogeneous Vinyl

Thickness: 2.0 mm

Roll size: 2m width x 20m length

Uses: Public, Commercial with intense traffic, Offices, Schools, Hospitals, Healthcares, Laboratories, Retail Facilities, etc ...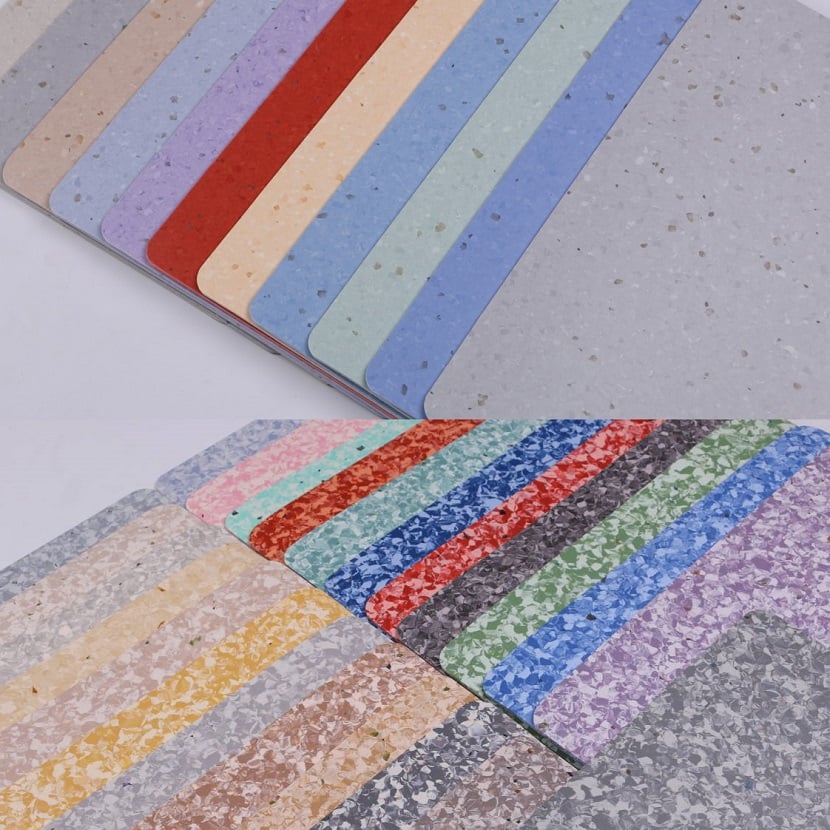 Features
Superior slip resistance, durability, and hygienic properties make it perfect for wet areas.

With slip resistance R ratings from R10 to R12 and a high wear resistance rating of T

Resists soil, stains, scratches, scuffs and abrasions, chemicals, and damage from alcohol-based sanitizers

Withstands heavy foot and rolling load traffic, superior gouge resistance

Very wide palette of colors and textures can be offered allows it to cover any design need

Easy maintenance and clean, thanks to its bactericidal treatment ensures perfect hygiene.