News Tag
Products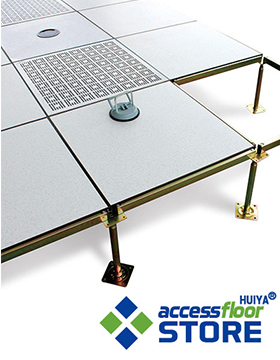 Differences Between Low Profile Raised Floor and Traditional Standard Access Floor System
2020/7/14 19:38:33
In our previous article, we have introduced the classification of raised access floors by panel material, but in fact, there are two general raised floors types according to different support heights: low-profile raised floors and standard traditional raised floors. In today's article, we will analyze the differences and advantages of these two access flooring types for you in terms of definition, material, load, practical characteristics, and application.
Difference Between Low Profile Access Floor and Traditional Standard Raised Floor
Low Profile Raised Floor or Standard Access Floor? Which one should you choose for your project? Following us to find out the answer by comparing the height, loading rating, features, panel materials.
Definition
What is Low Profile Raised Floor? Low floor Raised Floor is a raised floor with a support height of 1.5"-6" inches.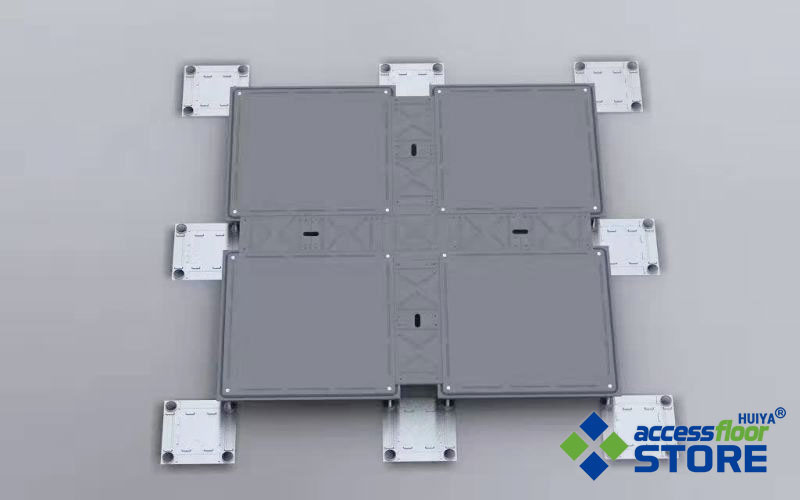 What is Standard Raised Floor? Traditional Raised Floor refers to a raised floor with a support height higher than 6 inches.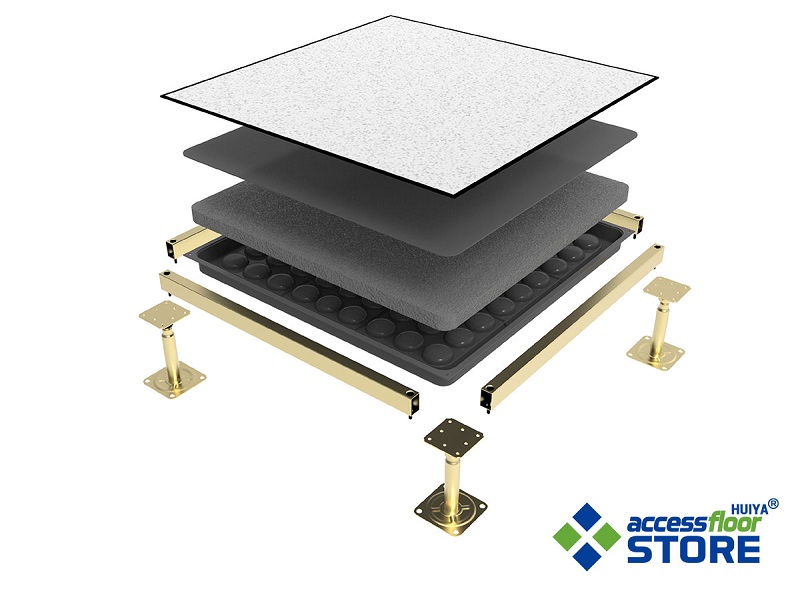 Performance and Practicality
Low Profile Raised Floor Features
The key purpose of using low profile access floors is to create a larger and more effective working space for the application environment through simple and effective management and layout of cables, wires and conduits without the need for concrete slotting or overhead cable management. But its low underfloor space is not suitable for air distribution.

lThe lightweight low profile raised panel still has high strength to adapt to high traffic and load capacity, generally come with 800-1000+ lbs loading ratings.

lThe lighter panel and low height make it easy for almost anyone to enter the wires, pipes and electricity under the floor, easy to install and maintain.
Standard Raised Floor Features
Although we refer to floors with a height of more than 6 inches as traditional raised floors, in fact the standard height of such type of access floors is usually 12 inches or higher, and a typical height of 24" -48" is more conducive to Underfloor Air Distribution in a data center environment. Therefore, the traditional raised floor system has an underfloor space with large capacity, which can achieve the perfect combination of cable management and airflow.

Provide enough space to hold and hide heavy wires, cables, and pipes in industrial or institutional environments.

lSet the floor height required for airflow to provide a very effective cooling system/air distribution setting for the environment to save energy and operating costs.

Rugged and durable, heavy-duty panel load usually ranges from 1,000-2,000 pounds allowing supporting heavy, bulky equipment, you even can build 2,000-2,500 pound panels on more critical areas (such as space, designated pathway where the bulky equipment will be moved in and out ).

The biggest limitation of traditional raised flooring is flexibility and ease of use. Unlike low profile raised floors, they could not provide easily enter the space under the floor. You may need external contractors or highly trained internal personnel to perform maintenance work.
Raised Floor Panel and Support Structure
Low Profile Raised Floor Panels & Pedestal
Panel - Almost all types of raised floor panels and coverings can be used for low raised floors. High-strength and light-weight wood core panels and concrete core steel panels, bare concrete panels, these types of panel structure greatly reduces the weight, easy to handle and has little impact on the environment. Cement core panel, all steel panel, calcium sulphate panel can also be used on low profile raised floors according to actual needs.

Support Structure - 4 pedestals are set at the corner of each panel to support the panel over the subfloor.
Traditional Raised Floor Panels & Pedestal
Panel - According to the requirements of the weight rating, the standard choices of traditional access floor panels are cement core, calcium carbonate panel, steel encapsulated panel, etc. They may be used in areas where heavy equipment is permanently placed, so bearing capacity, compressive strength, rolling capacity, etc. should be considered in the selection. In addition, you need to choose perforated floor panels for the airflow system and coverings with anti-static properties to protect the safety of equipment and staff.

Support Structure - An additional support structure connecting the pedestals, stringers and floor panels.
Application
Low Profile Access Floor Applications
Commercial buildings and industrial space like the retail industry, command/control centers, call centers, school, library, office space, and nearly any company with any office can benefit from low profile access floor.
Standard Raised Access Floor Applications
Data centers, server rooms, computer rooms, clean rooms, and other industrial or institutional settings required Underfloor Air Distribution and Cable Management.
Now you get know which type of raised access floor system you should take for your project. Anyway remember that choosing the height of your raised floor in according to your need for the underfloor space and budget. On AccessFloorStore.Com, you can find both low profile raised floor for office spaces and traditional access floor for data centers in budget. If you still have any questions about raised floor system, feel free to contact us for more professional information.