When To Choose & Where To Use Raised Floor System For Your Project?
The application of access floors has a massive positive impact on your working environment, while when should you choose a raised floor system? HUIYA brings you the best explanation.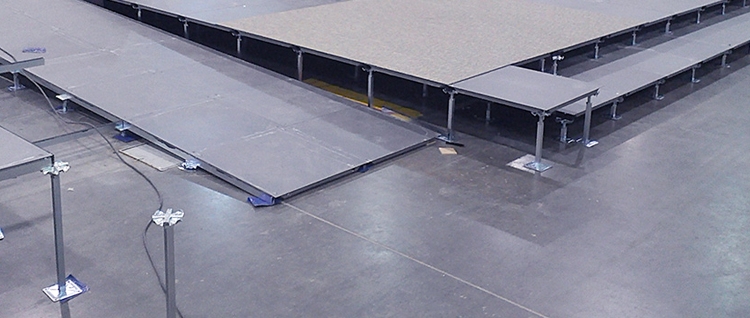 Raised Floor Systems are an option almost everywhere where cables are to be laid or cooling/heating systems are to be installed on the floor. Regardless of whether in office and administration areas, data centers, and EDP rooms or production areas and electrical operating rooms, a solution can usually be found with a raised or hollow floor. Even in the medical field, e.g. A system floor offers individual options in laboratories, treatment rooms, medical practices, or even in the X-ray area. In conjunction with high-quality special coverings, they are even used in checkout halls and particularly representative exhibition areas.
When To Choose Raised Floor For Your Project?
After you understand its advantages, you will know when to choose raised floors:
Raised floor create a wide underfloor space for air conditioning, by installing perforated raised floor tiles within cold aisles to regulate the air in the environment and keep the room cool.

The space between the load-bearing floor and the raised floor can accommodate cables and pipes. Cabling a large of wires, pipes and other additional equipment under the raised floor tiles is a very practical feature in office buildings and IT buildings for keeping the data floor uncluttered and neat.

This structure does not cause additional load on the structure, and is therefore particularly suitable in cases of renovation / transformation. It is also used in the case of new construction.

The lightweight design and modular technical void provide more flexibility in room layout, makes it easier to do equipment upgrades or install completely new equipment.

It is a type of floor that is highly resistant to heavy loads, so it is especially suitable for busy places.
Where To Use Raised Floor System?
Offices: Especially those that require a high number of wiring installations.

Data processing centers: For example, server spaces or digital data storage.

Call centers: Call centers are located in offices that require a high number of telephone wiring.

Universities and other educational centers: Raised floors are usually used in centers with computer rooms or centers that require many technological facilities.