What you should know before buying Waterproof Vinyl Flooring?
Setting up a new space always comes with its varied list of to-dos. The last thing you want to do is think about the flooring but it is necessary. Selecting the type of flooring you want can be tricky. There is a variety and so little time to select. It would be great to know the different types of flooring available. The flooring in the bathroom will differ from the flooring in the bedroom and the hallway. Today, we're here to talk about waterproof vinyl flooring. By the end of this article, you will be privy to waterproof flooring installations, the different types available, and more.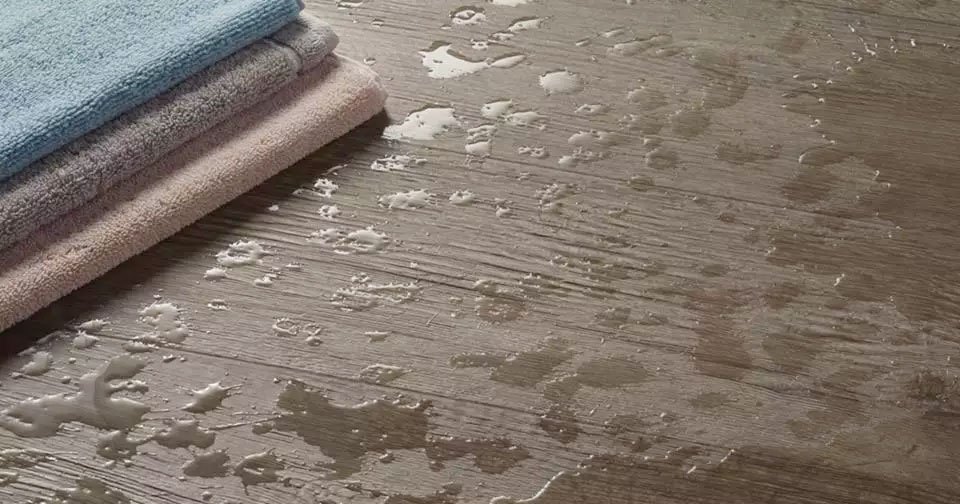 Is waterproof vinyl flooring 100% waterproof?
Yes, this luxury engineered vinyl flooring is 100% waterproof. It has multiple layers including a waterproof core. Waterproof vinyl floors can come either as wood plastic composite or stone plastic composite.
Vinyl floors consist of four layers:
Backing layer

Waterproof core

Printed layer

Wear layer
The backing layer provides base support that offers softness and noise absorption.
The high-density waterproof core has the property of resilience. As a result, the flooring does not swell or contract when in contact with any kind of moisture.
The print layer is meant to display itself to the world through the imagery designed on it. In this case, the design would be equally characteristic of wood or stone with texture.
Finally, the wear layer is the topmost layer that protects the floor against dents and scratches. The strength of the wear layer may depend on its degree of thickness and the flooring requirement.
As was mentioned earlier about wood plastic composite and stone plastic composite; these both are slightly different from each other.
Let's talk about WPC or Wood Plastic Composite. WPC renders the vinyl cores with the properties of thickness, resilience, and density. It is manufactured with a foaming agent to provide for a softer feel underfoot. On the other hand, SPC or Stone Plastic Composite is thin and rigid. It is even denser than WPC as its core is made of stone along with plastic.
The thickness of waterproof vinyl flooring
Where would you install waterproof flooring, any guesses? Vinyl tiles or planks that are waterproof are meant for areas that are moist most or all of the time. This includes areas like mudrooms, bathrooms, laundry rooms, kitchens, entryways, and basements.
Remember that waterproof flooring is different from water-resistant flooring. The latter is a durable flooring option for areas that are not regularly exposed to moisture, wet traffic, or spills. Therefore, living rooms, family rooms, offices, dens, and bedrooms are places where water-resistant flooring can be installed. If there is a fluid spill then the area can be cleaned immediately. This is not the case for waterproof flooring; the area exposed to water or other fluids is not easily vulnerable to damage or seeping of any kind.
Also, the wear layer and plank layer thickness matter a great deal with waterproof vinyl flooring. From here, it boils down to WPC and SPC vinyl floors.
If you want to install flooring that can withstand heavy-duty equipment with high foot traffic, select SPC. Low foot traffic with no frequent furniture shifting can accommodate WPC flooring. Either way, both WPC and SPC are 100% waterproof.
Regarding the wear layer, the thicker this layer, the better is its ability to guard against denting, scratching, and scarring.
Which waterproof vinyl flooring should you buy?
Buying vinyl tiles or planks depends on your flooring goals.
There are two types; let's get right into it!
Waterproof Vinyl Plank Flooring (wood plastic)
Engineered vinyl plank flooring is what you can buy if you are a hardwood fan. If you love wooden flooring then this is your choice of WPC plank. You can get it in a variety of designs that look like wood and are also textured with wood.
Waterproof Vinyl Tile Flooring (stone plastic)
Tiles that look like marble? Yes, please! Here's why.
Several people love good quality marble flooring but the cost is sky-high. Therefore, we've got something that may not be the real deal but its quality is nothing short of a miracle marble. SPC tiles will give your flooring that extravagant stone-look in different sizes and colors too.
How do you install waterproof vinyl flooring?
Installing waterproof vinyl flooring is so easy, even you could it. You don't need adhesives or any kind of glue; just a set of interlock vinyl tiles or planks of your choice. Measure the room and start placing the floors over the subfloors. Make sure to thoroughly sweep, degrease, and mop the subfloor before laying the interlock tiles or planks over it.
So, now that you know so much about waterproof vinyl flooring, it's time you rid away those water woes. Select a great set of waterproof vinyl tiles or planks and walk worry-free of maintenance issues