How To Measure Your Office For A Functional Raised Floor System?
For any raised floor project, property professionals, designers, and flooring specialists prefer to conduct a space measurement study first.
An absolute understanding of your total space requirements with your raised floor designer or architect gives you a clear cut idea of the structure, integrity and type of raised floor system you should choose. Think of measurement as a viable plan of action. With precise measurement in hand, one can analyze the potential office space in a building to fully understand space's pros and cons. This will evidently help architects foresee how the space stacks up against raised floor requirements and what work needs to be done for a robust foundation.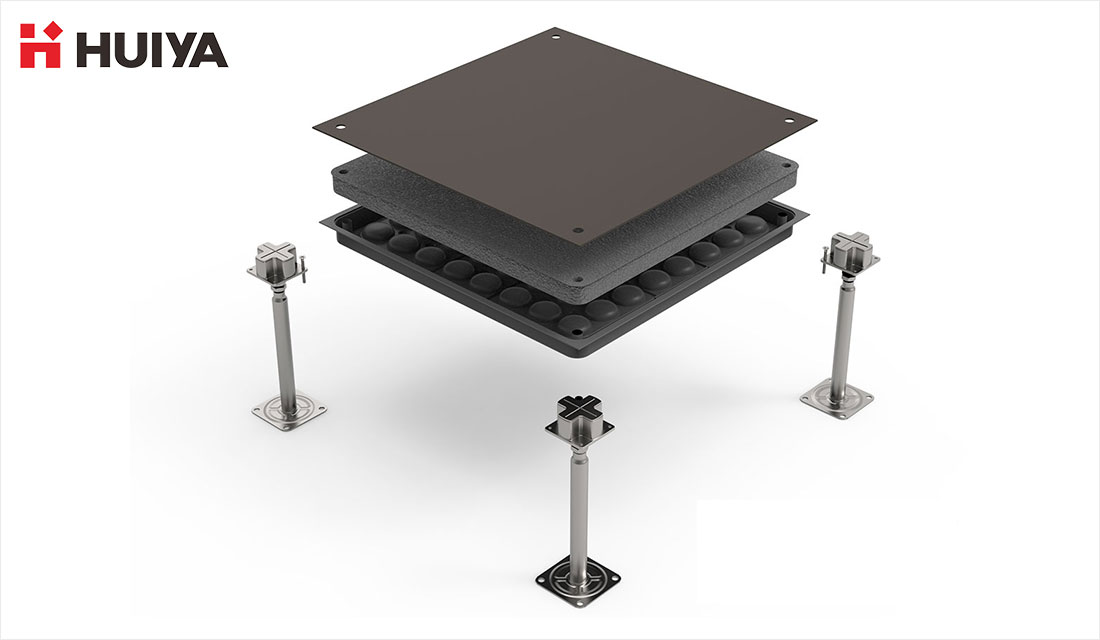 But before you can begin, consider hiring a suitable raised floor contractor with an eye for efficiency and style. The decision to raise flooring requires a well-thought consideration on design-build, tiles selection, eco-friendly design features, safety aspects, loading capacity, color selection, and modern design trends. All these contribute to value for money investment.
Good for you, HUIYA (a trusted brand in the raised floor industry) outlines the importance and ways of measuring the space for a robust functional raised floor system. The on-site property evaluation ensures precision with raised floor construction and even helps ascertain what work needed to be done to accommodate future needs.
Step 1: Make A Rough Sketch Of Floor
A rough sketch of the floor should highlight each wall in meters and mark it on your plan. Then break down into squares/rectangle series to foresee the construction plan on the total floor area.
Step 2: Measure the area
For square or rectangular areas, multiply the length by the width to get the projected area to square feet. This will help you find out the estimated size of the braised floor tiles.
Step 3: Translate the calculated area to the amount of tile you need
Divide the total area in square of the room by the total square area of the tile. For example – If each box contains 10 square feet of tile. If you need raised flooring tiles for 140 square feet, 10 goes into 140 - 14 times. Hence, you'll need to buy at least 14 boxes of tiles.
Step 4: Set your project's parameters
This is where a concept transforms into a realistic plan. With a precise estimation of area, you can easily choose the design, raised floor type and project size to focus on your raised floor construction in advance. One must have a clear goal in mind before starting the construction process. Ask yourself the following questions:
How much space do you need for employees and IT systems?

Can raised floor design be more efficient?

Is your raised floor system accessible for maintenance?

Does the raised floor ensure the safety of employees and assets?

What is your overall budget for the raised floor?
Step 5: Investigate site conditions
A challenge with raised floor construction is that many conditions (generally infrastructure) can impact the work, which is often difficult to foresee. Ideally, it is suggested to give a proper rundown of the site condition and have a thorough discussion with the architectural and engineering team. This will provide you with a more accurate picture of actual office building conditions and guarantees better-proposed work – including total investment cost.
Some factors such as mechanical, electrical, and uneven foundation commonly result in uprising total construction costs. Here's who to bring onboard:
Interior & architectural team

Internal project manager – who's accountable for your raised floor plans.
Too much to handle? Call HUIYA
Looking for the best way to get started with an office raised floor project? HUIYA, being a trusted raised floor contractor in the international raised floor market, understands the ins and outs of raised access floor construction. Our professional designers can provide you a detailed insight on construction via 2D and 3D floor plans.
100% practical plan – We bring you the plan that works best for your office. Whether you are setting up a raised floor for the first time or upgrading your office layout, HUIYA's team can fervently help you plan projects that also outweigh the problems.

ISO Standard Manufacturing – HUIYA adheres to ISO standard manufacturing that comprehends the world demand for high-quality, safe and robust built raised floor systems. Our engineers work closely to ensure buildings and other structures (associated with raised floor installation) are safe and fit for purpose.

Huge Applicability – HUIYA's raised access flooring is a complete custom-made solution. They are broadly applicable on premises where the owner would like to route HVAC, mechanical, electrical, and communication services. Our raised floor solution has already been in hospitals, data centers, call centers, IT offices, and pharmacies worldwide.
The Conclusion
Even though raised floor installations cost time, money and effort, an improved office space improves morale and productivity and is also a great boost to showcase your business culture. Your employees and potential clients start to recognize you're the value of your business from the moment they set their feet on the door.
At the moment, HUIYA has established a strong benchmark in UK, US, China and European markets. The quality we put in front is a highly creative space management solution – that addresses the present and future demand. For more details, contact today.