What Is The Best Flooring For An Office | Best Office Flooring Solutions 2023
A decade ago, offices often had gray carpeting on the floor. In recent years, however, more and more companies are using flooring materials with various design features from the perspectives of functionality, ease of employee work, and corporate branding. Let's take a closer look at the types of flooring materials used in offices, recommended areas, and how to decide which ones to use.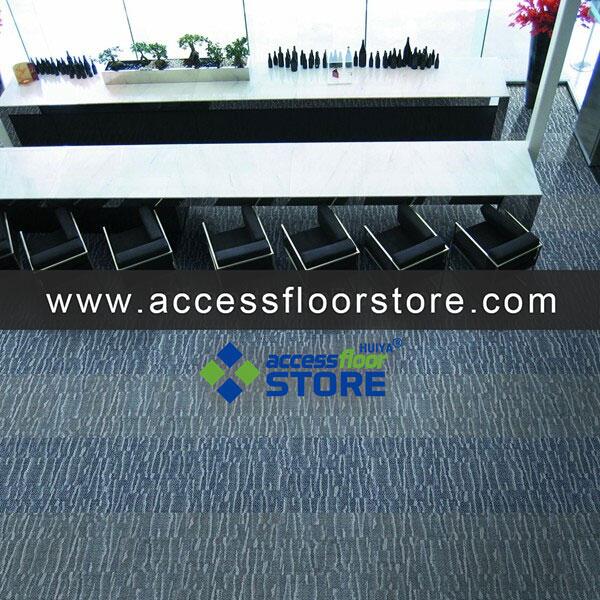 What Is The Best Flooring For An Office?
Floors play an important role as a component of office space. The floor occupies a large percentage of the area in an office and influences the impression visitors get and the mood of the people who work there. So many CEOs may be concerned about the choice of floor material and color for a new office. The color and material of an office floor can have a psychological effect on employees, making them feel more relaxed and motivated.
In addition, using the right material and color for each office location will create a positive impression not only among employees, but also among clients and customers. Conversely, neglecting the choice of floor material and color can reduce employee productivity and create a bad impression of the company.
When choosing office flooring, it is important to consider not only the design and color, but also the material and where it will be used. In this article, we will introduce the best materials for office floors and explain the appropriate floor color scheme for each office space. Please read to the end.
Office Flooring Material Option
Selecting the appropriate flooring material for each space is important, as even a simple change in floor material can change the look and feel of an office. To select the appropriate flooring material for each space, focus on the following four points
l Design
l Price
l Functionality
l Ease of care
By being aware of the above four points, you will be able to select the right material smoothly and accurately. Also, by comparing various types of flooring materials according to these four points, you will be able to select the most suitable material for each office space you will open.
Materials Suitable For Office Floors
What types of flooring materials are used in offices? The following four materials are suitable for general office flooring, each of which has its own advantages and disadvantages. Please compare them with the four points to consider when selecting flooring materials introduced earlier, and determine which flooring material is likely to be suitable for each office space you are planning to open.
Carpet tile is the first flooring material that comes to mind when one hears the word "office. It is a gray flooring material often seen in offices. The surface has a loop pile. The strength of carpet tile is its design potential. The patterns are endless because of the combination of square tiles in a wide variety of colors and designs. You will be able to create a unique and one-of-a-kind office floor. In terms of functionality, the tiles are easy to remove and can be quickly replaced for soiled areas. It also has excellent sound insulation properties, making it suitable for conference rooms and offices where unnecessary noise is to be avoided. The disadvantage is that misalignment may occur depending on the frequency of walking. Since it is made of a combination of materials, it may shift or peel off. In addition, tile carpet is ideal for finishing OA floors. You can easily access the wiring by turning over one sheet, which is convenient when adding or redrawing cables.
Advantages
- Because it is in tile form, only a portion of it can be removed for work.
- Absorbs sound, making it a good soundproofing measure.
- Prevents falls because it is non-slip.
- Lightweight, easy to handle, and can be used to refinish floors within a small area.
- Durable, with antistatic and antifouling functions
- High design quality because it can be used in combination with other products
Disadvantages
- When replacing only dirty tiles, it is easy to feel uncomfortable with other tiles.
- Easy to absorb moisture, so it is important to combine the tiles with the substrate.
- Not resistant to wear and tear, so the tiles need to be replaced periodically.
Carpet Tile Is Recommended For Office Areas
It is suitable for office areas and conference rooms because it is often used under office equipment such as business printers. This flooring material is also easy to use in other areas where there is a lot of wiring or where you want to reduce noise.
l Vinyl Flooring (PVC Sheet, PVC Roll, etc.)
Vinyl Flooring tiles are tiles made of PVC. They are characterized by their ability to reproduce realistic designs such as wood grain and stone patterns. In addition to their realistic texture, they are durable and water-resistant against scratches.Vinyl-type floors are often used in two types: tile-type floor tiles and roll-type floor sheets. There are many designs such as wood grain and stone grain, and it is reasonable, so it is often used as an alternative to natural materials. They are also easy to install and maintain. so the cost and time required for construction can be reduced. On the other hand, it is not suitable for conference rooms and offices where soundproofing and sound insulation are important because of its lack of cushioning. It is best used in hallways and restrooms, where durability and water resistance are important.
Advantages
- Compared to carpet tiles, there is more freedom in design.
- Realistic wood or stone grain can be reproduced, but at a lower cost than real materials.
- Excellent abrasion resistance
- Excellent in abrasion resistance.
- Sheet type is soft, so it does not make noise and is not too soft, so it is easy to walk on
- Non-skid type can be used outdoors
- Compared to carpet tiles, there are two types: tile type and carpet type.
Disadvantages
- Easy to peel off
- Because it is easy to leave marks on the surface, it looks bad if heavy objects are left on it for a long time.
Office Areas Recommended To Install Vinyl Flooring
This flooring material is suitable for corridors, entrances, and other areas where people often pass by. Especially for stores, a type with a specially coated surface that does not require wax maintenance or a type that reduces "heel marks," which are black streaks caused by the heels of shoes hitting the floor, is recommended. On the other hand, the tendency to peel off easily and to leave marks when things are placed on top of it makes it unsuitable for warehouses where equipment is kept for long periods of time. For the same reason, it is also advisable to avoid putting heavy office automation equipment under the floor.
l Natural Flooring Materials (ceramic, marble, etc.)
Flooring materials are natural materials such as marble and wood used as they are, or natural materials pasted over plywood. Linoleum, which is a mixture of oil, resin, cork, and other materials that are stretched into sheets or tiles, is also included in this flooring material. It is the features of natural floor materials to create a unique warmth and prestige. It creates a tasteful space as it ages. It is a suitable material for any office space due to its excellent durability and humidity control properties.
Advantages
- Natural materials are expensive and can generally create a sense of luxury.
- The warmth that only wood can provide and the sense of weight that only marble can give are strong.
- Natural wood may be slightly scratched, but this will be a tasteful feature.
- Natural wood and marble do not show scratches easily, so you don't have to worry about marks even if you place heavy office equipment on them.
- Linoleum is used easily in hospitals and schools because of its antibacterial properties and flame resistance.
- Linoleum is an environmentally friendly material.
Disadvantages
- Cost is high.
- It is difficult to care for. Natural wood may be deformed (plywood is less likely to be deformed)
- Marble is slippery
- Linoleum has a unique smell and pattern that may not suit the interior
- Designs are limited
Office Areas Where Flooring Materials Are Recommended
The key point of flooring material is that it gives a sense of luxury and warmth of wood. Therefore, we recommend using plywood wood flooring material for relaxing areas for employees to take a "breather," or using marble for the entrance to brand the company. However, marble is slippery, so avoid using it near water or in areas where many people pass by.
l Cushion Flooring
The strength of cushion flooring is that it is the least expensive of the four. It is suitable for those who want to reduce the cost of office interior decoration. Like floor tiles, it is also easy to install. Because of its excellent water resistance, it is also suitable for flooring in hot water supply rooms and restrooms.
Advantages
- Water resistance makes it suitable for hot water supply rooms and restrooms.
- It is the cheapest flooring material and comes in a wide variety of designs.
- Regular maintenance is required due to its low durability.
Disadvantages
-Low durability
-In a humid space, the adhesive may peel off, causing the flooring material to float and mold -to grow.
-If heavy objects are placed on the floor for a long period of time, the cushion floor will become dented.
Office areas recommended To install Cushion flooring
Because of its excellent water resistance, it is also suitable for flooring in hot water supply rooms and restrooms.
l Rug mat
Rugs are often used at home, but nowadays they are also used as an easy way to design office spaces. In an office that tends to give an inorganic impression, a rug can be laid to create a colorful and gentle space. Please note that there are more pedestrians than at home, and there is a risk of tripping over anything that is too thick.
Office Floor Color Selection
What do you think? Doesn't the impression of the whole room look different just because the color pattern of the floor is different? Color is said to affect people's psychology and behavior. If you want to motivate your employees and improve your corporate image among visitors, choosing the color of the floor is a very important point.
l Warm colors → have the effect of making you active and increasing your attention
l Cool colors → have the effect of giving a clean image and increasing concentration
l Earth color → Gives relaxing and refreshing effects, warmth and a sense of security
Effective Color Placement For Each Office Area
Taking into account the psychological effects of color on people, we will introduce the best floor colors for each office space. I will introduce the colors that should be used as the base, so please use them as a reference to create a highly original color scheme.
l Work Area Floor Corlor - If the office is mostly used for computer work, use earth colors (browns for earth and earth, greens for trees and forests) and natural colors to heal and stabilize the mind, thereby reducing stress. For offices with a lot of traffic, use cold colors that are easy to change your mind and add vitamin colors. If the area is used for work that requires calmness, such as telephone operators, use blue and cool colors that give calmness to the space.
l Entrance Floor Color - Cold or earth colors should be used for the entrance, which is the face of the company. Clean, cold colors will give a good impression to visitors. For office spaces where nature is the main focus, earth colors that go well with nature can be used to create a warm and welcoming company atmosphere. For more information on entrances, please refer to this article.
l Conference Room Floor Color - Warm colors are appropriate for meeting rooms where liveliness and creativity are required. Colors that promote relaxation but also have a passionate effect are good choices. A conference room based on warm colors is sure to make your meetings more productive.
l Refresh Space Floor Color - It would be nice to base it on earth tones. This is because a refreshment space requires a secure environment that has a relaxing effect and a change of mood. By using colors reminiscent of nature, you can reduce employee stress and improve work efficiency.
l Hallways Floor Color - Natural colors such as beige and brown are often used. Since it is the lowest part of the room, use heavier colors such as gray, black, and brown to create a sense of openness.
How to Select Office Flooring
There are many flooring materials available, and many people are at a loss as to how to choose the right one. The basic idea is to select a flooring material that matches the work scene and space usage. In addition, fire retardant performance should be considered, and if the office is to be barrier-free, the angle of inclination of steps and slopes should also be taken into account.
l Consider what the floor can bring to the office
By changing the color, material, design, etc. of the office floor, you can create a space that meets your objectives by understanding that color psychology, etc., which we are usually unaware of, is at work. Of course, not only the floor but also the ceiling, walls, plants, furniture, etc. have a combined effect, but the floor as a base is an important element.
l Zoning is possible by changing the material, color, and design of the floor
Even floors made of the same material can be visually divided into zones by changing the color. If there are restrictions on partitioning with partitions or storage, please try to devise it. If you change the color of the aisle instead of just dividing it into areas, it will be easier to be conscious of the conductors. As an application, it is also possible to display a design sign on the carpet.
l You can create a comfortable space by considering the color scheme of the floor
We've discussed the psychological effects of color before, but let's think about what a floor color scheme looks like to create a cozy space. You can also incorporate a soothing green color into the communication area and use energizing yellow or pink as accents. It is also effective to use natural colors such as houseplants to rest tired eyes from desk work. In job areas where there is a lot of desk work, you can spend a lot of time sitting at your desk and are more likely to be stressed, so consider effectively placing the green color for a relaxing effect. It is also a good idea to use a cool color scheme that has the effect of calming down in the sales area. Cool colors such as blue and blue-green are said to have the effect of calming the mind and improving concentration.
l Choose by Ease of Cleaning the Floor (ease of cleaning)
When choosing an office floor, it is also necessary to consider maintainability. For example, for corridors where there is a lot of walking, highly durable vinyl flooring, in areas where there are many layout changes, OA floor + tile carpet to make it easy to change wiring, and for areas where meals are eaten, choose flooring with high antifouling effect.