What Is Anti-Static Flooring System - Classifications, Functions & Features Of Anti-Static/Static-Dissipative Raised Floor
Most people don't know much about the anti-static floor, or even feel strange, so today Accessfloorstore.com will detail how many secrets you don't know about anti-static flooring system, including the functions & features, classifications and benefits.
What Is Anti-Static Access Floor
Anti-static raised floor is an anti-static floor, also known as ESD/static-dissipative floor. When it is connected to the ground or to any lower potential point, it can dissipate the existing charge and avoid static electricity. Because of its performance, access anti-static floor has been widely used in the machine rooms of various factory buildings.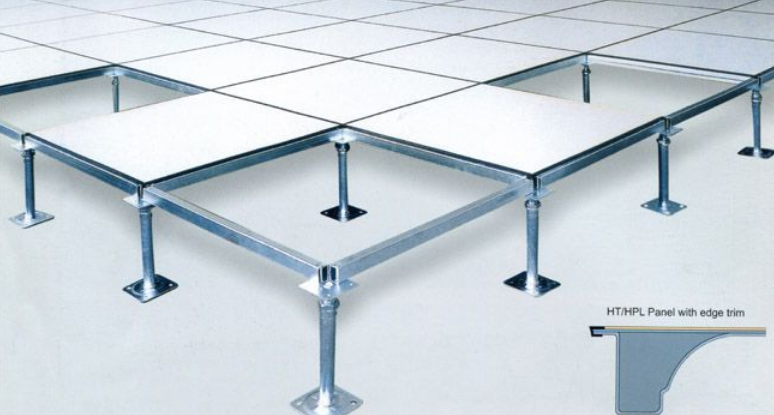 The static electricity from time to time will not only cause random faults, misoperation or operation errors in computer operation, but also lead to breakdown and destruction of some components, such as cmos, MOS circuits and two-stage circuits. In addition, static electricity has a significant impact on the external equipment of the computer. When the display equipment with cathode ray tube is disturbed by static electricity, the image will be disordered and blurred. Static electricity will also cause malfunctions such as modem, network card, fax, etc., and the printer's wiring is not smooth. So anti-static floor came into being.

Common Types Of Anti-Static Raised Floor Design
Anti-static Ceramic raised floor: Compared with ordinary ceramic floor, it has the anti-static function that ordinary ceramic floor does not have, because some anti-static materials are added in the manufacturing process. The service life of this kind of antistatic floor is longer than that of ordinary floor, and the construction is more convenient.

All-steel anti-static floor: Compared with the general antistatic floor, it is different in the edges. To a large extent, it serves the disadvantages of traditional static dissipative access floors, such as easy to bump into edges and angles, and avoids the floor surface damage and the damage caused by man-made collision.

Anti-static Calcium Sulfate floor: Calcium sulfate floor material is non-toxic and unbleached plant fibers, so it is also a classic environmental floor. It also has the advantages of fire protection, high strength and smoothness, and has become the hottest one in the family of raised access flooring. In other developed countries, the use of it is more large, has become a priority for many decoration designers.

Aluminum anti-static floor: This floor is made of aluminium alloy melted and machined. It has high strength, excellent fire protection and waterproofing performance. It has recycling value and is widely used in power industry.

PVC anti-static floor: This product is made of PVC resin as the main body, through special processing technology. The interface of PVC particles forms an electrostatic conduction network, which has permanent anti-static function. It looks like marble and has good decorative effect. The anti-static PVC flooring is suitable for cleaning and anti-static places in Telecom and electronic industry such as program-controlled computer room, computer room, clean workshop, etc.
Raised Anti-Static Floor Features & Functions
The anti-static raised access floor system adopts the principle of static electricity. The surface of anti-static access floor should be non-reflective, non-slippery, anti-corrosion, non-dusting, non-dust-collecting, making the ground non-dustproof, easy to clean, and relatively wear-resistant, etc. Which make it widely used and suitable for dust-free purification workshop, clean room and clean room. Computer room, microelectronics laboratory and so on. The antistatic floor is not the same as ordinary floor, it is particularly affected by the external environment, that is, it will not be affected by the high or low temperature and become larger or smaller.