Ceramic Calcium Sulphate Raised Floor
/ImagesProduct/Ceramic Calcium Sulfate Raised Floor System.jpg
Ceramic Calcium Sulphate Raised Floor
Sell Type: International business
Product Attributes:
Email: [email protected]
WhatsApp: +86 18018280738
PRODUCT DETAILS
Ceramic Calcium Sulphate Raised Floor
Ceramic calcium sulfate raised access floor combines the advantages of ceramic tile and calcium sulfate panel. It is an excellent choice for the ideal indoor environment in office flooring and any commercial building. The core of calcium sulfate ceramic anti-static raised floor consists of a monolithic calcium sulfate layer reinforced by anhydrous calcium sulfate and non-toxic unbleached plant fibers, which are made by pulse pressing; the top finish is made of 10mm thick wear-resistant non-slip ceramic tiles; surrounded by conductive rubber strips. The thickness of the entire ceramic calcium sulfate raised floor is 35mm, which has excellent performance including mechanical strength, fire resistance (fire resistance to Class A), heat insulation, sound insulation, and limited humidity sensitivity.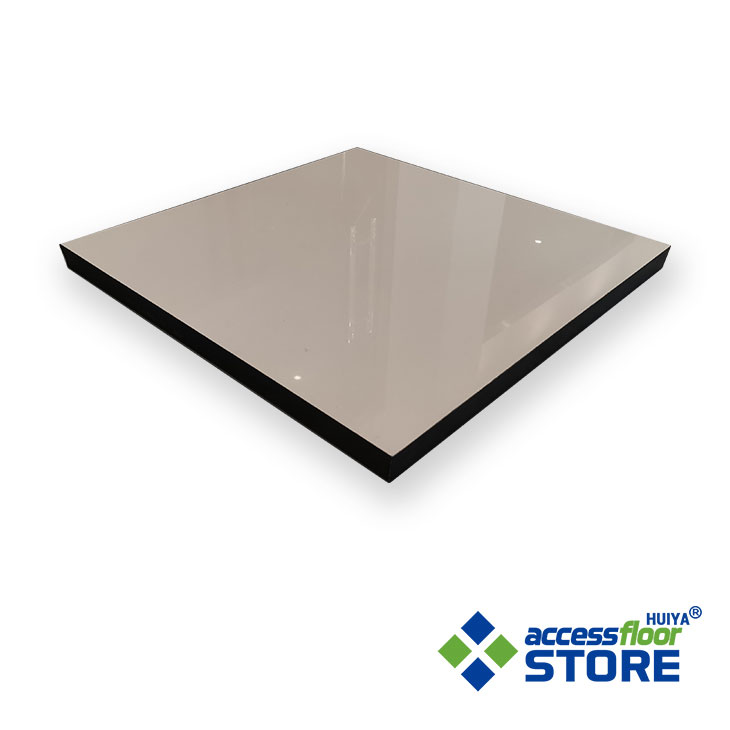 Top-Grade & Profitable Ceramic Calcium Sulphate Raised Floor For Your Office Flooring Project
As a high-end raised floor manufacturer from China, HUIYA provides the best affordable ceramic calcium sulfate raised floor system for your project, by combining high quality and aesthetic with outstanding functionality. Our ceramic calcium sulfate access floor has become the first choice for the office environment of many companies from domestic and abroad because it can meet the requirements of maintaining high-quality clean space, improving personal comfort, reducing noise, responding quickly and easily to organizational and technical changes and supporting overall aesthetic value of buildings while being cost-effective in construction and operation.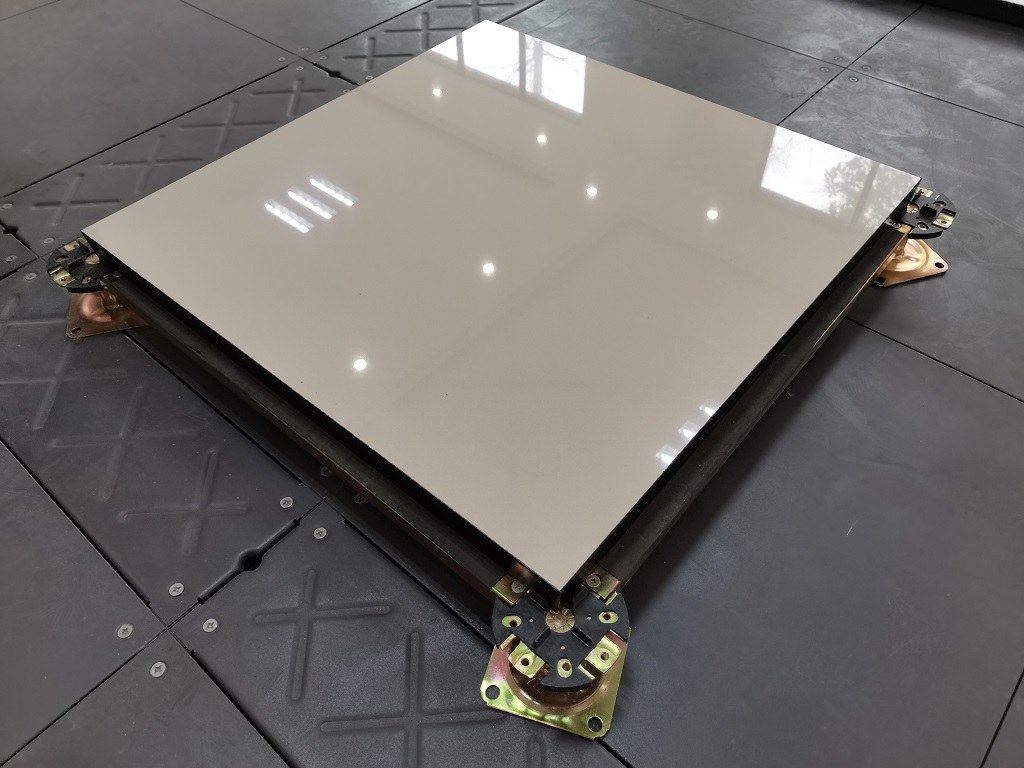 Ceramic Calcium Sulphate Raised Floor Specifications
Main Material: Calcium Sulphate Core & Ceramic Covering

Top Surface Finish: Ceramic Tile (10mm), other top coverings available

Bottom Surface: Aluminum Foil & Galvanized Steel Tray

Edge Banding: Conductive Edge Trims

Size: 600x600x35mm

Thickness: 35mm, perfect with ceramic top covering

Weight: 30KG/PC
Ceramic Calcium Sulphate Raised Floor Structure
Panel - 35mm thickness panel with calcium sulphate board & top ceramic tile (10mm), PVC/ABS trims are enfolded four edges, steel/aluminum on the bottom plate

Support Accessories - Die-casting steel structure raised floor pedestal with plastic gasket on top, 70mm-1500mm adjustable height, with or without square tube stringer steady connect the system.

Other Accessories - Outlet box and Floor Grommet mating
Ceramic Calcium Sulphate Access Floor Features & Advantages
1. The purity of calcium sulfate substrate is > 85%, which has reached the international standard.

2. High strength, permanent flatness, fire-proof and non-combustible grade A, no deformation after water immersion.

2. Use ABS for edging, and anti-static floor with PVC static conductive decorative edge.

3. Ceramic tile covering has excellent abrasion resistance, anti-pollution, easy to clean, and strong decoration.

4. The surface is soft light, wear-resistant, waterproof, fire-proof, dust-proof, corrosion-resistant.

5. The bottom plate is generally galvanized steel to protect the core and increase the load.

6. No pollution, environmental protection, and health.

7. Flexible assembly, convenient maintenance, and long service life.
Ceramic Calcium Sulphate Access Floor Applications
Because of its stupendous advantages and economical, it has become the most widely used raised floor system in commercial projects. Excellent rolling load and Class A flame spread make Ceramic Calcium Sulphate Access Floor ideal for general or high-end office use. Its strong load capacity also makes it a favorite of banks, school computer rooms, and libraries. Ceramic calcium sulphate raised floor can be installed:
Offices

High-Grade intelligent building

Meeting room

Audio-visual teaching room

Exhibition room

TV and radio stations

Operating room

Banks and Casinos

And the occasions which required high loading capacity
Why Choose HUIYA Ceramic Calcium Sulfate Raised Floor System?
High-end quality assurance - Each component is of high quality and combined to form a rugged raised floor system for office and other application.

Comprehensive and thoughtful service - From the initial consultation to completion, we will handle the project for you and provide fully managed end-to-end services.

Fast and timely shipment - Whether it is custom production or order from inventory, we deliver the fastest and timely delivery at the agreed time.