Encapsulated Steel Calcium Sulphate Raised Floor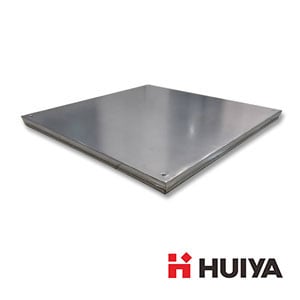 /ImagesProduct/Huiya Access Floor System - All Steel Raised Floor Panel.jpg
Encapsulated Steel Calcium Sulphate Raised Floor
Sell Type: International business
Product Attributes:
Email: [email protected]
WhatsApp: +86 18018280738
PRODUCT DETAILS
Encapsulated Galvanised All Steel Calcium Sulphate Raised Access Floor
With the improvement of people's living standards and the rapid development of the real estate industry, the use of Galvanized Steel Calcium Sulphate Access Floor panels in the construction of office, computer room, and other specialized areas have gradually entered. It is relatively simple to install, and it can provide greater flexibility for future device configuration changes and expansions. The equipment inside the machine room can be freely connected under the antistatic galvanized steel floor for easy laying and maintenance, which can make the machine room more clean and beautiful. It can protect a variety of cables, wires, data lines, and sockets from damage. Modern office can use the underfloor space as the static air pressure of the air conditioner. Conducive to the cleaning and maintenance of the equipment. It can eliminate the danger of cable exposure to the human body.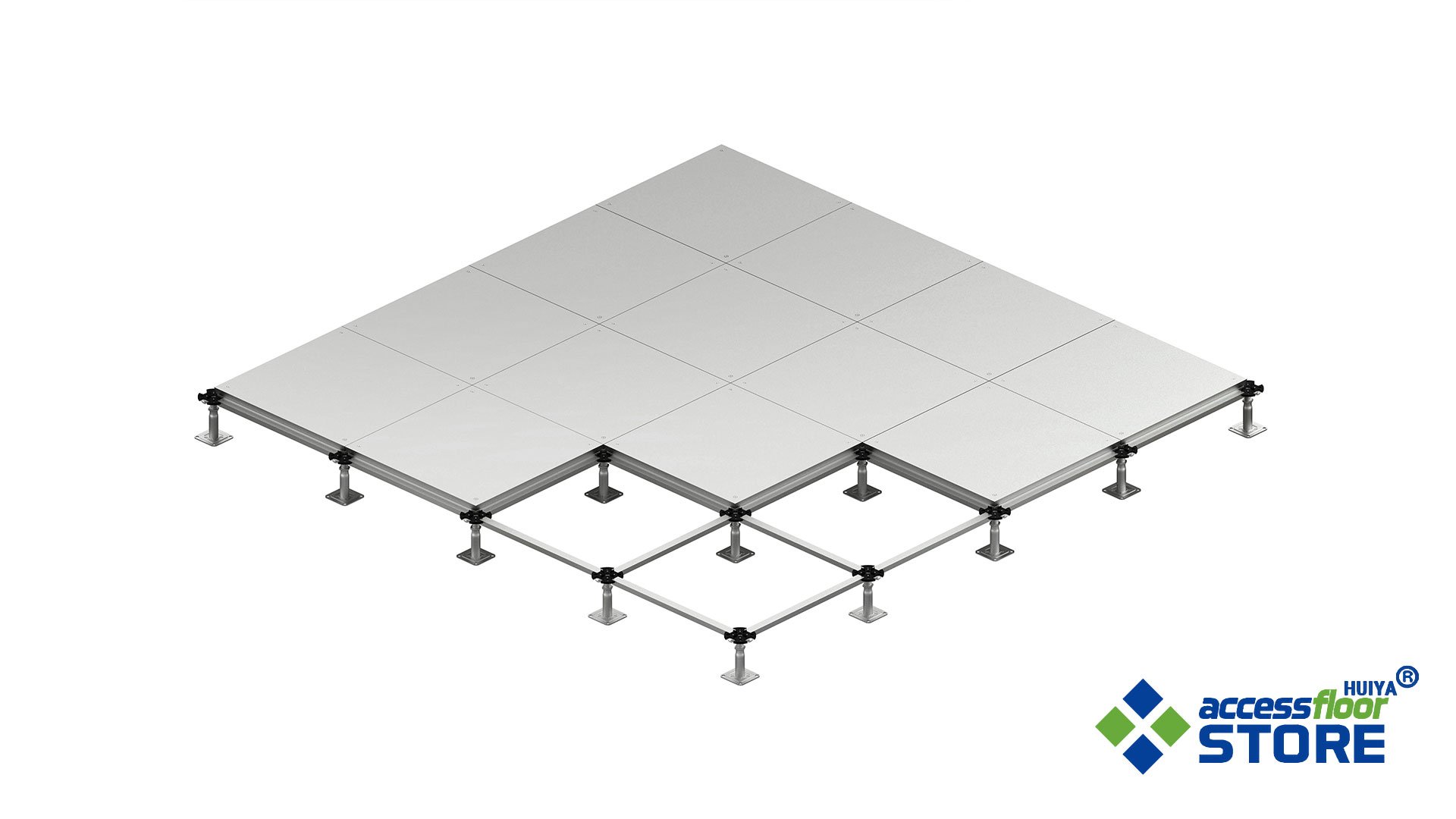 Galvanized Steel Calcium Sulphate Access Flooring System
As one of the largest access flooring system manufacturers and exporters in China, Changzhou Huiya Decoration Materials Co., Ltd. is a leading professional supplier for high-quality galvanized steel calcium sulfate Raised Floor for a construction project at a competitive price, with the best quality, fastest delivery, and excellent coordinated process service! Our factory has a high-quality full-Azimuth management team, raised flooring design & manufacturing, strict quality inspection, one-stop Galvanized Steel Encapsulated Calcium Sulphate Floor OEM service. We can design and manufacture Anti Static Galvanized Steel Floor and in customized shapes per client's requirements.
HuiYa Galvanized Steel Raised Flooring Specification
Structure: Calcium sulfate core, tile surface, galvanized steel bottom, four sides edge trims.

Material Type: Galvanized Steel & Calcium Sulfate

Size: 600mm*600mm*32mm

Surface Standard Height: 100mm-1000mm, other height can be customized

Covering of Panel: HPL (High press laminates), PVC

Related Auxiliary Raised Floor Accessories: Panel, Angle, L-Trim, Suction Cup Lifter, Grommets, Threshold, Electric Boxes, etc

Certificate: ISO9001, ISO14001, MOB, CE, CISCA, GMC.
Encapsulated Galvanised Steel Raised Floor Structure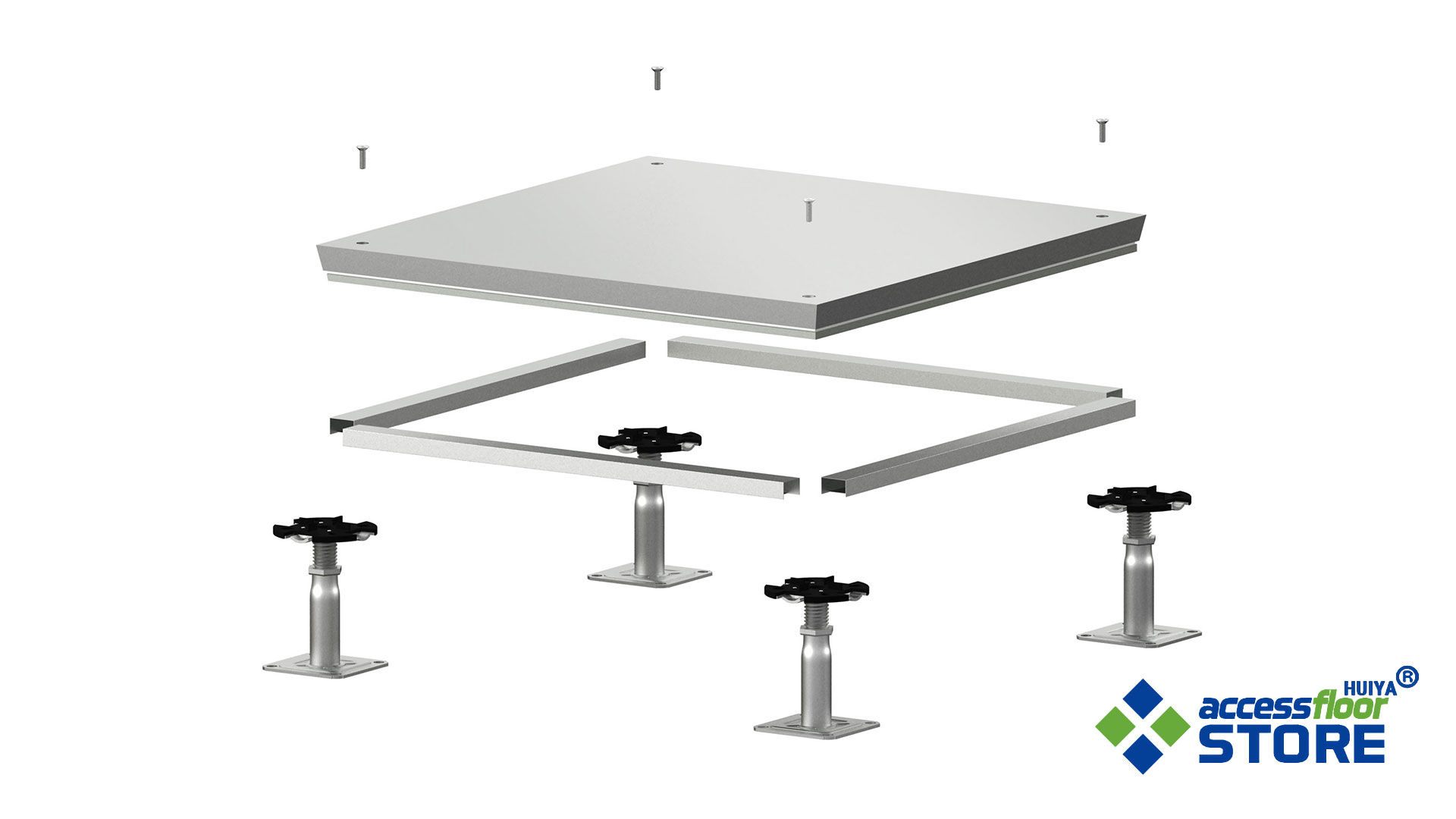 Encapsulated Galvanised Steel Raised Floor Pedestal & Stringer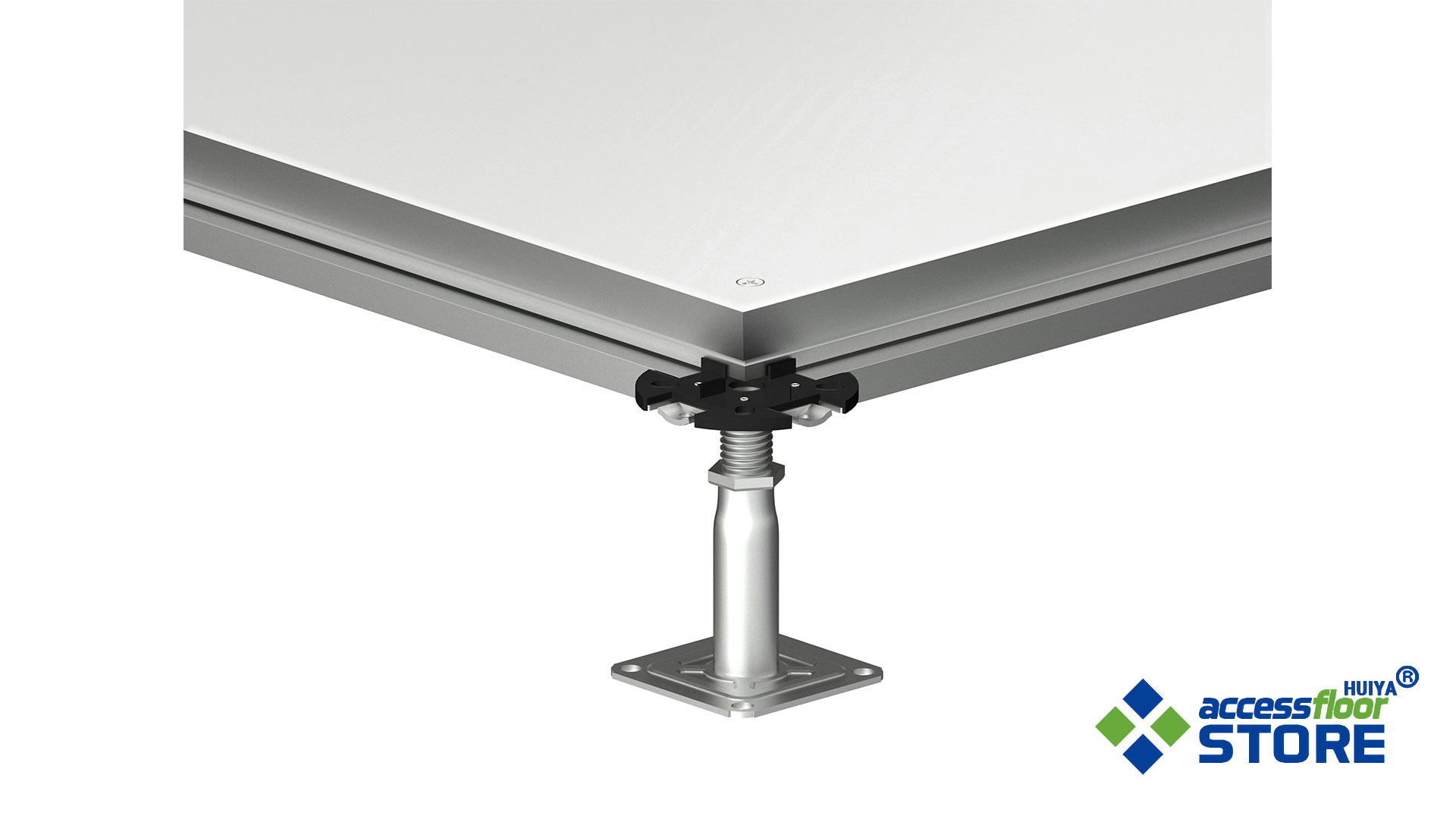 Applications
It is mainly used for all requirements that high loading ability, better pavement performance high-end applications, such as office, banks, telecommunication rooms, intelligent office, commercial business, exhibitions, workshops, control rooms, converting rooms, and other industries program-controlled room, etc.
Benefits & Advantages
Substrate purity> 85%, has reached international standards

Can be used in high-demand computer rooms, data centers and etc

Environmentally friendly, waterproof, fireproof, rustproof

Excellent loading ability, better flatness, durable

Better stability in the environment of different temperature and humidity

Simple structure, flexible installation meets various requirements of wiring

Profitable Anti Static Galvanized Steel Flooring OEM service and cost-saving program offered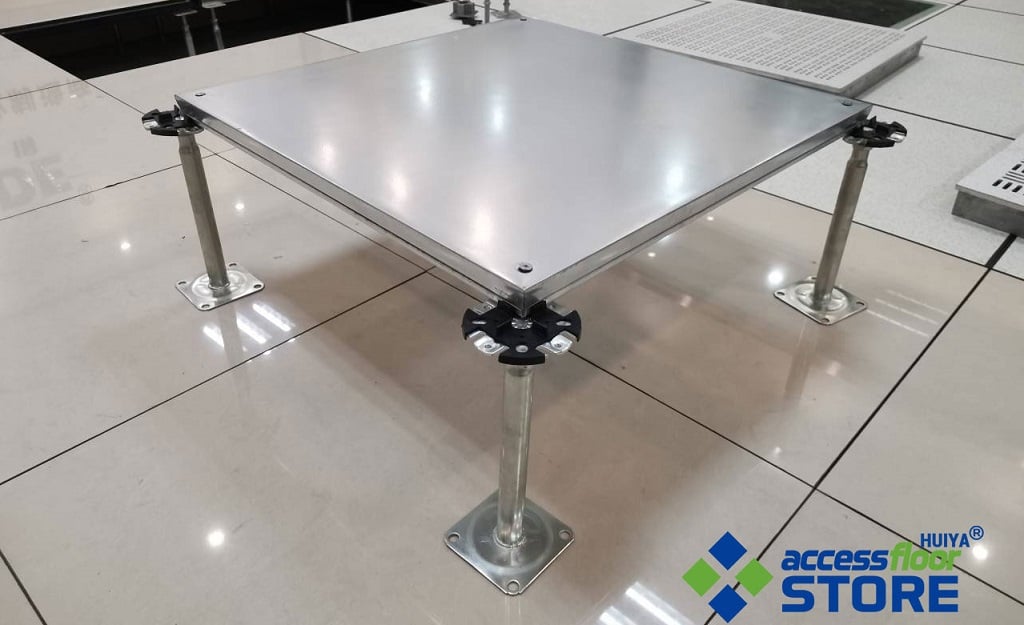 Load Capacity
| | | | | | |
| --- | --- | --- | --- | --- | --- |
| Type | SIZE | CONCENTRATED | IMPACT LOAD | ULTIMATE LOAD | UNIFORM LOAD |
| international | mm | N | N | N | N/㎡ |
| FS1000 | 600*600*32 | ≥4498 | ≥670 | ≥13494 | ≥23294 |
| FS1250 | 600*600*32 | ≥5560 | ≥780 | ≥16680 | ≥33000 |
| FS1000 | 600*600*32 | ≥6675 | ≥1005 | ≥19892 | ≥34500 |
Watch this video to get know how to do Encapsulated Galvanised Steel Calcium Sulphate 30mm Raised Floor Load & Deflection Test: