Homogeneous Pvc Chipboard Raised Floor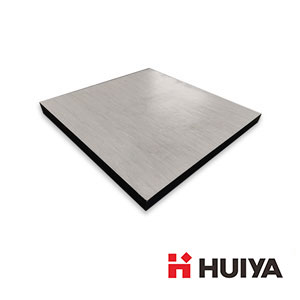 Homogeneous PVC Chipboard Raised Floor
Sell Type: International business
Product Attributes:
Email: [email protected]
WhatsApp: +86 18018280738
PRODUCT DETAILS
Homogeneous PVC Wooden Raised Floor - Anti-Static Chipboard Raised Floor
Our Homogeneous PVC Chipboard Raised Floor (ESD Vinyl Woodcore Raised Floor) covered with Conductive Homogeneous PVC tile are natural sustainable floors associated with durability, high quality, economical and innovative design. The Anti-Static PVC Woodcore panels consist of high-density wood core composite adhesive. The elastic and impact-resistant PVC tiles as surface finish material ensures good protection against mechanical damage. Use aluminum foil to coat the bottom side for protecting the chipboard raised floor panel against moisture absorption, dust and fire. For improving mechanical resistance of the panel, we cover the bottom with a 0.4mm galvanized steel trey. With electrically conductive vinyl tile covered on surface and conductive PVC edging strips sealed on four edges, the discharge of electrical voltages is guaranteed in accordance with the requirements of the EN 1081 standard. Good technical performance and high loading bearing combined with easy of installing and pricing, Huiya Homogeneous Vinyl Chipboard Raised Floor could be your best choice for use in the office area of industry and administration, banks and insurance companies, in data centers and computer rooms as well as storage rooms and production areas.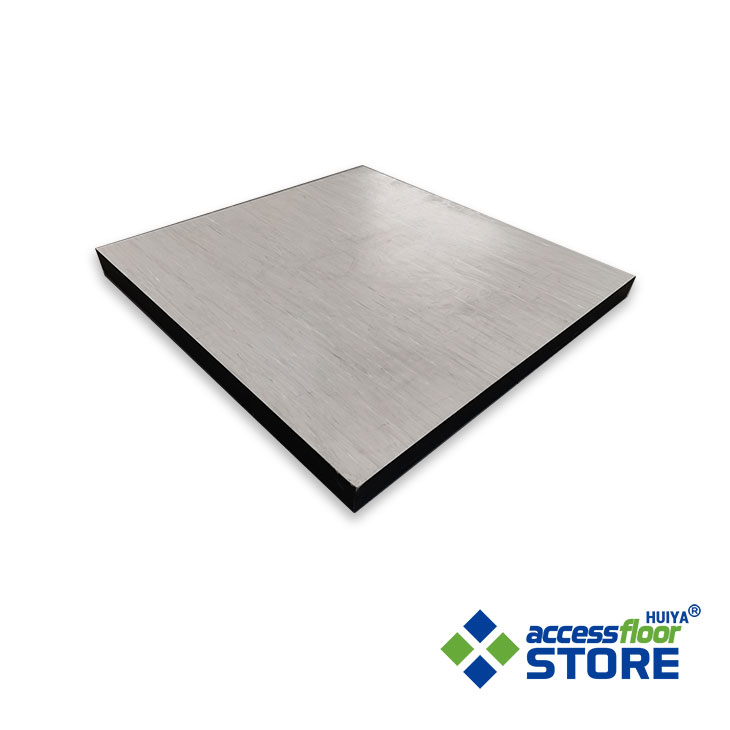 Homogeneous PVC Chipboard Raised Floor Specifications
Panel Core: High density chipboard

Steel Encapsulated: No

Chipboard Core Depth: 28mm/38mm

Top Surface Finish: PVC Tile (1.5mm, 2.0mm, 2.5mm, 3.0mm thickness is available)

Bottom Surface: Aluminum foil, Galvanised steel tray 0.4mm

Perimetral Edges: Sealed With Conductive PVC Edging Strip

Loading Capacity:
Anti-Static PVC Chipboard Raised Floor 800lbs CISCA Standard Test


Concentrated load

N

Impact Load

N

Ultimate Load

N/M2

Uniform Load

N

Rolling Load

LB

N

KG

10

Times

10000 Times

≥800

≥3560

≥363

≥536

≥10680

≥16100

≥3560

≥2670
ESD Homogeneous Vinyl Chipboard Floor Panel Application
IT Workplace: Data Centres, Server Rooms, Computer Rooms, Control Rooms

Office Building: Offices, Broadcasting Rooms, Television Studios, Common Rooms, Facilities for Meetings, Court Houses, Stage, and Studio Rooms, Government Buildings

Industry: Laboratories and Research Facilities, Power Plants

Education: Library Rooms, Research Rooms, School, School of Higher Education

Recreation and Culture: Museums, Showrooms, Casinos, Banks, Sales Areas, Shopping Malls

Healthcare: Laboratories, Clinics and Hospitals
Benefits of Using Homogeneous PVC Woodcore Raised Access Floor
High quality, low-costing and aesthetic with outstanding functionality, security

High load bearing capacity, fire resistance, solid feel and lightweight

Use of environmentally friendly materials, health, comfort and safety

Permanent anti-static, excellent grounding and electrical continuity

Wear-resistant homogeneous vinyl surface provides good acoustic performance, antibacterial

Full range of vinyl flooring finishes adapt to various decoration and aesthetics

CE marked, comply to the BS EN 12825 & British PSA/MOB & EN 1081 Standard

Very easy to install, clean and maintain
To get to know more details about our ESD Vinyl Covered Woodcore Raised Floor, welcome to send your inquiry to us now!