Linfloor Js501 Raised Floor Series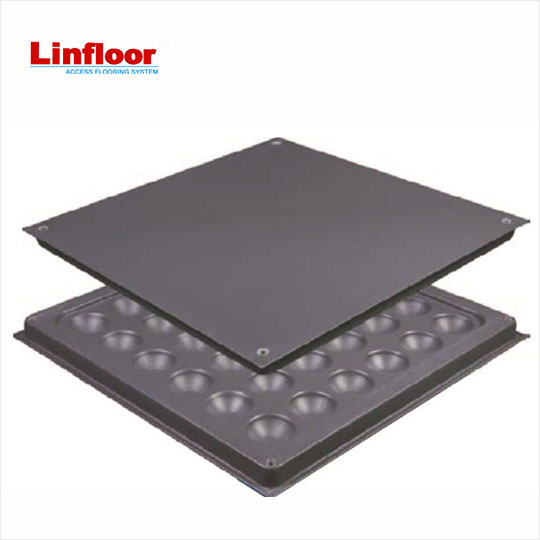 LinFloor JS501 Raised Floor Series
PRODUCT DETAILS
LinFloor JS501 Intelligent Finish Raised Access Flooring System
LinFloor JS501 Raised Access Flooring Series is a type of OA System, with none-combustible concrete-and-steel composite panel and understructure. This JS501 Series is the strongest, most durable access floor in the world, and is widely used in Office Building applications.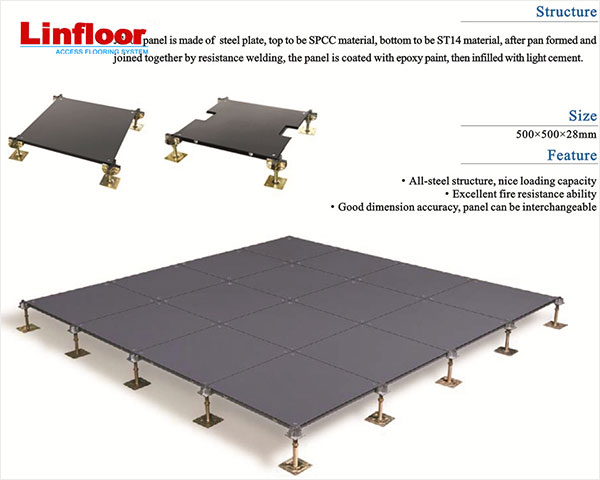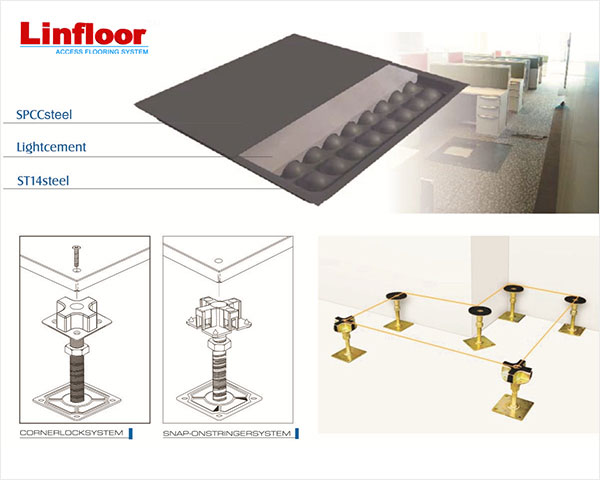 JS501 Raised Floor System: 500 x 500 mm Panels & Understructures
JS501 panel is made of steel plate, top to be SPCC material, bottom to be ST14 material, after pan formed and joined together by resistance welding, the panel is coated with epoxy paint, then infilled with light cement.
JS501 Solid Panel + Corner Lock System
Dimension: 500mm x 500mm x 28mm

Designed for Office Building application,

Steel pedestals provide excellent impact load performance,

Vibration proof locking nut for fast and stable installation.
Wire Trunking System
A workstation can be easily and quickly relocated with cable management without disruption. Convenient for connecting wire at any point without cutting floor. Suitable for all kinds of plug socket terminals, Adjustable wire-connected location.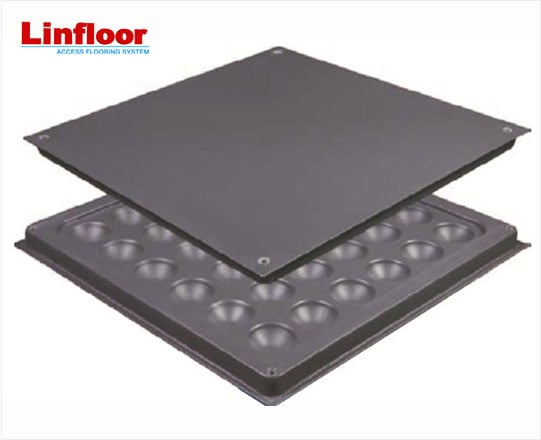 Loading Performance
Linfloor JS501 Intelligent Finish Raised Access Flooring System

Type

Panel Size

System Weight

Impact

Dynamic

Concentrated

Ultimate

Uniform

U-UDL

Rolling Road

Kg/M²

Load Kg

Load Kn

Load Kn

Load Kn

Kn/M²

Kn/M²

10(N)

10K(N)

Bare

With Deflection 2.5mm²

Passes

Passes

U800

500X500X28mm

~33

60

3

3.6

10.8

≥16.5

28.8

3550

2670

U1000

~36

60

4.5

4.5

13.5

≥19.79

45

4450

3550

U1250

~40

70

5.5

5.7

17.1

≥25.39

60

5560

4450

Testing Qualification
Safety Factor*(min 2.0)
Understructure
Fire Protection

CISCA 1986/87, MOBPF2 PS/SPU1992, BSEN 12825-2001, SJ/T10796-2001, PSB
3 (PASS)
Color Lock
Non Combustible
| | | | | | | |
| --- | --- | --- | --- | --- | --- | --- |
| JS501 System | PSA MOB Grade | Concentrated Load (kN, 2.4mm) | Uniform Load (kN/m²) | Safety Factor | Softbody Impact (40kg, 1000mm) | Hardbody Impact (4.5kg, 600mm) |
| U800 Corner Lock Sys. | Medium | 3 | 12 | 3 | Pass | Pass |
| U1000 Corner Lock Sys. | Heavy | 4.5 | 20 | 3 | Pass | Pass |
| U1250 Corner Lock Sys. | Extra Heavy | 5.5 | 30 | 3 | Pass | Pass |
Main Features
Dual-cutout panel provides maximum cable management flexibility.

All-steel structure, nice loading capacity

Excellent fire resistance ability

Good dimension accuracy, panel are be interchangeable