Linfloor Js601 Raised Floor Series
/ImagesProduct/方形-linfloor-js601-raised-floor-series-1.jpg
LinFloor JS601 Raised Floor Series
PRODUCT DETAILS
JS601 Bare Finish Raised Access Flooring System
LinFloor JS601 Series is a very sturdy and economical raised floor system, composed of non-combustible concrete and steel composite panels and substructures. As a strong, durable and highly functional raised floor system, it is widely used in applications of office decoration and Data Center Underfloor Air Distribution.
JS601 Cementitious Infill Steel Panels & Understructures
JS 601 panel is made of steel plate, top to be SPCC material, bottom to be ST14 material, after pane formed and joined together by resistance welding, the panel is coated with epoxy paint, then infilled with light cement. Embossment structural enhance the concentrated load capability.
Bare Finished FS Panel + Corner Lock System
Dimension: 600mm x 600mm x 33mm

Designed for Office Building application,

Steel pedestals provide excellent impact load performance,

Vibration proof locking nut for fast and stable installation.
Underfloor Structures
Screw down designs supports the system effectively and makes the installation easily and stable.

The load is transferred directly onto the center of pedestal column.

Different types of understructures are available for install JS601 panel system.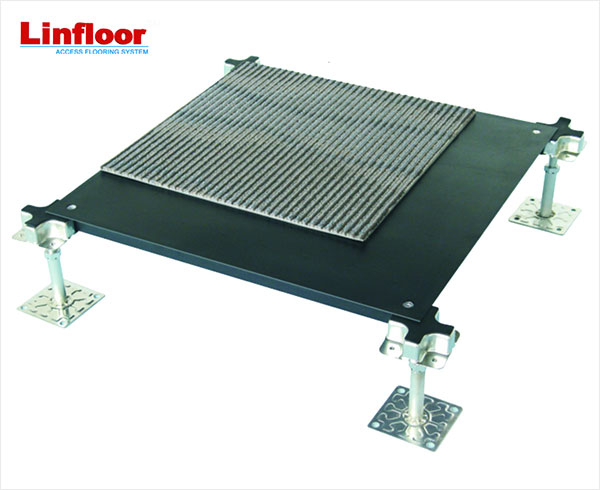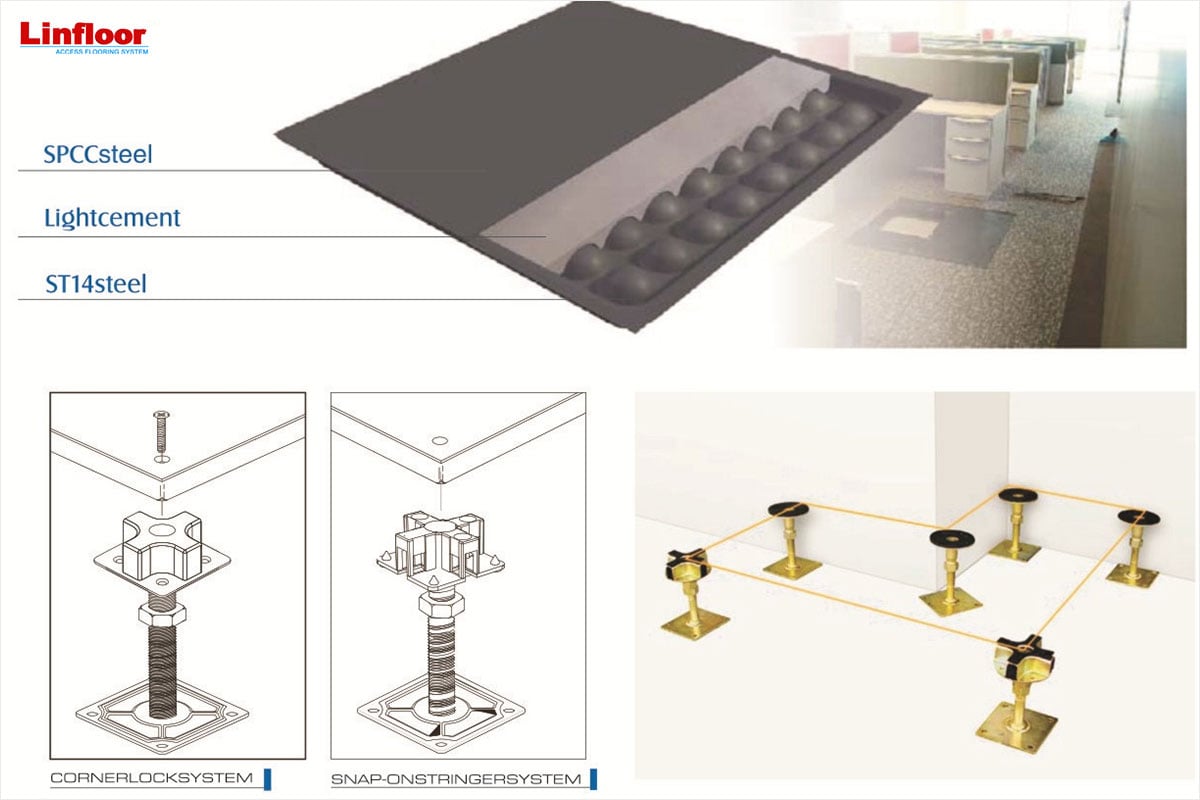 Loading Performance
Linfloor JS601 Bare Finish Raised Access Flooring System

Type

Panel Size

System Weight

Impact

Dynamic

Concentrated

Ultimate

Uniform

U-UDL

Rolling Road

Kg/M²

Load Kg

Load Kn

Load Kn

Load Kn

Kn/M²

Kn/M²

10(N)

10K(N)

Bare

With Deflection 2.5mm²

Passes

Passes

U800

500X500X33~35mm

~39

50

3

3.6

10.8

≥16.5

28.8

3550

2670

U1000

~41

60

4.5

4.5

13.5

≥19.79

45

4450

3550

U1250

~44

70

5.5

5.7

17.1

≥25.39

60

5560

4450

U1500

~47

75

6.5

6.8

20.4

≥33.08

78

6670

5340

U2000

~50

90

7.5

9.1

27.3

≥49.58

106

8900

8010

Testing Qualification
Safety Factor*(min 2.0)
Understructure
Fire Protection

CISCA 1986/87, MOBPF2 PS/SPU1992, BSEN 12825-2001, SJ/T10796-2001, PSB
3 (PASS)
Color Lock
Non Combustible
| | | | | | | |
| --- | --- | --- | --- | --- | --- | --- |
| JS601 System | PSA MOB Grade | Concentrated Load (kN, 2.4mm) | Uniform Load (kN/m²) | Safety Factor | Softbody Impact (40kg, 1000mm) | Hardbody Impact (4.5kg, 600mm) |
| U800 | Medium | 3 | 12 | 3 | Pass | Pass |
| U1000 | Heavy | 4.5 | 20 | 3 | Pass | Pass |
| U1250 | Extra Heavy | 5.5 | 30 | 3 | Pass | Pass |
| U1500 | Extra Heavy | 5.5 | 30 | 3 | Pass | Pass |