Linfloor Wc600 Woodcore Raised Access Series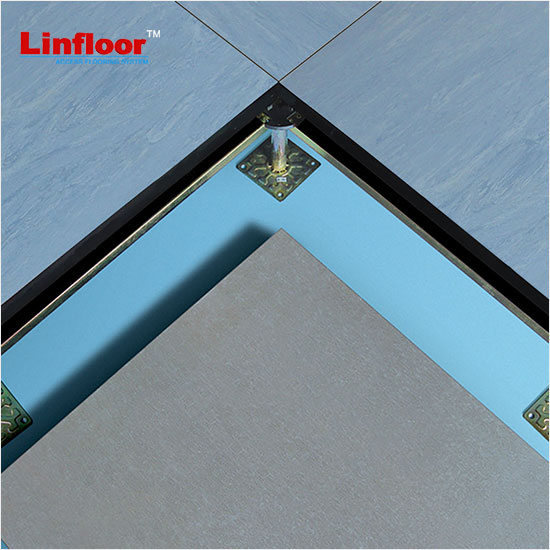 /ImagesProduct/方形-linfloor-sc600-raised-floor-series-1.jpg
LinFloor WC600 Woodcore Raised Access Series
PRODUCT DETAILS
Linfloor WC600 Woodcore Zinc Finish Raised Access Flooring System
Linfloor WC600 Wood Raised Flooring Modular System made of chipboard, composed of woodcore particles bound together by heathardener resins and obtained with a continuous process of thermo-pressing so as to guarantee high homogeneity of mechanical characteristics and dimensional stability, and is widely used in Office Building, Data Center, Renovation, and Underfloor Air Distribution applications.
WC600Woodcore Panels & Understructures
The Linfloor WC600 panel is made of high density chipboard as the core, encapsulated to provide full steel encasement, steel to be high quality galvanized steel as top and bottom.
Chipboard Panel + Rigid Grid System
Finishes : Bare/ HPL/ PVC / Aniti-Static PVC

Dimension: 600mm x 600mm x 30/38/40mm

Perforated panel airflow rate 40%, dampers optional,

Steel pedestals provide excellent impact load performance,

Vibration proof locking nut for fast and stable installation,

Steel stringer provides excellent loading performance.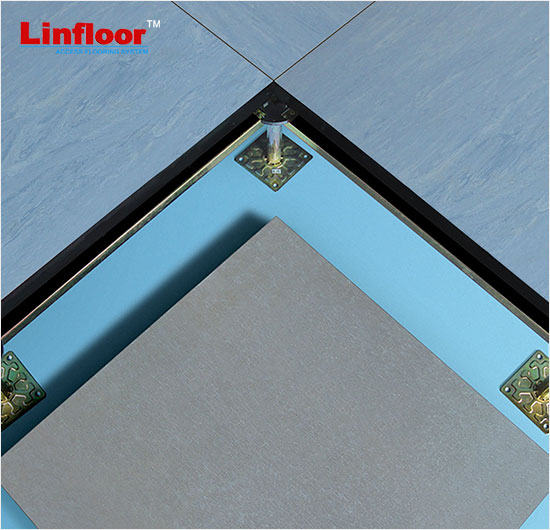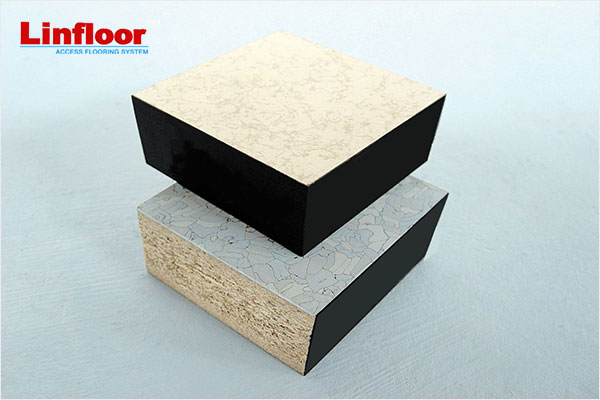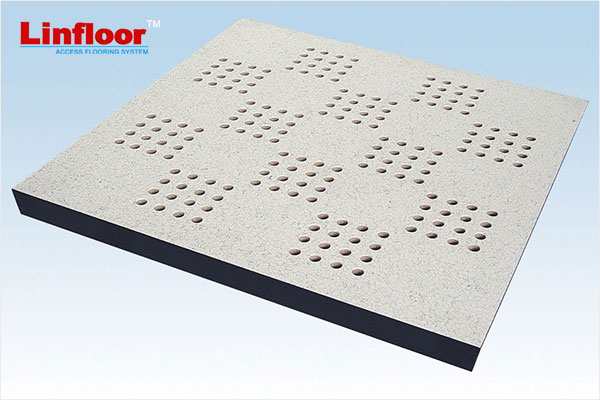 Loading Performance
Linfloor WC600 Woodcore HPL/Zinc Finish Raised Access Flooring System

Type

Panel Size

System Weight

Impact

Dynamic

Concentrated

Ultimate

Uniform

U-UDL

Rolling Road

Kg/M²

Load Kg

Load Kn

Load Kn

Load Kn

Kn/M²

Kn/M²

10(N)

10K(N)

HPL/Zinc

With Deflection 2.5mm²

Passes

Passes

U800

500X500X30/38/40mm

~31

40

3

3

9

≥8.5

16.8

2750

2270

U1000

~34

50

4.5

4.5

13.5

≥12.79

24

3650

2750

U1250

~36

50

6

6

18

≥16

32

4560

3650

Testing Qualification
Safety Factor*(min 2.0)
Understructure
Fire Protection

CISCA 1986/87, MOBPF2 PS/SPU1992, BSEN 12825-2001, SJ/T10796-2001, PSB
3 (PASS)
Color Lock
Non Combustible
| | | | | | | |
| --- | --- | --- | --- | --- | --- | --- |
| WP System | PSA MOB Grade | Concentrated Load (kN, 2.4mm) | Uniform Load (kN/m²) | Safety Factor | Softbody Impact (40kg, 1000mm) | Hardbody Impact (4.5kg, 600mm) |
| WP800 + Rigid Grid System | Medium | 3 | 12 | 3 | Pass | Pass |
| WP1000 + Rigid Grid System | Heavy | 4.5 | 20 | 3 | Pass | Pass |
| WP1250 + Rigid Grid System | Extra Heavy | 5.5 | 30 | 3 | Pass | Pass |
Features & Applications
Woodcore raised floor panel is widely used in high-grade rooms, such as banks, telecommunication centers, smart offices, computer rooms

This panel is particularly suitable for areas of high humidity

High dimension accuracy and environmental proof