Next Level Calcium Sulphate Raised Floor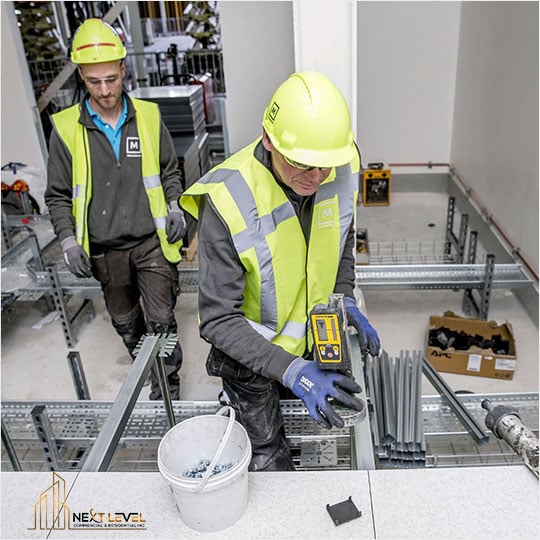 Next LEVEL Calcium Sulphate Raised Floor
PRODUCT DETAILS
What Is Data Center Calcium Sulphate Raised Floor?
The data center Calcium Sulphate raised floor system, also known as a 'computer access flooring system' in which the room's flooring is raised above the solid substrate made of concrete. The raised floor is done with a grid structure consisting of pedestals and floor tiles, so a gap is created between the substrate and the elevated floor. Calcium Sulphate Raised Access Flooring consist of a recycled Calcium Sulphate core sealed with heavy-duty ABS and a galvanized steel bottom. These panels are environmentally friendly, waterproof, rot-proof, fireproof (Class "A" flame spread rating) and provide excellent rigidity, load rating, durability, and acoustic and static performance.
NEXT LEVEL Calcium Sulphate Raised Floor Specifications
Panel size: 24" x 24"

Kit weight: 12 lbs/sf2

Panel weight: 39 pounds

Material Class: A2

Fire Resistance: F60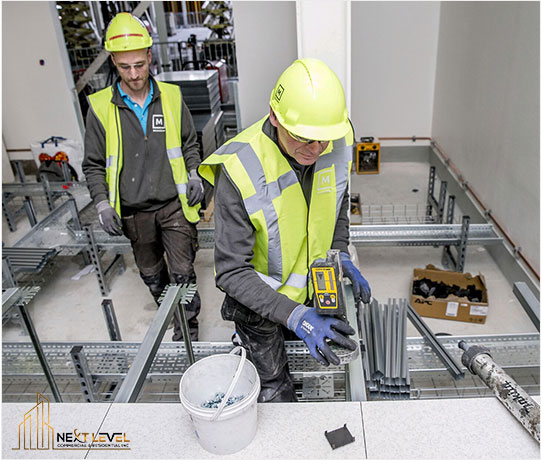 The Advantage of Data Center Calcium Sulphate Raised Floor?
The installation of a raised floor system in the data center typically benefits the operation of the business. Here are some of the advantages that aides the operation of the data center.

Scalability: This is a modular design in which the floor tiles are arranged individually, which benefits the data center's scaling. As time progresses, you will have the option to add more server and cooling systems as required, without you having to build a new cooling system without obstructing the cables.

Green materials: These panels are environmentally friendly, "green" building materials that are 100% recyclable and manufactured using sustainable practices.

Fire insulation: If you have a fire, these panels are fireproof and will provide insulation that slows the flames and allows extra time for your employees to evacuate.

Load capacity: These tiles have an impressive ultimate load rating of 3400 pounds, offer 371.75 pounds of balanced load support per square foot and can withstand 150-pound impacts.

Waterproof properties: Calcium raised floor systems are waterproof, making them easy to clean and perfect for safe and reliable installation in high-humidity environments.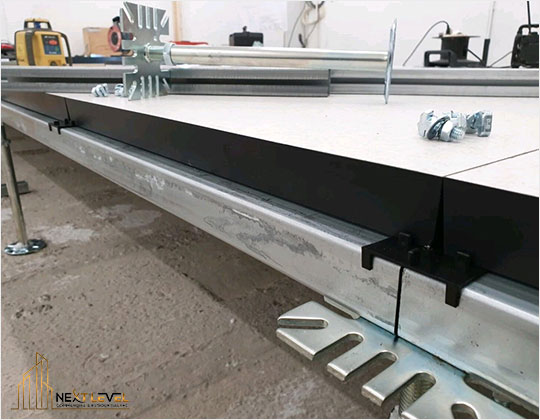 Calcium Sulphate Raised Floor Finishes
Next LEVEL Calcium Sulphate Raised Floor use a wide selection of high-pressure laminate (HPL) finishes or vinyl finishes by special order.
High-pressure laminate finishes are available in a broad range of colors and styles to match your building's architecture and your brand identity. We have options to suit any space, including panels with stone, slate and graphite patterns, and tiles featuring warm wood tones.