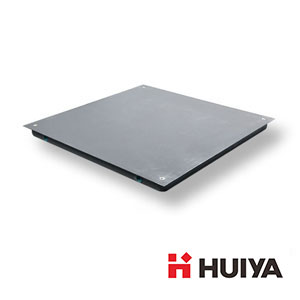 /ImagesProduct/oa-office-raised-flooring20080628245.jpg
OA Raised Floor
PRODUCT DETAILS
OA Steel Raised Floor - Office Access Floor
OA Access Floor, also known as OA network floor and OA Office Raised Floor, is a Raised Floor System to adapt to modern office, specifically designed for easy network cabling floor.
System handling of cables and wiring has become an urgent issue, as the business environment continues to evolve and office automation becomes more complex and sophisticated. OA network raised floor can manage cables and cabling efficiently and systematically, enabling customers to create well-organized, clean, chaotic office environments. In addition, lightweight and highly recyclable materials such as aluminum die-casting are environmentally friendly, and the OA office flooring system is an ideal choice from an ecological point of view. OA access floor demonstrates its reliability in terms of strength, performance, advanced usability and ease of maintenance.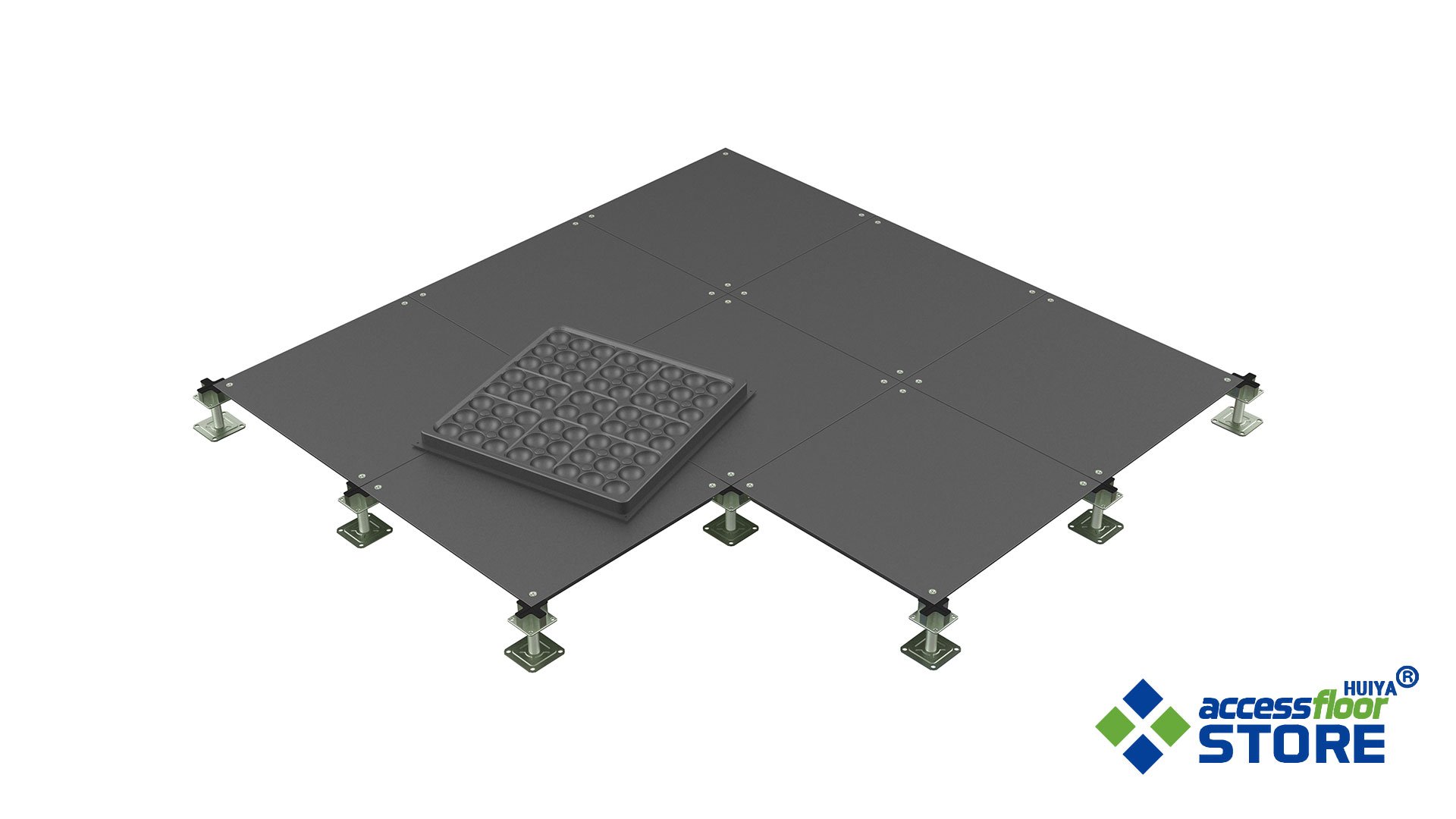 HuiYa OA (Office) Raised Flooring System - OA Network Steel Access Floor
HuiYa OA Raised Floor is made of high-quality alloy cold-rolled BAOWU STEEL plate, which is stretched forming, spot-welded, coated with epoxy powder after phosphating, infill with foamed cement, with corner lock. The fire-resistant decoration plates that can endure high temperature adhere to its surface with conductive chips embedded around it. The pedestals and cross beams are wholly plated with zinc and the height of pedestals is adjustable and can be self-locked.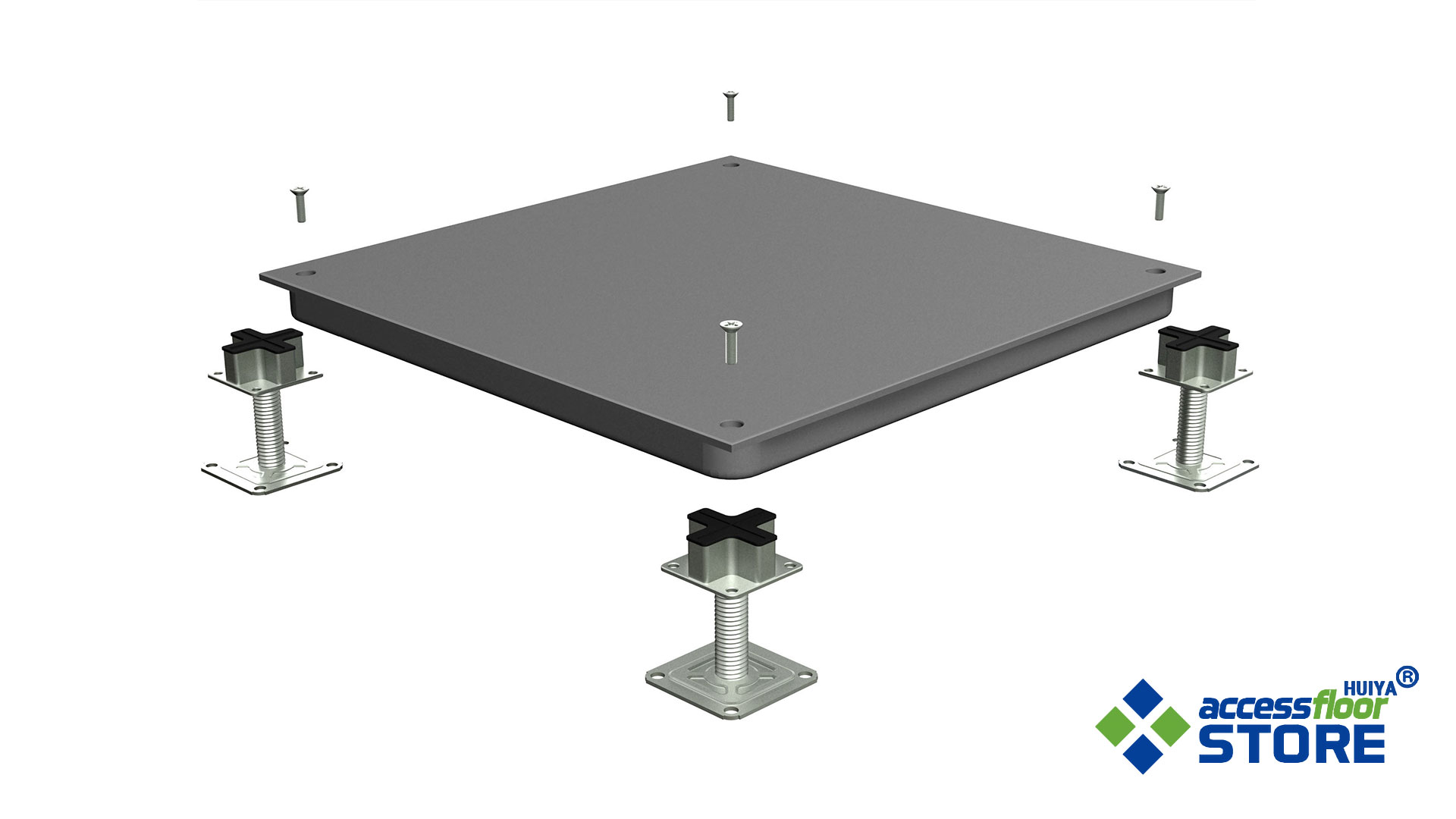 OA Raised Floor Specification
System Name:
OA600 RAISED FLOOR 3.0KG
Description:
OA600 RAISED FLOOR 3.0KG is considered the classic system for commercial environments. It is widely used for office building and data cable management.
Construction:
The panels consist of a hardened steel top and bottom sheet plate with corrosion resistant protection, inside and out,encapsulating a structural cementitious core.
Core:

Compact lightened cement injected from high density (1,250kg / m3 ± 10% according to international standards)
Panel Dimensions:
SIZE 600mm x 600mm
DEPTH 33mm
CORE Cementitious Compound
Finish:
Standard powder coated finish.
Up Steel Sheet Thickness:
Upper steel sheet: 0.5mm thick smooth steel sheet, Protective epoxy paint finish

Surface Covering:
Vinyl, Conductive Vinyl, Carpet, Linoleum, Rubber, others upon request.
Bottom Steel Sheet Thickness:
Bottom steel sheet 0.50mm thick with 36 concave cavities and perimeter reinforcement rib. Epoxy protection paint finish.
Tolerance:
±0.25mm and a flatness tolerance of ±0.5mm measured on a diagonal across the top of the panel
Connection:
The panel is screw fixed to the pedestal head at all four corners.
Compliant Standards:
LOAD PERFORMANCE TO STANDARD GUILD - CISCA Recommended Test Procedures for Access Floors (2007)


Load Level

Panel (KG)
System(Kg/m2 at 150mm FFH)
800LBS
13.5
40.9
STATIC PERFORMANCE (KN)
Concentrated Load
Impact Load
Ultimate Load
3.5
0.6
8.8
DYNAMIC PERFORMANCE (KN) - Passes


10 Passes
(Wheel size 75x25mm)

10,000 Passes
(Wheel size 150x50mm)

40,000 Passes
(Wheel size 200x75mm)

2.6
2.6
2.25

*All tests are performed using CISCA Recommended Test Procedures for Access Floors


1: Concentrated Load is based on permanent set 0.010" and is verified by loading panels in accordance with the CISCA concentrated load method but with panels installed on actual understructure instead of steel blocks.

2: Safety Factor is Ultimate Load divided by Design Load. The Concrete Panel has a Safety factor of 1.5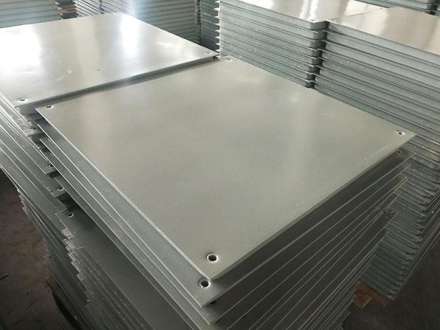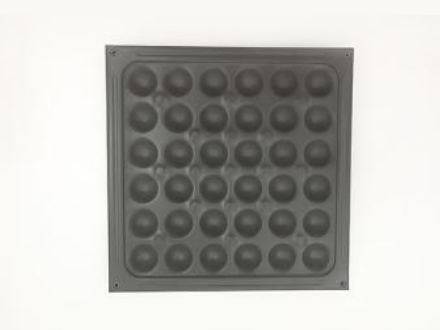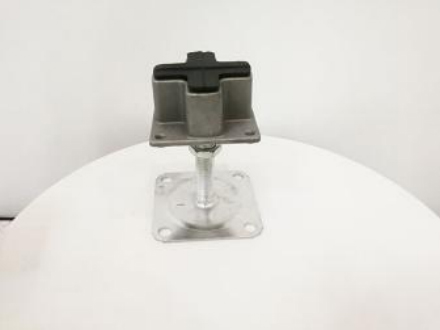 OA Access Floor Loading Capacity
OA Raised Floor Load Capacity (Size:500×500×28mm & 600×600×33mm)

TYPE

Concentrated Load

Impact

Load

Ultimate

Load

Uniform

Load

Rolling Load

LB

N

KG

N

N

N/m2

10passes

10000passes

FS700

≥700

≥3115

≥318

≥500

≥5880

≥12500

≥2200

≥1533

FS800

≥800

≥3650

≥363

≥600

≥10700

≥17000

≥2878

≥2230

FS1000

≥1000

≥4450

≥454

≥670

≥13350

≥23000

≥3611

≥3012

FS1250

≥1250

≥5563

≥568

≥850

≥16680

≥33000

≥4511

≥3600

FS1500

≥1500

≥6674

≥681

≥900

≥20000

≥43000

≥5560

≥4480
OA Steel Raised Access Floor System Structure & Accessories
Our OA intelligent access flooring system is constructed with the steel panel, pedestal, pads, and screws. The panel is placed on the pedestal with shock pad, screw through the keyhole floor around the corner directly connected to the pedestal, bearing galvanized and cast aluminum structure, height-adjustable and can be self-locking.
Pedestal Size:
85x85mm base plate
Pedestal Construction:
Cold dipped galvanised steel pedestal base, head and rod. Aluminum head assembly.
Compliant Standards:
The pedestal will be provided with an adjusting and locking nut to maintain the assembly at a selected height, which requires a deliberate action to change the height setting, and which prevents vibration displacement.
Pedestal Finish:
Cold dipped galvanized finish
Pedestal Connection:
The panels consist of a hardened steel top and bottom sheet plate with corrosion-resistant protection, inside and out, encapsulating a structural cementitious core.
Pedestal Finished Floor Height (FFH):
The finished floor height of the access floor is measured from the subfloor to the top surface of the installed access floor.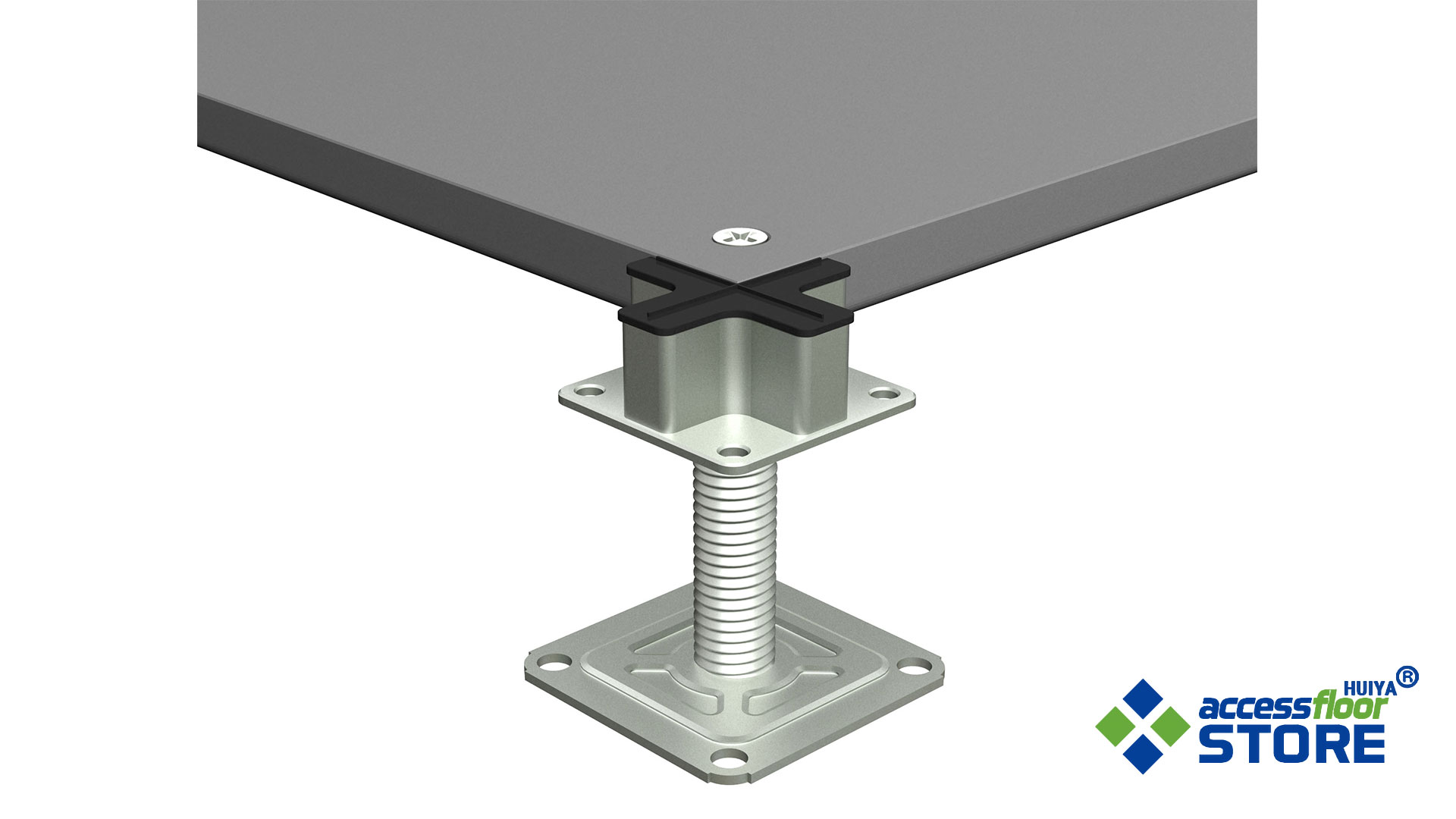 Applications
Class 5A intelligent office building

Computer Rooms, Control Center, Data Center

Laboratory, School Buildings

Industrial Cleanroom

Electrical-controlled classrooms

The areas demand overhead requirements, network cabling occasions, more suitable for the ground to transform the old building cabling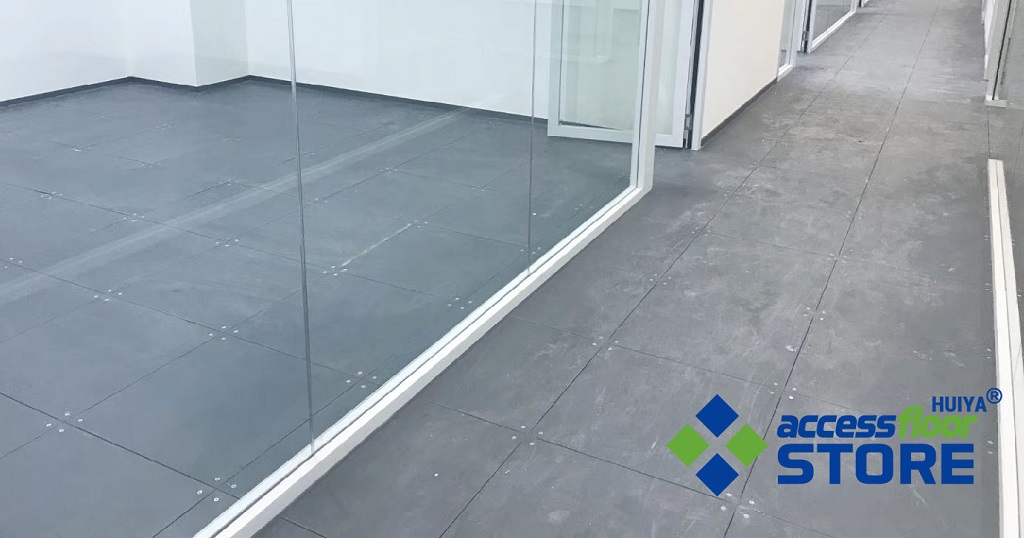 Features of Our OA Raised Floor
Design for various building use, the maximizes work efficiency with a pleasant work environment;

High-quality material, professional production line, advanced technology;

Class A flame spread and smoke development rating, excellent fire-proof performance;

Flexible for the installation, and supply an excellent solution for the office room or computer room integrity, wiring, and data cable services;

Completely non-combustible;

Lightweight concrete infill makes panels solid and quiet;

Excellent rolling load & ultimate load performance;

Black/Grey electrodeposition cathodic epoxy painting finish for longtime protection and great durability;

Creates a pleasant indoor atmosphere, comfortable to walk on it;

Flexible and easy to installation, inspection, modification, and maintenance
Advantages of Our OA Access Flooring Service
Cost-Saving and profitable OA floor in relation to the building life cycle;

80000 Square Meter/Square Meters per Month;

Customized OA Office Floor OEM accepted, good selectivity in the choice of the finishing material, color and for the possibility to create images, logos and decorative patterns or inserts using different materials;

Availability of a wide range of access floor accessories for all OA flooring systems including the customized OA floors;

From initial consultancy, production, shipping, installation through to order completion, fully managed end-to-end service provided.
Send your inquiry now, as the leading OA Network Floor Manufacturer/Supplier our service can meet all your demand for OA Raised Floor System!