Outdoor Raised Floor Pedestals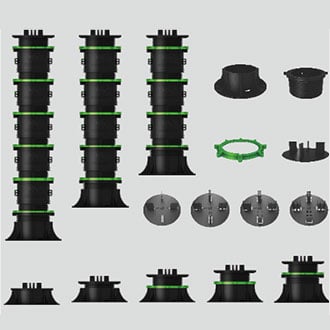 /ImagesProduct/durable-plastic-pedestals-方形.jpg
Outdoor Raised Floor Pedestals
Sell Type: International business
Product Attributes:
Email: [email protected]
WhatsApp: +86 18018280738
PRODUCT DETAILS
Durable Plastic Pedestals Wholesale - Best Outdoor Raised Floor Pedestal Supply
Look for the best quality and budget friendly adjustable plastic pedestals for your raised floor systems or outdoor access flooring project? AccessFloorStore.Com is your right place to come, here you can discover durable outdoor raised floor pedestals from the trusted supplier within numerous markets. We support you in selecting the most appropriate adjustable outdoor floor pedestals for your application.
Outdoor Raised Access Floor Pedestals
Adjustable plastic pedestals (made of PP, anti-UV, tale etc.) support the outdoor raised floor system and terrace constructed with any kind of material: timer decking, WPC decking, tone, ceramic, metal, firberglass, grit and composite floor covering panels. These outdoor raised floor pedestals can be placed on any stable substrate, even over insulation panels.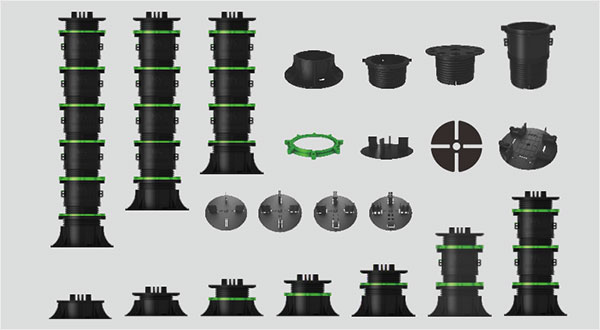 HuiYa Outdoor Floor Plastic Pedestal Structure
Generally, the Outdoor Raised Floor Pedestal Set formed by a pedestal base, a leveler, an adjustable pedestal support and a flexible joint. The height indicated is that of pedestals finished with a plate and flooring.
HuiYa Outdoor Raised Floor Pedestal Set - Support Parts & Accessories
Check out each part consisting of the plastic pedestal to get know how does it support outdoor flooring system stably for a long time:
Head (flexible joint)
The head of the support is screwed directly on the base or on to the extender. Diameter of 150mm, can be fitted with various components to support differing surfaces.
1) Joist Cradle (40mm/50mm/60mm/80mm)
Fixing holes on both sides of support for mechanical fixing
Support for any kind of substructure: Timber Batten (Joists), Composite Battens, Aluminum or Steel Support Sections, Wooden Beam
Size Option: 60mm gap with cross way (suitable for beam size 20-60mm), 80mm gap with single way (suitable for beam size 20-80mm)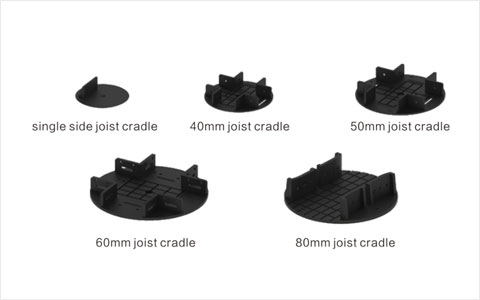 2) Shim (1mm/2mm/sloped)
For using with marble, stone slabs, granite pavers, etc. to:
Add anti-slip performance
Shock and sound absorption
Compensation for stone thickness variation
3) Spacer Tabs (2mm/3.5mm/5mm/8mm/10mm)
The head can be fitted with spacer tabs, to give the desired opening between tiles (for water drainage and ventilation)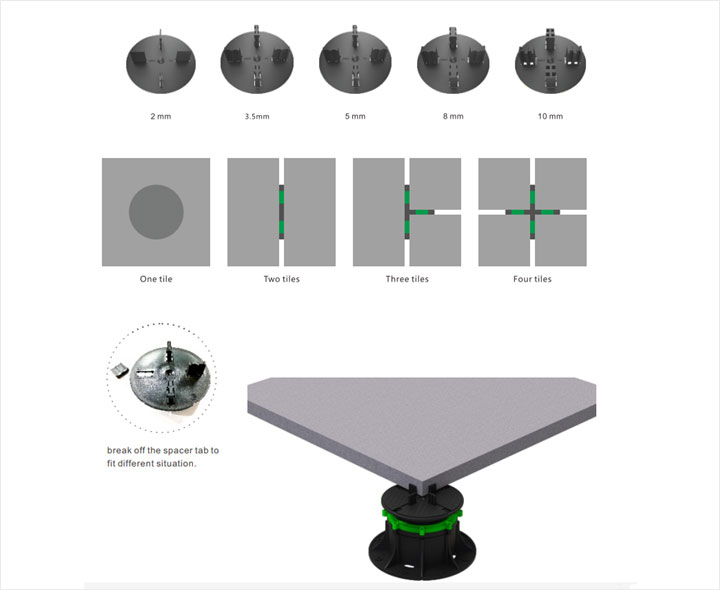 Extender (Diameter 120mm)
Extend and add height of the adjustable pedestal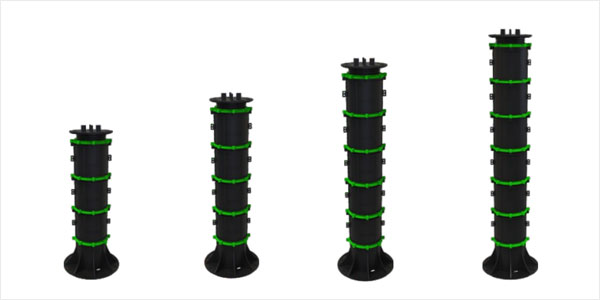 Fix Collar
Fix and lock the screws after adjustment, avoid sway and ensure pedestals are secured at desired heights and are easily removed when not required. Color can be customized.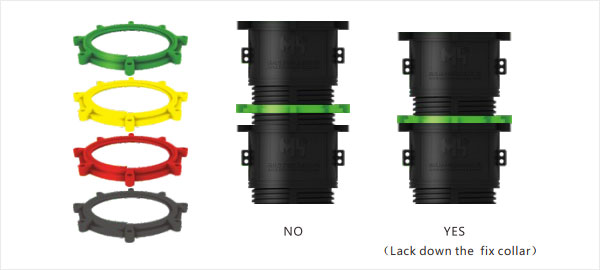 Adjustment Ring (Diameter 115mm) & Base
Screw pitch reversed to adjust height of pedestals.The base can be simply positioned or fixed to any substrate.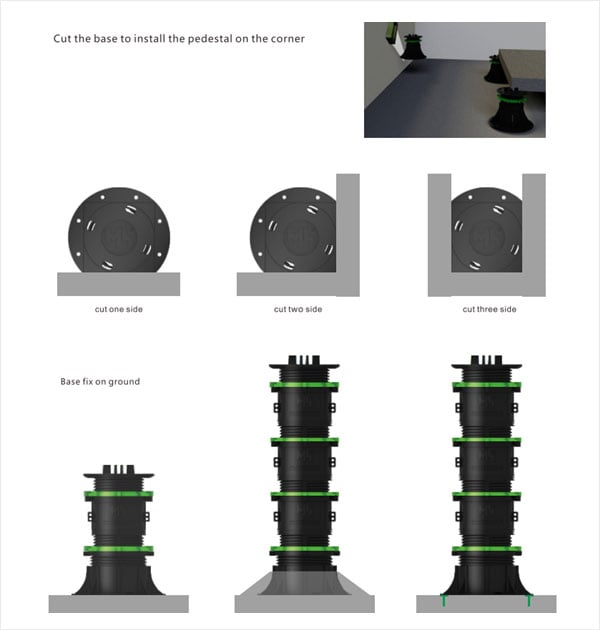 Base Slope Corrector
Rotating the upper disc to compensate 0%-5% slope. Assembled under the base of the pedestals (suitable for pedestal base diameter 200mm or220mm), can be choose to use it for not for different installation condition.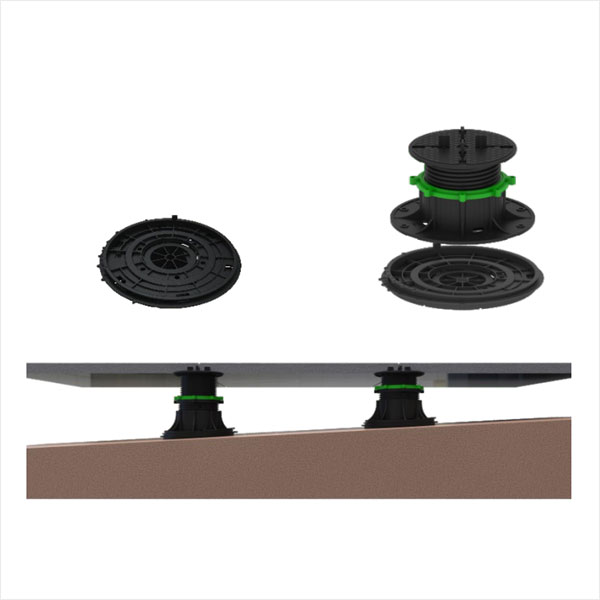 More Accessory Option
To meet some special application, some accessories are attached to the raised floor pedestal sets for achieving more special functions:
Self-leveling Top Slop Adjuster
Self-leveling Top Slop Adjuster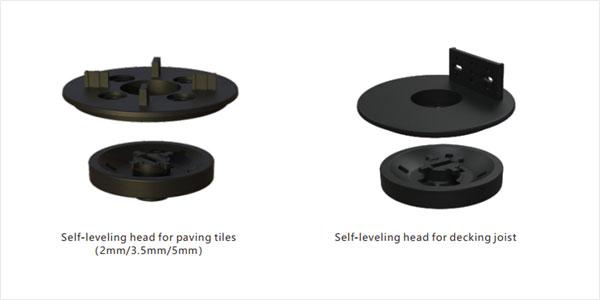 Base Rubber Pads
No smell, healthy and eco-friendly, anti-slip, reduce noise, protect water membrane. Assembled under the base of the pedestal (suitable for pedestal base dia 200mm)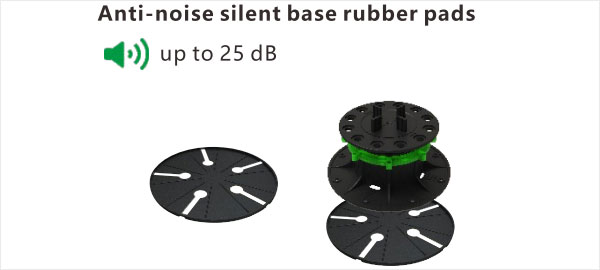 Raised Floor Pedestals Specifications & Features
The main component of this product is new engineering plastic polypropylene (PP), green environmental protection materials can be recycled

High quality pedestals with sufficient safety reserves for your project, not easy to age and maintains good load capacity for a long time.

Wide range of height (14-1600mm) and max loading (600kgs/pc - 1800kgs/pc) available

Low density, high strength, strong bending fatigue strength, corrosion resistance and aging resistance, which can be used from - 30'c to 100C.

Don't react with water, cement, soil, etc., and not release toxic and harmful substances and gases.

Fast and convenient installation and maintenance, save manpower and material resources, shorten the construction period.

Widely used for outdoor raised systems in various applications, perfect supports for stone, glass, marble and other raised access flooring.
Huiya carries a truly staggering selection of outdoor raised access floor pedestals and general supplies for your outdoor raised flooring projects. Contact Huiya with the following info to go directly to the category of sample sets for the outdoor raised floor pedestals.