Outdoor Raised Floor System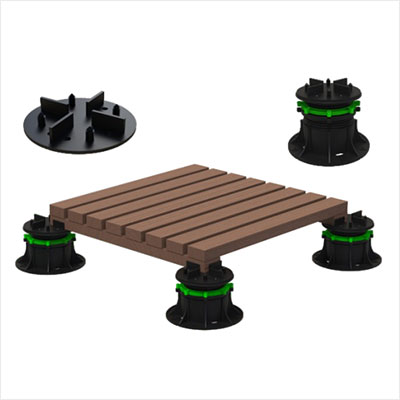 /ImagesProduct/outdoor-raised-floor-systems-方形.jpg
Outdoor Raised Floor System
Sell Type: International business
Product Attributes:
Email: [email protected]
WhatsApp: +86 18018280738
PRODUCT DETAILS
Heavy Duty Outdoor Raised Floor Systems For Deck & External Public Space
With a commitment to excellence in design, innovation and sustainability, Huiya provides a wide range of outdoor raised flooring solutions for commercial and public spaces. Meeting the demands of today's outdoor spaces, Huiya outdoor raised access floor systems provide design freedom, flexibility and on-trend aesthetics, while delivering long-lasting durability and superior performance.
Huiya Outdoor Raised Floor System
Huiya provides different high-quality outdoor raised floor support systems to create durable and reliable deck, countertop and access floor solutions for various outdoor venues.
1. Outdoor Decking Support System
Joist Cradle + Wood Tiles
To hold timber joist,composite joist,aluminum or steel support sections joist,wooden beam Size option: suitable for beam size 20-80mm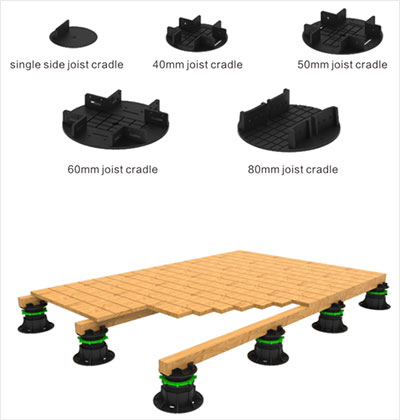 Wood Tile Clip + Wood Tiles
Predrill a holes on the bottom of wood tile, click the tile into the tile connector pins, make a firm and steady assemble of the wood tiles.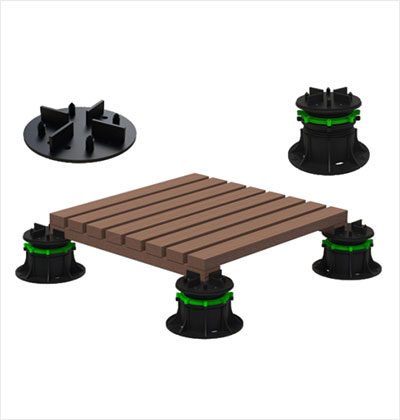 Aluminum Joist and Clip + Aluminum Bar
Aluminium joist size 25x50mm, snap into a special joist cradle firmly, no need screws, can be installed with WPC decking, wood deck, it can also support ceramic tiles, stone tiles, granite tiles when installed with spacer tabs.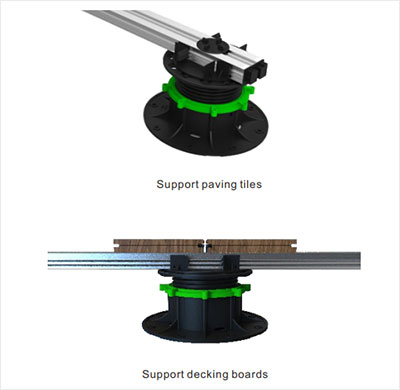 2. Outdoor Pave Support System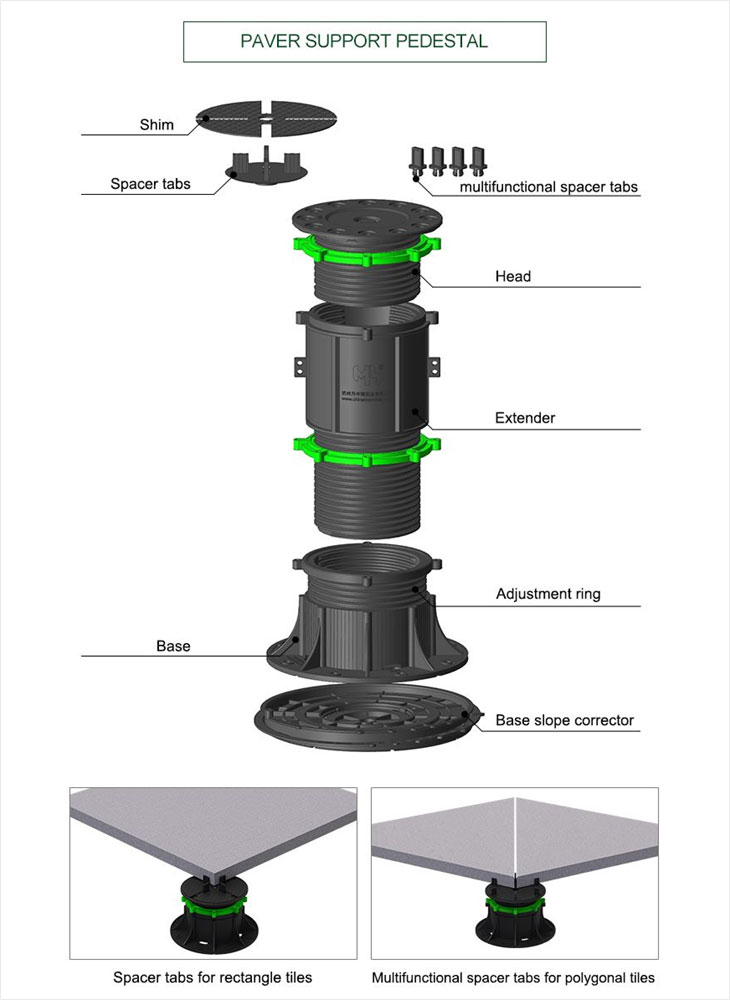 Spacer Tabs (2mm/3.5mm/5mm/8mm/10mm)
The head can be fitted with spacer tabs, to give the desired opening between tiles (for water drainage and ventilation)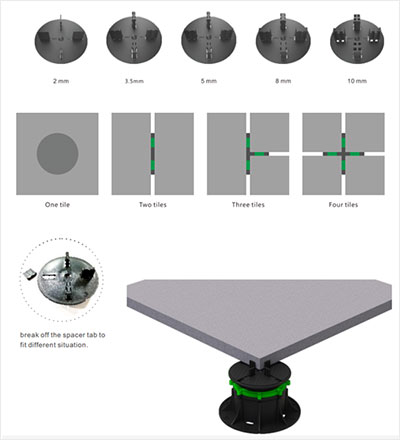 Shim Rubber
A 1mm or 2 mm or sloped shim is detachable. It's anti-slip, absorb noise,and compensates for variations in paver thickness.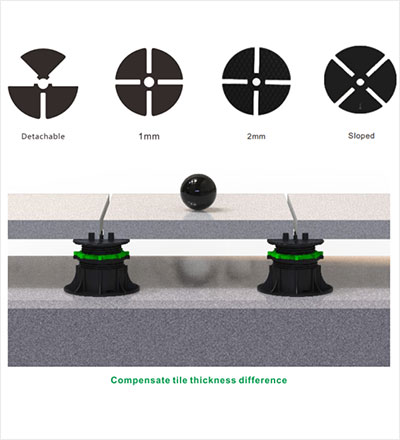 Multifunctional Spacer Tabs
360 degree rotation multifunctional spacer tabs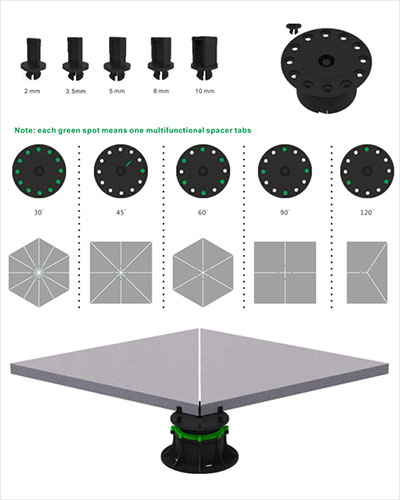 3. 14mm Rubber Pad + Sim
The 14mm rubber pad +shim have always been the fastest and most economical solution for fixed tiles in the elevated system.

Stable, safe and Raised Floor System Guaranteed
As an expert in outdoor raised floor systems, Huiya has been committed to innovation in product safety, service life, and functionality. In order to make the outdoor raised floor provide the most lasting and profitable contribution in your project, Huiya realizes these advantages by adding special parts to the outdoor raised access floor pedestal system.
1. Perimeter Spacer Clips and Raised Floor Side Closure Steel Clips
The 14mm rubber pad +shim have always been the fastest and most economical solution for fixed tiles in the elevated system.

Perimeter Steel Clip
Perimeter spacer clips is made of stainless steel, it is designed to avoid contact between the outdoor tiles and the wall. using these clips ensure a stable floor surface and a straight and elegant perimeter.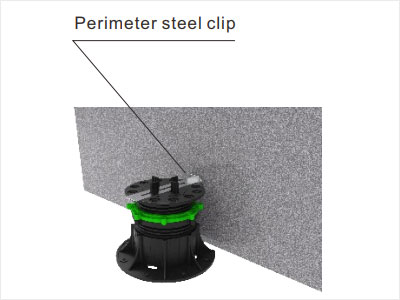 Top Clip for Vertical Closure
Top clip for vertical closure and bottom clip for vertical closure are used for vertical side tile closure. This system consist two types of clips, one assembled on the top of pedestal, another assembled under the base, it creates a firm seat capable of gripping the tiles which is cut to fill the gap, making perfect vertical closure for the terrace.
2. Self-leveling Pedestal
Self Levelling pedestals provide our most flexible means of creating a floating floor system on balconies and roofdecks. The heads incorporate a gimbal mechanism which allow a rotational tilt of up to 5°. This can compensate for falls in the sub?grade, or alternatively create a slight fall on the paved surface to direct surface water to the joints.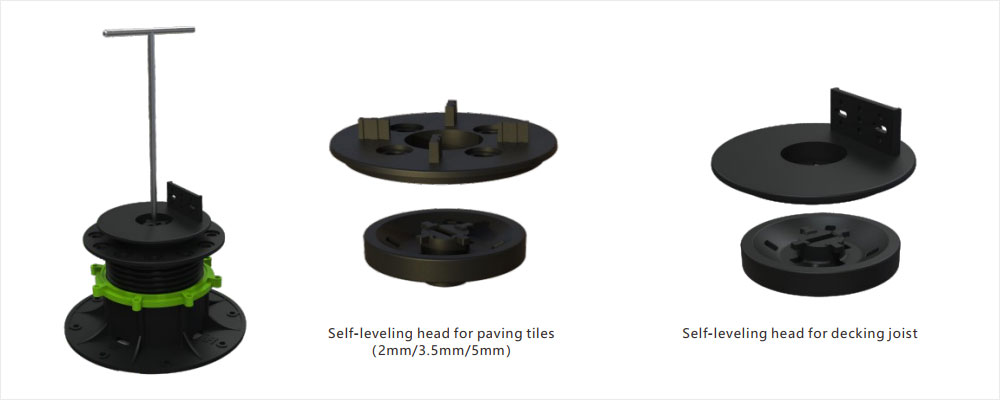 3. 15mm Extension Pad On Pedestal
One basic pedestal+extension pads. Stackable Extension pad gives advantage that one size pedestal could reach more height, no need to change another size for height near project. Fast sell and easy to stock for distributors.

4. Outdoor Raised Floor Windproof System
Type A Wind Proof Lock With Screw
The accessories are perfectly hidden by cutting the stone,being invisible.the flooring maintains its original aesthetic.But cutting the tile also extends the installation time.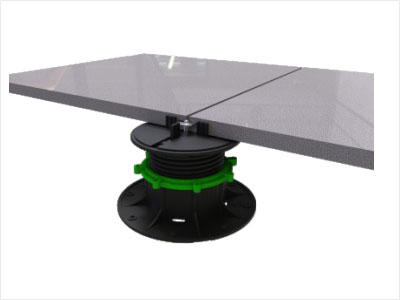 Type B Wind Proof Lock With Screw
By firmly attaching the supports and plates to each other using circular keyholes and spike, the flooring becomes one. As a result the Pedestal System and the Paver anchor to each other to create wind resistance,This method is fast and concise, but the protruding attachment itself will cause uneven floors.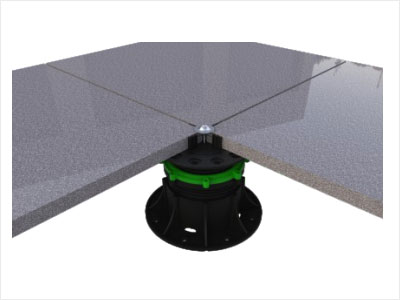 5. Connecting Rod
When the height of each outdoor raised floor pedestal reaches 800mm or more, the connecting rod makes the support more fixed.The K type is directly stuck on the K-fix collar. The T type needs to be matched with a big fix collar.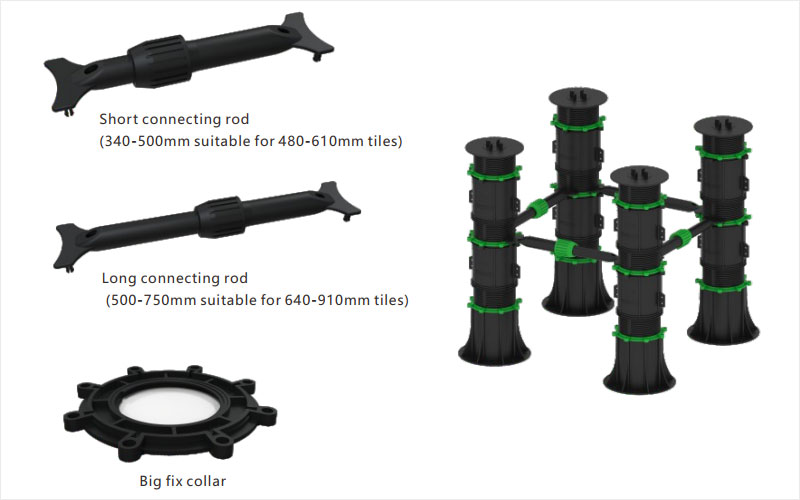 Huiya Raised Floor System Advantages
Durable: Very high mechanical resistance and load capacity, suitable for high traffic public place

Easy Installation: the system does not use glue or mortar for fixation, install the outdoor raised floor faster than with traditional floor and consequent time saving.

Gaps between the plates: facilitate the drainage of rainwater and allow storage for reuse.

Drainage: drain the rain water, making the floor dry and safe immediately.

Simple maintenance: Fully modulated system that allows you to remove just one module (floor and plate) without having to dismantle an area larger than necessary for access.

Thermal insulation: the raised floor system creates an air "mattress" between the slab and the finished floor.

Mounting flexibility: can be easily removed and replaced in the same or another location.
Outdoor Raised Access Floor Application
Indicated for several outdoor applications: Ground of commercial buildings, external malls, residential buildings (landscaping), pool deck, corporate buildings, hospitals, offices, public works (squares, waterfront, airports, bus stations, train stations etc.).
The outdoor raised floor system must not be used on: Ramps, stairs, traffic areas for heavy or motor vehicles, sidewalks close to the streets and access for vehicles used for maintenance.
Welcome to wholesale durable outdoor raised floor pedestals from Huiya Decoration Materials Co.,Ltd, you can convince yourself in advance of the quality of the the outdoor flooring pedestal shown here. Contact Huiya with the following info to get more details information about Huiya outdoor raised floor products or a best outdoor flooring suggestion from Huiya.