Perforated Anti Static Raised Floor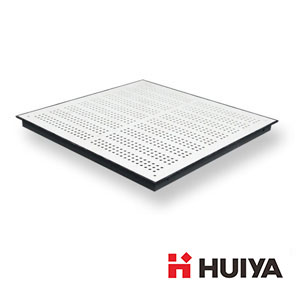 /ImagesProduct/perforated-anti-static-raised-flooring45103591438.jpg
Perforated Anti Static Raised Floor
PRODUCT DETAILS
Perforated Anti Static Raised Flooring

Perforated anti-static raised flooring(it is also called Ventilation panel), HPL or PVC punched tile, surface punched panel which is SPCC-ID hard steel of Shanghai Bao steel, manual welding for the bottom square tube, origination domestic. Imported paint, conductive rim, pedestal, stringer are pressured forming with steel, lead screw could adjust the height.
Perforated Anti Static Raised Flooring from HUIYA is suitable computer room, network service room monitor control center, electronic workshop, clean room, dustless chamber, etc, and occasions that require anti-static and air conditioning.
Competitive Advantage of 42% air rate Perforated Antistatic Raised Flooring:
1. High-density particle board, PVC/ABS edge trim, soundproof of 42% air Perforated anti static raised flooring
2. Adjustable height for raised floor pedestal, assembly agility, large wire, good exchangeability.
3. Outlet mating. Elegant appearance for paving wildly brand top tiles.
4. High loading capacity of 42% air rate, excellent raised flooring in 21th
5. Lightweight , convenient removing of 42% air rate?
Structure
PHYSICAL DATA

Weight of Bare Panel:(14KG)

Height of Bare Panel:(35mm)

Fire Rating of Bare Panel:

-Class A Flame Spread

-Non-Combustible Materials
Perforated raised floor systems (Conductive Vinyl)
PERFORMANCE DATA

Concentrated Load Rating: (3.59 kN)

Uniform Load Rating: (19.79 kg/m2)

Ultimate Load Rating: (10.79KN)

Impact Load Rating: (79 Kg)

Rolling Load Rating:

-CISCA Wheel A (10 Pass): (2.59 kN)

-CISCA Wheel B (10K Pass): (2.21 kN)
COLD_ROLL STEEL SHEETS

RAISED FLOOR MATERIALS:


1: Our Perforated anti-static raised flooring is made of cold-roll steel sheets, In the bottom steel sheet, it is formed by the machines and 64 cups on the bottoms to make the raised floor strength. The top steel sheet and the bottom steel sheet is welded by weld machines.

2:When raised floor shell finished, raised floor has sprayed the powder and dried by the super oven?

3:Then raised floor is infilled the cement into the raised floor shell and, waiting cement drying. After cleaning, the bare raised floor is completed.
Molding powder


MOLDING POWDER:


Generally, the molding powder is black color and it is used to protect the raised floor for anti-corrosion, but for the customize necessity, multi-color molding powder is provided if the customer who has the long term relationships with our company
FINISHES TILES

COVER/TILES

HPL Tile (Static Dissipative)


VINYL Tiles (Static Conductive)

Rubber Tile: (Anti-static )

Contact HUIYA for other tile options such as Bamboo, Cork, Ceramic, Wood, Stone, etc.