Hospital And Healthcare Flooring
Best Hospital & Healthcare Floor Material - Hospital Grade Vinyl Flooring
As part of the interior design of the medical environment, hospital flooring (healthcare flooring) play an important role in maintaining the health of patients and employees, speeding up the rehabilitation process, reducing stress, and ensuring safety. Open 24/7, and there are doctors, nurses, patients, and visitors constantly, in order to maintain stable activities, the floor material of hospitals, surgery, medical office, and other medical facilities are required to adapt to the most challenging indoor environments, such as withstanding the continuous flow of people and the heaviest of medical equipment that withstands the most severe leaks and resists viral bacteria, prevents slippage and provides comfort and beauty under the feet. Antibacterial waterproof hospital vinyl flooring is cost-effective and environmentally friendly: hygiene, infection control, durability, noise reduction, ease of installation and maintenance, and is a wise medical flooring material in a medical environment.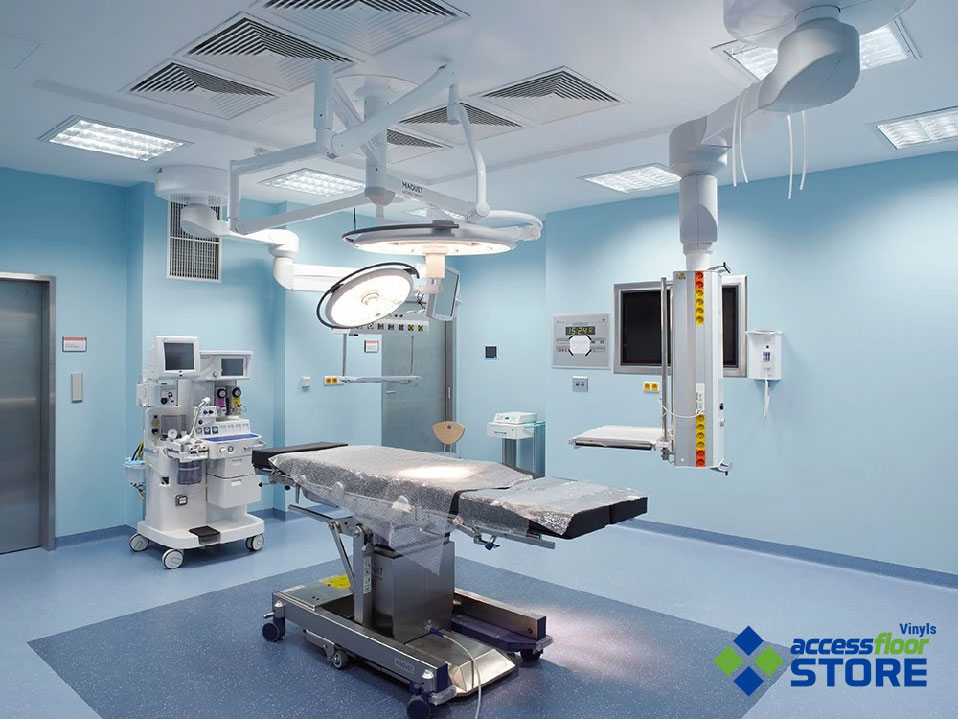 Huiya Hospital Flooring - Medical Grade Vinyl Flooring Tiles/Rolls
HUIYA Hospital Vinyl Flooring is specially designed and manufactured for hospitals, healthcare and other medical facilities, in compliance with regulations for hospital buildings and all Health service. Our hospital grade PVC flooring tiles improve installation efficiency and simplifies maintenance, creates a healing space for patients, and enhances the positive effects for the work of medical professionals. Huiya constantly seeks to create the most efficient hospital flooring solutions that help improve connectivity, safety, and overall health. Whether it is durability, load carrying capacity, infection control, stain resistance, environmental protection, comfort-wise underfoot, aesthetics, maintenance, or acoustic needs, HUIYA commercial vinyl floors with basic and innovative characteristics has never disappointed. From a technical point of view, performance, appearance, and quality/price all guarantee unique advantages.
Features of HUIYA Vinyl Flooring For Hospital & Medical Facilities:
Huiya hospital vinyl flooring isolates and protects from cold and humidity and has great resistance to abrasion.

Great resistance to bacteria, fungi, and mold.

High ultimate load, point load, and rolling load capacity.

Septic floors, high resistance, facilitate perfect hygiene, will not generate an accumulation of germs

Able to resist scratches and very durable. Its useful life can reach up to 20 years.

Very easy to clean with water and regular cleaning products.

It complies with ROHS regulations on the absence of dangerous substances and is flame-retardant according to EN 13 501-1.

Create environments that promote recovery, reduce maintenance costs

Thanks to its easy installation we can improve aged floors quickly and economically.

Conductive vinyl floors have copper grounding connections.

Available in various colors and thicknesses. Among its different designs, you will surely find the environment and harmony you are looking for.
HUIYA Vinyl Flooring Tiles/Rolls For Hospital & Healthcare Applications:
Our medical grade flooring material is ideal for health infrastructures such as hospitals, medical office, pharmacy, healthcare areas, operating room, surgery rooms, infrastructures in health services, laboratory areas, X-ray conductive rooms, other hospital areas (consultation rooms and hallways).
HUIYA Hospital Vinyl Flooring Products (Hospital Floor Material)
ESD Anti-static PVC Tiles/Rolls for Hospital: Come with permanent anti-static function. Conductive vinyl roll floors for hospital areas, rooms exposed to the presence of flammable air, where there are electrical devices and their operation may interfere with static electricity, such as all surgical service (all surgery rooms and in general all aseptic areas of the Health institution) Obstetric, laboratory, sterilization, blood banks, and autopsy rooms. Passed ISO14001 environmental quality system certification. Durable, impermeable, infection control, good compression resistance.
Homogeneous Vinyl Flooring for Hospital: High-quality, multi-functional homogeneous PVC flooring; deep polyurethane special strengthening treatment, permanent wax-free, excellent cleanability; anti-bacterial and anti-mold treatment; non-directional or directional embedded design, a variety of classic colors to choose from; super wear-resistant, non-slip, anti-iodine performance. It is perfect for specialized areas such as hospitals, clinics, medical offices, and in general all areas of the public or private institutional building for purposes and uses in the health and clinical sector.