News Tag
Products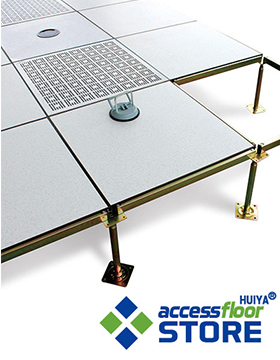 What is difference of Laminate Flooring and Vinyl flooring?
2020/1/1 22:31:04
Laminate Flooring VS Vinyl Flooring
  What is Laminate flooring?
  Laminate flooring is a sturdy and durable manufactured product that is easy to look after. Laminate flooring is commonly made out of 90%+ wood, which makes the floor look a lot more natural to its competitors. It also features the look of a standard wood or stone floor but is easy to clean, easy to install, and, more importantly, is durable to everything touching its surface. Laminate flooring often comes in several different variations, including different thicknesses, lengths, and widths - not to mention the actual texture on the laminate flooring panels you receive. Laminate flooring is often quite cheap and is very easy to install anywhere in the house without the need for fancy or expensive tools.
  In terms of different looks and textures, there are several common types of laminate flooring that you may want to consider. These include a color variation ranging from a slight wooden, more uniform color to make the floor look modern and elegant. If you would like to give your flooring a little character, you can also go for a more traditional color with a deep slope between each laminate panel.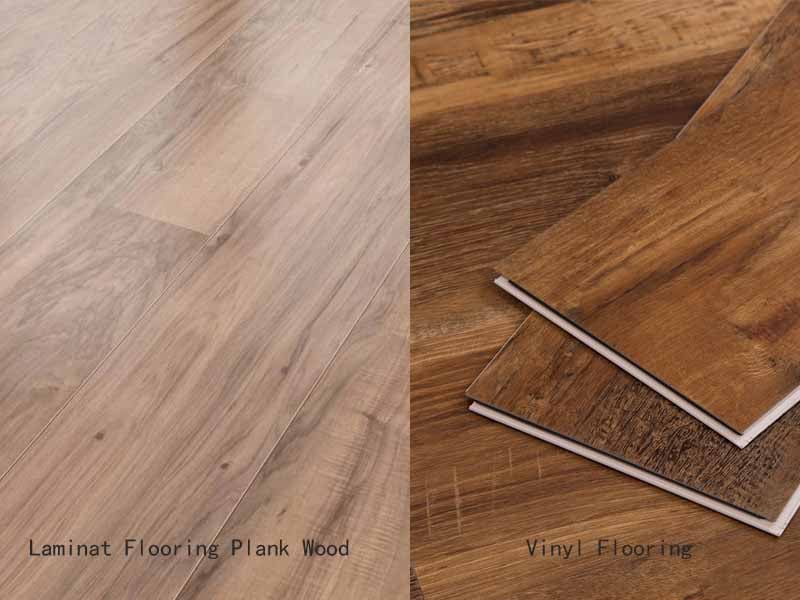 What is Vinyl Flooring?
  Vinyl flooring is a very durable and economical style of flooring that can cover your home with an exceptional finish. Vinyl flooring is primarily a plastic product, so it is not always as natural-looking but does provide excellent graphics and embossing, similar to that of any standard laminate flooring. More commonly, Vinyl flooring usually comes with an insulator attached, which simplifies installation. Vinyl flooring is also very functional, as it can help reduce loud noises and deflect sounds as well as being water-resistant.
  Vinyl flooring can come in an extensive range of different types and textures that allow you to customize your flooring to what you like. Vinyl flooring is very versatile and can be installed pretty much anywhere in your household as it's completely waterproof and is super easy to maintain.
  Which one should I choose?
  When it comes to picking between both Laminate flooring and Vinyl flooring, it can be quite tricky as the products are very similar, but both offer unique attractions that may sway you from one product to the other. With this, below are some ways that may help you make your mind up when deciding between Laminate flooring and Vinyl flooring.
  Price of Laminate Flooring and Vinyl Flooring
  As with any home renovation or DIY project, pricing is one of the main factors that you need to think about when deciding. With both flooring options, they are both at similar price points. More specifically;
  · Vinyl Flooring is roughly $2 - $7 per sq. Ft. installed.
  · Laminate Flooring is roughly $2 - $8 per sq. Ft. installed.
  Although it may not seem like a considerable amount when you start adding up how many square feet you will need, it can be quite costly. With this being said, this price will vary on your preference. The higher price point features the more luxury finishes and the addition of a thicker board if applicable, so it may not be what you're wanting. These price points also include the average installation cost for a professional to install. Should you wish to install the flooring yourself, a single sheet of Vinyl can cost around $1 - $3 with Laminate flooring costing a similar $1.50 to $3 to buy.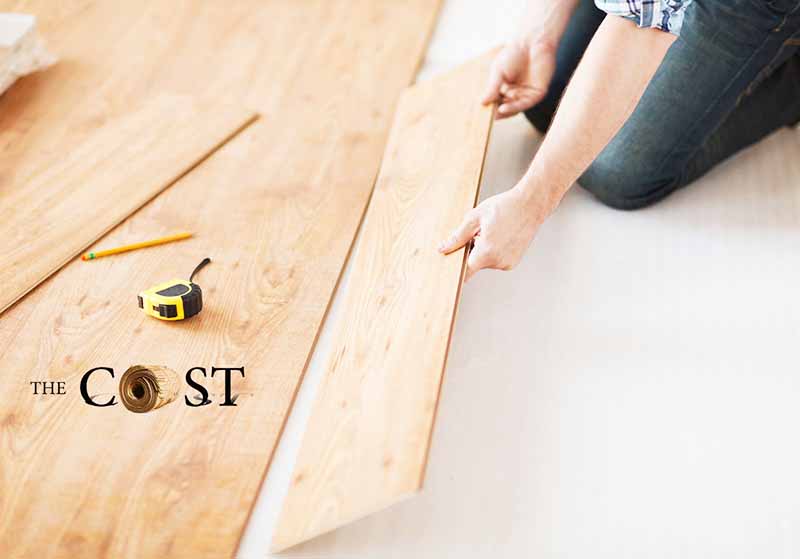 Material Quality
  Both laminate flooring and vinyl flooring both come with excellent life expectancy and are commonly made with the best materials to ensure that the flooring lasts for an extended period before needing to be replaced or fixed.
  The quality of the material with Laminate flooring may seem a lot more premium as you're buying mostly wood content. With this, you should be expecting a premium quality and a natural-looking finish no matter what style you've opted to choose.
  With Vinyl flooring, you may see a more flimsy and cheap feeling as the product is mostly or entirely plastic, and does not always have a premium or natural finish to it. With this being said, the un-natural finish may not look as good in your hand, but may not look or feel bad once installed, so it's always worth checking both out to see which one is preferred.
  Durability against the elements (Fire and Water)
  As with most flooring, more precautions are being taken when manufacturing these products to prevent fire and withstand water. Laminate flooring is not directly waterproof, but if installed correctly should prevent most water from reaching underneath the boards. Laminate flooring that is manufactured with 90% or more wood content may absorb water and cause problems in the long run, but this is very uncommon. Depending on the manufacturer of the laminate flooring, most panels are fire-resistant and commonly-speaking, the majority of panels will scorch rather than catch alight.
  As for vinyl flooring, if installed correctly, due to the plastic contents of the flooring panels will reflect or resist against any water spillages. As for the fire rating of most vinyl flooring, it does hold high ratings for resisting. Specifically, burning. Typically this does not continue to burn following removal of an external flame. With this being said, as the flooring is made from mostly plastic, any hot items or fires (such as cigarettes or matches) may cause permanent damage to the surface, meaning replacing parts of the flooring may be required, which might be a problem.
  Durability over time
  With both flooring products, they both feature a very long life-expectancy before needing to be replaced or fixed due to damage.
  Often, Laminate flooring can last up to 50 years with proper maintenance and looking after the flooring. Still, you may need to replace individual panels are different times if water damage or items are dropped onto the surface.
  As for Vinyl flooring, it can last up to 30 years before any fading or damage can start to occur, which again is dependent on maintenance and care taken throughout its lifespan. Of course, with both flooring options, this is down to what pressure the flooring is put under, the foot traffic over the flooring, and heat in the room the flooring is located. All these can have an impact on life, but you can rest assured it will last a long time regardless of these factors.
  Are both Laminate flooring and vinyl flooring environmentally friendly?
  Surprisingly, both laminate and vinyl flooring are both very environmentally friendly. Laminate flooring meets criteria due to the panels being often comprised of recycled content. Similarly, Vinyl flooring is one of the most environmentally friendly options when it comes to picking out flooring. As this type of flooring is commonly made with sustainable and recycled content - they're also recyclable after use keeping the cycle alive.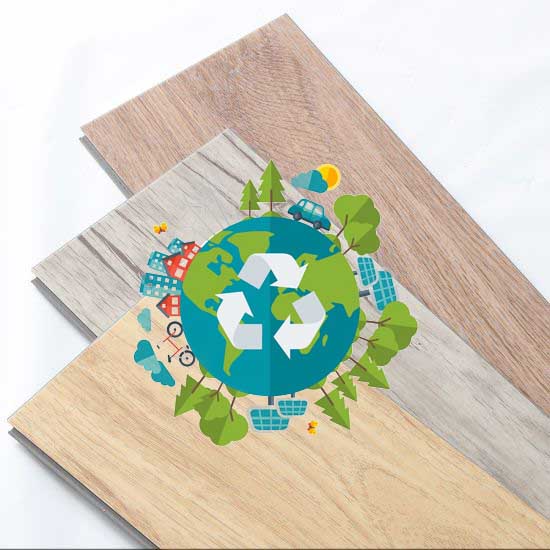 Conclusion
  Depending on your requirements and needs, both laminate flooring and vinyl flooring are both great options to use in any style of the house. At similar price points and consistent features in both, regardless of your scenario, one of the flooring options should fit in nicely.