What Is Vinyl Flooring and What Its Applications In Industrial Flooring Projects?
If you belong to the construction sector or are thinking of doing a reform, surely you have heard of vinyl flooring, very fashionable for its versatility, design, installation, and properties. Do you know what vinyl flooring is and what its applications are beyond the domestic sphere? From Accessfloorstore.Com we explain it to you.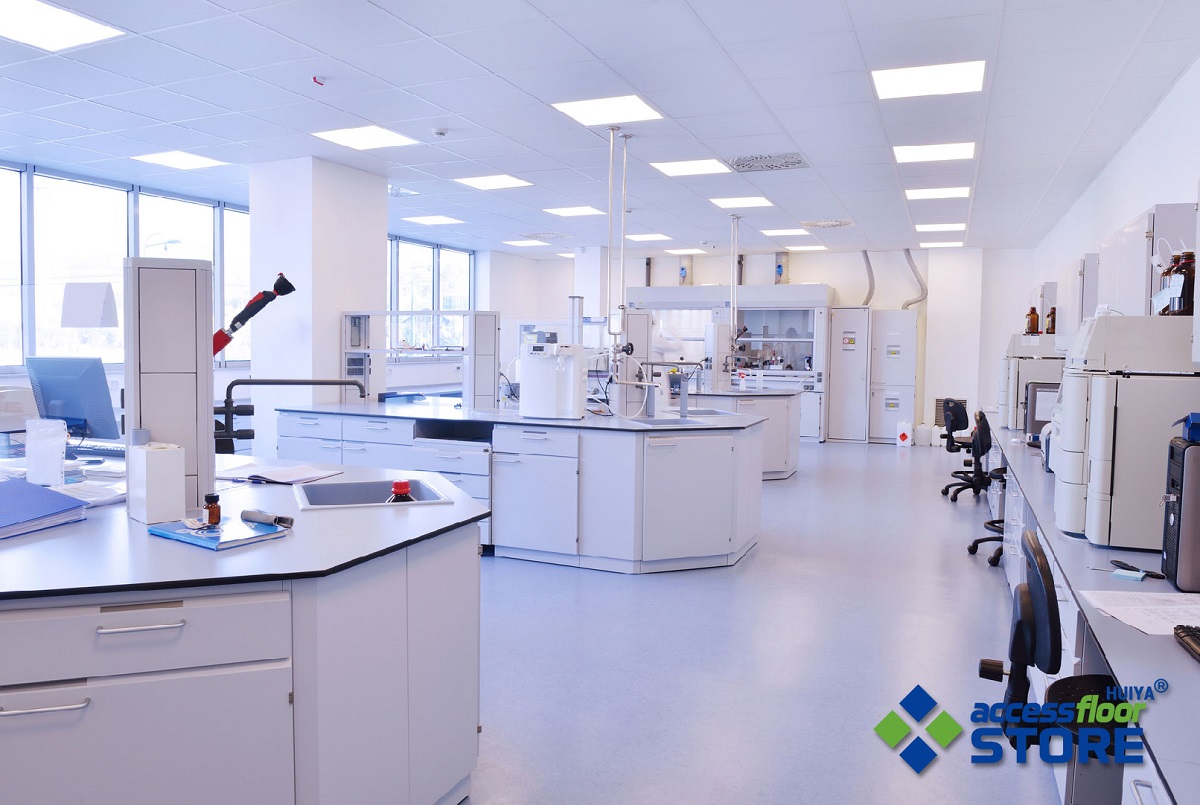 What is Vinyl Flooring?
Vinyl floors are made from polyvinyl chloride, known as PVC. PVC is born from the chemical combination of carbon, hydrogen, and chlorine. These components come from oil (43%) and salt (57%). The result is a light, inert, harmless and thermoplastic material with an excellent quality/price ratio; and with a great insulating capacity and easy to clean.
PVC is used to manufacture long-lasting components in the construction industry such as pipes, windows, furniture ... and pavements. In recent years, the manufacture of vinyl flooring has undergone continuous development thanks to the addition of different chemical compounds and treatments that give the material greater resistance to abrasion, anti-slip properties and aesthetic improvements.
The properties of vinyl floors vary according to their chemical composition and their manufacturing process. As a general rule, all vinyl floors have:
Nucleus. It can be made of various materials. The most common are PVC and WPC (wood and fibers), although in recent years SPC (high-density compound made of limestone, PVC and stabilizers) has also been used.

Stabilizing layer.

Decorative layer (may have printed design, color, etc.)

Protective layer against scratches and wear. This layer is basic to establish the quality of the PVC floor. The materials that provide greater resistance are urethane, which gives it resistance and maintains shine and color, and urethane mixed with aluminum oxide.
What Is Vinyl Tile Flooring and What Advantages Does It Have Over Vinyl Flooring Roll?
Vinyl floors are sold in coils with different thicknesses and widths, and in tiles in the form of a tile or wooden strip, that is tile. Continuous PVC and tile floors are of the same material. However, due to their treatment, PVC tiles are stiffer and harder.
On its installation, in both cases it is simple. Vinyl coil floor is glued with a special adhesive for floors and carpets. In vinyl floor tiles, there are two varieties: self-adhesive (each piece is glued to the surface removing a protective paper), and those that incorporate a click system, Clever Click tiles. The latter have mechanical slats on the sides to fit with each other, facilitating installation and increasing resistance.
Another advantage of PVC tiles is the possibility of adapting to any space. Huiya ESD Homogeneous Vinyl Flooring tiles are individual and have accessories such as ramps, corners, steps, etc. Thus it is possible to renovate specific parts of the pavement without the need to change the entire surface. The replacement of parts is easy and, above all, fast.
These properties of vinyl tiles make them suitable for installation in high traffic areas (shops, bars, and restaurants, warehouses, etc.) and also for use on industrial floors.
Why Are PVC Floors Suitable In Industrial, Commercial and Medical Projects?
Now that you know what PVC flooring is and what its main characteristics are, you may be wondering where it can be used. The answer is that practically everywhere, that is, both domestically (including bathrooms and kitchens) and industrial (including commercial and medical).
Its industrial application is especially recommended in hospitals, offices, shopping malls, server rooms, factories and warehouses, all in corridors and in loading and unloading areas and even around machinery. In AccessFloorStore we bet on anti-static homogeneous vinyl floor in server rooms, it can also be used to facilitate the static conductive in operating rooms and electronics workshops.
The Main Benefits That Make Vinyl PVC Floor An Ideal Option For Industrial Flooring Are:
Durability. Industrial floors must be resistant to constant traffic and bear the weight of heavy machinery. Huiya PVC tiles easily withstand the high traffic and are resistant to chemicals.

Soundproof capacity. PVC tiles are capable of attenuating noise in installations where machines, tools and people generate noise pollution.
Do you want to know in more detail what vinyl flooring is and what advantages it can offer your business or company? Contact us!