Best Tent Flooring Solutions - Choosing The Right Material For Your Outdoor Event Flooring
The tent is standing, but the ground is uneven, cold or wet? Depending on how you want to use your tent (for a part, outdoor events or temporary shelter), it may make sense to put the whole thing on "dry feet" and build a tent floor. We present various options for installing or laying out a temporary portable tent floor for military, mining, medical and events.
Why Build A Floor For The Tent?
Why should you put a floor in the tent at all? Because uncovered natural soils have many disadvantages: meadow areas quickly turn into muddy areas when it rains or snows and with increasing public traffic. Water can no longer be absorbed by the compacted soil and there is increasing waterlogging. But wet and cold are absolutely undesirable "guests" at an outdoor event. Stony or gravelly surfaces, on the other hand, are stumbling blocks and uncomfortable for staying longer, walking on or even for seating.
The ground with turf, although not so muddy, may hide and attract various insects, and people in the tent will also destroy the lawn, and soil and moisture will also become a problem.
A clean, safe and pleasantly accessible tent floor, on the other hand, puts your event on a higher quality level and makes outdoor events perfect. Especially in wet or cold weather conditions, the floor tiles create a high level of floor hygiene and act as an important cold barrier. Your guests will feel and appreciate this comfort.
Best Tent Flooring Solution - What Flooring Materials Are Suitable For Tent?
Of course, different types of tent floors are also suitable for different types of tents, surfaces and uses.
Plastic Tent Flooring For Special Events
If you are celebrating a party in autumn or winter on a relatively flat meadow, it is usually sufficient to just lay out plastic mats in the party tent. Some plastic mats also have holes to protect the underlying lawn. Laid-out mats make the seating stable, the damp lawn is less broken when many guests enter, and in the end, the mats are easy to put away. Plastic mats are a great solution for short-term use, especially in party tents.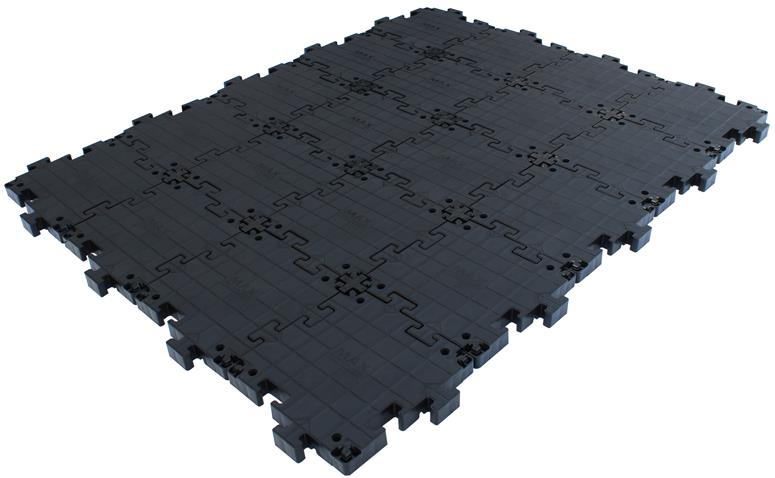 Heavy-duty Tent Raised Flooring System
If you want a solution "for eternity" such as for the medical treatment point or temporary settlement, you can of course also pour a raised floor and erect your storage tent over it. Especially in the case of a major disaster, such as the outdoor medical shelter of COVID-19 Virus, not only have to bear the load of high traffic, but also need to maintain a clean environment, and even need to prevent static electricity from harming medical equipment and visitors. At this time, the raised floor with an anti-static veneer is an excellent choice. The suspended design of the Huiya raised floor can also effectively prevent moisture and rain. Of course, Huiya Tent Raised Floor is very flexible and can be easily removed, as its lightweight design.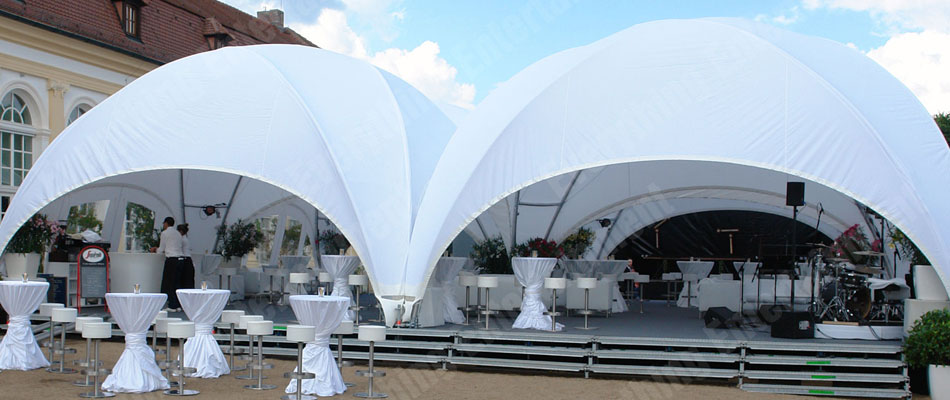 Chipboard Tent Flooring Tiles
A good option for uneven, damp ground is a tent floor made of chipboard. This is practical for storage tents, tent halls and arched halls, where you want to store things clean and dry. There are various setup options for this, which we will introduce in the next section.