How To Shine (Polish) Vinyl Floor | Easy, Fast and Efficient PVC Flooring Restore Shine Methods
Vinyl flooring is inexpensive and very practical because they can be washed easily. But in the long run, the transit of dirty stains and abrasive detergents, the original shine of these PVC floors begins to diminish and gloomy. Fortunately, you can restore shine of the Vinyl Flooring with some practical and simple restoration tips. Now follow us to find out how to get shine and glossy back on vinyl floor.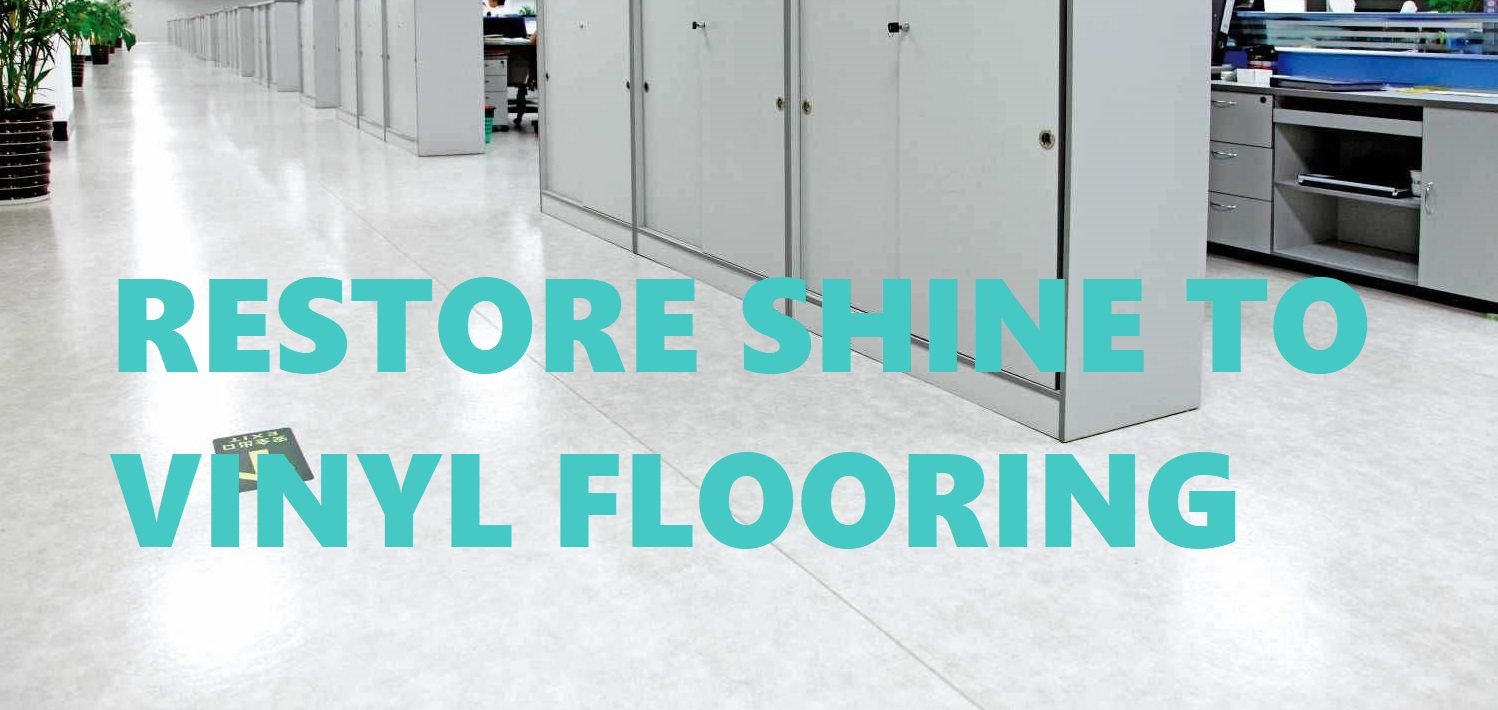 PVC Floor Restoration - How To Make Vinyl Floors Shine Again?
So that your vinyl PVC flooring can shine like on the first day, correct cleaning and maintenance is the be-all and end-all. For stubborn discoloration that cannot be removed by regular cleaning or if the PVC floor has lost its shine, it is worth carrying out a thorough special cleaning for different types of paints and stains, you can check out our tips for clean and remove the stubborn stains on vinyl floor. While if your PVC floor is losing glossy and getting gloomy, some polishing is needed to make it shiny again. Our blog post today is therefore devoted to the topic of polish vinyl PVC flooring. Here you will find the answer to the question of how you restore shine to your PVC floor, working for both commercial and industrial vinyl flooring and self-adhesive LVT.
Now, what if your vinyl floors do not have the glossy or waxed finish that they normally have and you want to give it to them:
Import Tips You Should Note Before Shining Your Vinyl Floor:
The first thing you have to do is clean it with warm water and detergent (not abrasives).

With this mixture you moisten a mop you pass it, and then you pass another mop moistened with cold water to remove the traces of soap.

Important note: vinyl flooring to be glued or of low quality should not be poured with water to clean them, nor should it be mopped with water-soaked mops. Because that will make the rubber they have come off and they will start to get damaged.

Then you should use a wax-free floor sealer or polish. "Wax-free" really means "do not wax". Non-waxable vinyl has a polyurethane coating that makes them shine. The wax does not adhere to the polyurethane coating and leaves a difficult to remove plaster. If your anti-wax vinyl loses shine, it's best to restore it with a polish designed for non-wax floors, always making sure the vinyl is thoroughly clean, and apply one or two thin coats. This should keep your PVC floors shiny for at least a year, always applying the mop. If your vinyl is older and requires waxing, wax it when it loses its shine and also uses only the amount indicated on the product container.

To use it you just have to follow the instructions for use indicated on the package. This effect should last a little over a year if you clean it regularly.
Easy, Fast and Efficient Ways To Restore Shine To Vinyl Floor
There are commercial floor shiny products to strip them, but they are expensive and far from natural. There is a miracle product to shine vinyl, linoleum, or PVC coverings naturally. The trick is to use a mixture of white vinegar (apple cider vinegar), egg yolk, household alcohol, black soap, soda and hot water. Look, it's very simple:
Use Cider Vinegar To Shine Vinyl Floor
With cider vinegar, a natural product made by distilling fermented plant. This product, along with other ingredients, allows the shine of vinyl floors to be recovered. And you can use apple cider vinegar get a more pleasant aroma than the traditional aroma of white vinegar.
Step 1 - Remove debris and dust on the vinyl floor with a broom or broom. Do not use a vacuum cleaner, as brushes and plastic wheels can scratch and mark the vinyl;

Step 2 - Inside a plastic container, make a solution with half a cup of apple cider vinegar, one tablespoon of liquid detergent, one tablespoon of mineral oil, and one gallon (3.80 liters) of warm water. Mix the ingredients until they are completely integrated;

Step 3 - Dampen the mop with the solution you prepared and clean the linoleum floor. Continue this process, reapplying the solution to the mop whenever necessary until you finish washing the entire floor;

Step 4 - Rinse the mop under running water and fill another plastic container with warm water. Dampen the mop with the water in the container and rinse the floor;

Step 5 - Then dry the vinyl floor immediately with a soft towel to remove detergent residue and prevent water and mop marks.
Use Egg Yolk To Refresh PVC Floor
The most natural solution for making PVC floors shine is to use egg yolk. Easy, fast and efficient, it's still cleaner like that! No need to buy chemicals that cost an arm!
Step 1 - Pour 1 liter of water into a bucket;

Step 2 - Add 2 egg yolks;

Step 3 - Mix until a homogeneous mixture is obtained;

Step 4 - Use a microfiber broom to clean;

Step 5 - Gently wipe with a dry cloth.
Use Household Alcohol To Make PVC Flooring Shine
Your old lino has found a second youth thanks to this cleaning tip. Household alcohol helps your floor regain its shine and dries in a flash. And in addition, it smells good for several hours in the house. It's the best way to make your lino shine naturally. For greater efficiency, you can mix 50% alcohol and 50% water. In the presence of very resistant stains, they should be rubbed lightly with a cloth impregnated with oxygenated water added with white alcohol vinegar. This method works for all plastic and PVC floors. So that the PVC floor instantly regains its shine:
Step 1 - Pour 1 liter of warm water into a bucket;

Step 2 - Add 3 tablespoons of household alcohol;

Step 3 - Mix well;

Step 4 - Wash the mixture from vinyl floor with the solution obtained.
Use Black Soap To Restore PVC Vinyl Floor
Black soap is a degreaser of choice. However, it is too aggressive for a PVC floor. Instead of making it shine, it may tarnish more. Before any use, it is, therefore, advisable to degrease it to reduce its stripping power:
Step 1 - Pour 2 liters of warm water into a bucket;

Step 2 - Add 2 tablespoons of black soap;

Step 3 - Dip a mop in this mixture;

Step 4 - Wring well before cleaning the floor;

Step 5 - Fill another bucket, this time with clean water;

Step 6 - Rinse with water thoroughly.
Use Baking Soda To Polish Vinyl Flooring
One tip for making PVC floors shine is to use baking soda. This ingredient is particularly prized for its abrasive and scouring properties:
Step 1 - Pour 3 liters of warm water into a bucket;

Step 2 - Add 50 g of baking soda;

Step 3 - Mix until the solution is homogeneous;

Step 4 - Immerse the mop in this solution;

Step 5 - Clean the floor.

Step 6 - For a shiny finish, prepare a second solution always made up of 3 liters of lukewarm water associated with 3 tablespoons of household alcohol;

Step 7 - Wash the floor with this solution using a mop;

Step 8 - Let dry.
Use Soda Ash To Make PVC Flooring Finish Shine
The soda crystals have the ability to transform grease stains on the floor into soap. This product is often sold in supermarkets at the drugstore department. To take advantage of its degreasing capacity:
Step 1 - Pour 1 liter of hot water into a bucket;

Step 2 - Add one cup of soda;

Step 3 - Mix to obtain a homogeneous solution;

Step 4 - Immerse a microfiber mop in this solution;

Step 5 - Clean the floor ;

Step 6 - Rinse with clear water.
The above are our recommended methods for renovating shine for vinyl flooring. You can choose the appropriate method according to the actual situation and personal preference. If you have more questions about industrial vinyl flooring or are looking for durable and cost-effective vinyl flooring and raised floor for your project, please contact us.
About ACCESS FLOOR STORE?
AccessFloorStore is a B2B online yeloowpage Platform. we have earned resoueces about vinyl flooing local store and facroty, and other flooring prodcuts such as raised floor , SPC flooring, Carpet Tiles and Caramic tiles. If you are interested in other flooring products and want to find relevant resources, you can contact AccessFloorStore.