How To Cut Vinyl Flooring Tiles/Sheets/Planks | Best Ways For PVC Floor Cutting Edges & Corners
Not only these benefits of durable, affordable, practical and hygienic make vinyl flooring so attractive for private residence, commercial and industrial premises, but also the quick and uncomplicated laying of the vinyl sheets can be seen as a great advantage of the PVC flooring. But once you reach the edge of the base of the wall or the furniture cut, in order for it to be optimally adapted to the spatial conditions, it is often necessary to cut the vinyl floor. Find out here how you can cut the vinyl floor quickly and precisely and what is the best way to cut vinyl floor tiles or sheets.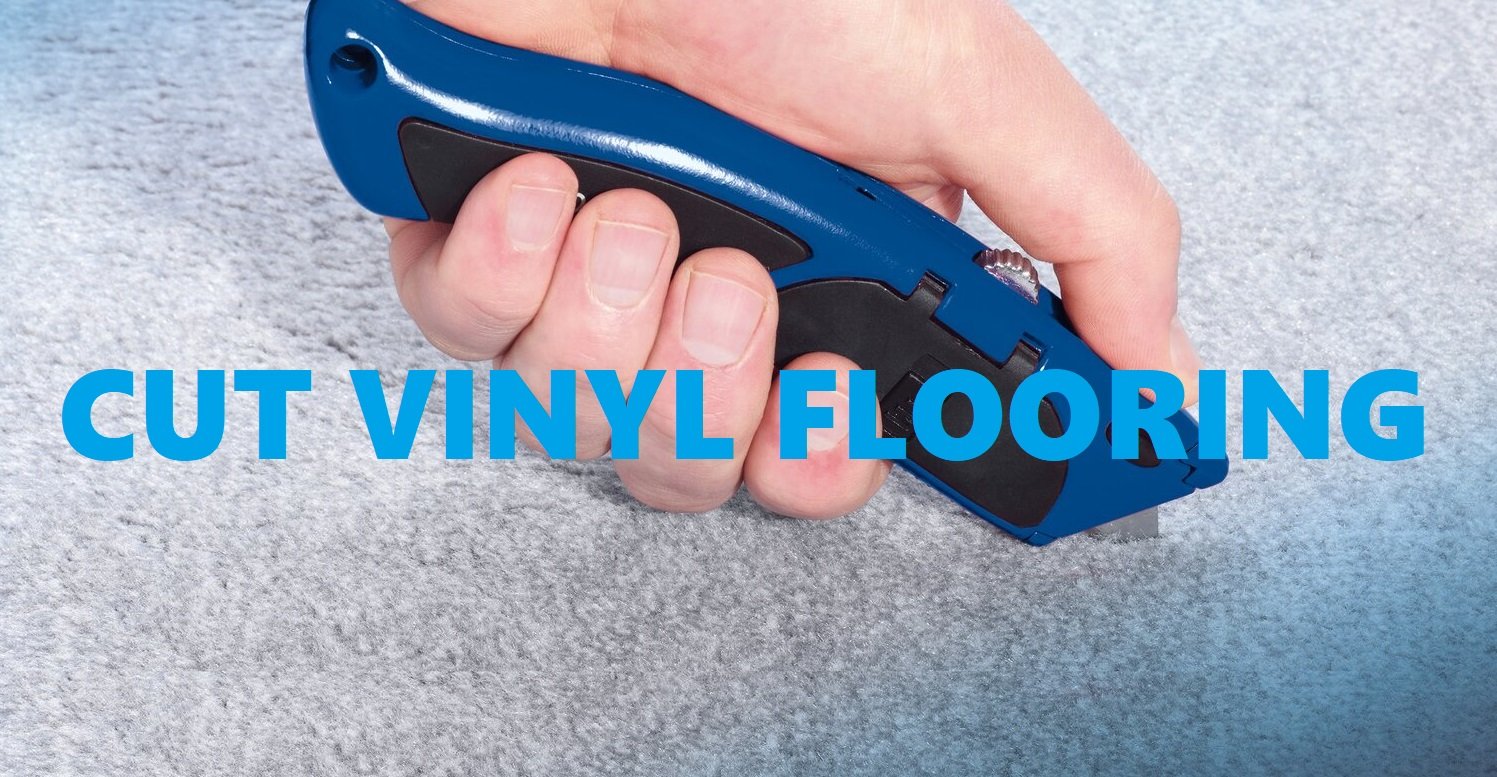 Why You Should How Cut Vinyl Flooring?
Strong, practical and hygienic, "modern" vinyl floors also offer an extraordinary variety of designs, from bright colors, abstract motifs, and patterns, is in no way inferior to parquet or laminate flooring. Vinyl floors give comfort by treading as they provide cushioning. They were created to be installed in hotels, children's play areas and, of course, in large shopping centers and hospitals, the objective being to reduce vibrations, maintain hygiene, and alleviate footfalls. Today, a multitude of finishes are offered, glossy, matte, extra matte, non-slip and almost natural textures. The sensation that a vinyl floor gives visually is so achieved that apparently you step on an authentic tile or a real wooden plank.
Vinyl flooring is not only available in different decors and designs, vinyl flooring tiles, sheets or planks are also available in different dimensions. Nevertheless, it is hardly possible to lay a new vinyl floor without adapting it here or there. Space, corners or recesses for heating pipes require the vinyl floor to be cut accordingly.
So that the vinyl floor can be shaped and optimally adapted to the room, it should be cut. Special vinyl cutters are ideal for this, and should definitely be part of the repertoire when it comes to the PVC floor for clicking or gluing. Overall, however, cutting and laying the fantastically beautiful and practical flooring is not complicated for an inexperienced people, which can also be done quickly and easily by hobby craftsmen. In this post, we will tell you tips and tricks to cut vinyl flooring safely and quickly!
How To Cut Vinyl PVC Flooring?
Most vinyl floors can generally be cut with little effort - even without special tools. No matter whether it is a heterogeneous PVC tile or homogeneous vinyl floor sheet with a relatively low material thickness between 2 mm and 5 mm or a click vinyl floor plank on HDF supports with a thickness of approx. 6 mm to 10 mm.
Cut Vinyl Floor Rolls (PVC Sheets)
A simple, sharp cutter knife, a pen, and a cutting rail or angle are enough to cut a vinyl floor from the vinyl sheet.

To do this, simply mark the cut edge with a pen and cut the surface of the vinyl floor with the cutter.

The rail ensures that both the marking and the cut are straight and at the correct angle.

With a correspondingly low material thickness and a little force, one cut is usually sufficient to cut the vinyl floor exactly.
Cut Click Vinyl Floor Tiles (PVC Planks)
Click vinyl floors can also be cut to size quickly and precisely using a commercially available cutter or carpet knife - even vinyl floors with HDF core boards or cork.

After the interface has been marked with a pen and an angle or a rail, the surface of the vinyl floor is slightly scratched with the knife.

If the ends of the vinyl floor tiles are pressed down - ideally on a table edge or above the knee - the click vinyl breaks at the predetermined breaking point and a clean edge is created.

With short edge pieces that can no longer be broken easily by hand, it helps to bend the short side with pliers.
Cut (Saw) Luxury Vinyl Tile (Composite PVC Floor)
If you are not comfortable with the cutter, you can also saw the vinyl floor in most cases.

A crosscut saw is just as suitable for straight cuts as a jigsaw.

A jigsaw can also be used to cut corners from a vinyl floor, such as is required for laying on doors.

Likewise, to cut holes for pipes or to make non-straight or round cuts.

However, the use of a saw is not necessary: corners, holes and curves can be cut just as well with the cutter.
Cut Vinyl Flooring Angles and Corners
You can easily cut vinyl flooring with a cutter knife. It's very easy. Make a shallow cut along with a spirit level, straight edge, or another plank - you will scratch the material to a certain extent. Then "crack" the PVC sheet along with the cut, ie you bend it apart until it breaks along the cut edge.
There are three easy ways to cut a corner out of the vinyl floor:
Cut out the vinyl floor corners with a jigsaw

You only need a jigsaw for the narrow cut. For the longitudinal cut, first, use the cutter knife as usual and then crack the plank. The saw is also useful here if cutouts are not straight. A saw cut along an odd line is the best way to cut a vinyl floor.

Only with the cutter knife and a deep cut

You can also do this for straight cuts: First cut the plank completely for the narrow cut. This requires a bit more effort. Then first make the superficial longitudinal cut and then crack the plank again.

Only with the cutter knife and two superficial cuts

With this variant, you first carve both the narrow and the long side with the knife. Then you first "crack" the narrow, then the long side. In this case, you will have to rework and clean the cut edges with the cutter knife at the end.

All three variants are comparatively simple and practical. Simply choose the method of your choice.

Tips For vinyl floor cutting out corners

You can slip easily with a carpet knife. The safest way to cut corners with vinyl flooring is not to slide off with a knife: Use a metal angle, along this you should make the cut with slight counter pressure. If you cut the vinyl floor when cutting out corners, you will damage the upper groove layer beyond repair.
More Pro Tips For Cutting Vinyl Flooring
Before you start cutting the vinyl sheet, make sure your work environment is safe. Be sure to wear gloves.
Pro tip 1: Use a concave edge knife. And make sure it's sharp. It will help you speed up your work. Avoid using a regular sharp knife. They tend to be much less practical and much more dangerous. The same goes for a knife that is not totally sharp. Do not use a saw with your irons.

Keep in mind that the decorated part of your iron should always face up when cutting it. Use a pencil to mark the cut line at the measurement point. Apply a firm cut to the iron, and then divide it in two with the decorated part away from your body.

Pro tip 2: Use a board to stabilize one end of the iron while splitting the other end.

If you only need to cut a small edge, we recommend that you use a pair of pliers (or a similar tool) as an alternative.

Pro tip 3: Always make sure that before you start your incision, your knife is positioned as straight as possible. This will ensure that you have enough space at the edges for expansion.

Cutting your plates into a special shape shouldn't be a problem for you. Cut the shape out of the vinyl sheet (making sure the cuts fit snugly) and remove it.

Pro tip 4: Place an additional iron inside out under the iron you want to cut. This way you can avoid damaging the floor you have just laid.

If the small "insert", which is part of the click system, comes loose to cut or saw, be sure to put it back in the right place. Ensuring a solid click connection is essential.
About ACCESS FLOOR STORE?
AccessFloorStore is a B2B online yeloowpage Platform. we have earned resoueces about vinyl flooing local store and facroty, and other flooring prodcuts such as raised floor , SPC flooring, Carpet Tiles and Caramic tiles. If you are interested in other flooring products and want to find relevant resources, you can contact AccessFloorStore.