News Tag
Products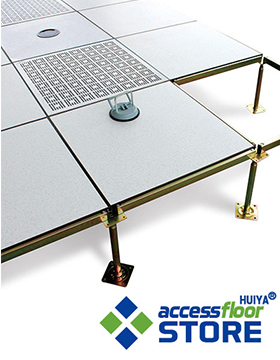 What Is OA Access Floor? Get To Know The Advantages, Types & Prices of This Office Raised Floor System
2020/7/31 20:38:41
Now, for a comfortable office environment, a OA raised floor system that can freely carry out complex cable wiring (such as power supply for computers and peripherals, telephones, networks, etc.) in the office is essential. Huiya provides OA raised floor solutions with seismic performance, which can provide a comfortable and safe office environment.
OA Raised Access Floor System
The cables and wires commonly used in the office to connect PC and OA equipment, do you feel them stumbling, and messing up the appearance or changing the layout of your workplace? As a solution, in recent years, many companies have introduced a system called "OA Access Floor", which hides the wiring under the floor. Using this article as a reference, let us introduce a raised floor suitable for your company and clean the wiring in the office.
What is OA Raised Access Floor?
OA access floor is a type of office floor that allows wiring to pass through. Since there is no fixed wiring position, it can lay cables from any position. Also called "OA network floor" or "double floor". OA floor is the abbreviation of "Office Automation Floor". It raises the floor of the office to create space for wiring; Fax, PC, telephone lines, etc pass through the space under the floor to improve office work efficiency.
Advantages of OA Raised Floor
All wiring passes under the floor, and no wiring is exposed on the floor, thus improving the aesthetics of the entire office. Make the wiring as invisible as possible to make a good impression for visitors.

Unlike floor ducts, easily access to the floor does not have a fixed exit, so you can change the layout freely.

If the wiring is exposed, it can also prevent the cable from tripping and hurting you. In addition, it is possible to prevent cable disconnection due to the movement of people and objects, and to prevent damage to important company data and equipment.
OA Raised Floor Price
For raised floors, the unit price is usually expressed in units of 1 square meter. OA floor infrastructure construction details (the basic construction contents of ordinary offices are as follows):
OA floor panel

Surface covering (Tile, carpet)

Slope/frame, etc.

Installation cost (OA floor, tile carpet, slope, frame, etc.)

Building materials

Transportation fee
The standard price ranges from 50$ to 150$ per square meter. If you don't need a tile carpet, it's even cheaper. However, it may vary depending on the floor condition, floor material and structure, and whether other work is performed.
OA Access Flooring Types: Features, Application & Price Comparison
There are several materials on the OA raised floor, and each material has different functions and prices. Below we have summarized the characteristics and prices of each OA floor for you, you can choose according to your purpose.
OA Raised Floor With Height Adjustable Pedestal
A type with adjustable floor height is called double floor. The material is mainly made of concrete or steel, and there is a bracket under the panel, so the panel and the pillar can be separated, so the height can be adjusted. Since the floor can be used freely, it has a high degree of freedom in changing and adding wiring. Because the height of the bracket has a wide adjustment, it can be used on the floor with more wiring.
Recommended For This Type of Office
Considering durability, it is recommended to use in large offices where many people come and go. In addition, if your call center has a lot of wiring, you can adjust the width under the floor to make it suitable. It can be installed later, but this type is usually used when installing from the beginning, and no steps are formed on the floor surface when building a new building.
Proposed Price
The price is 70$ to 110$ per board (50cm x 50cm). Please note that salary and travel expenses may or may not be included.
Low Profile Raised Floor With Cable Trunking
It is an OA floor that becomes a floor-standing slotted wiring floor, and designed to arrange the wiring grooves in a matrix. Most of the material for low profile is high-strength concrete. The shape is a block mat. In this low profile access floor system, there is a groove in the thick concrete pad through which the cable passes. Most groove covers are made of steel. Because of its strength and stability, it is used in small and medium-sized offices.
Recommended For This Type of Office
Because the wiring is passed through the groove, the capacity of the wiring that can pass under the floor is small, so it is not suitable for large server rooms and industries with thick wiring, but it is suitable for general office environments and is a general-purpose type of.
Proposed Price
The market price of each plate (50 cm x 50 cm) is 40$ to 80$. Please note that salary and travel expenses may or may not be included.
Resin OA Raised Floor
It is a simple raised floor type. The material is mainly made of resin (or plastic), and the panel and the column are integrated. There is no need to fix it on the floor with screws, etc. (placement type), and use it. Because it is relatively light and does not require large structures, compared with other types, it is characterized by lightening the burden of the building and reducing costs. There are problems with durability and flame resistance, and it is impossible to place heavy objects. When you walk on it, you may feel that its stability is slightly worse than other materials.
Recommended for This Type of Office
This type is often introduced when the construction area is relatively small. It is also recommended if you want to make the current office an OA access floor without spending as much as possible.
Proposed Price
The market price is 20$ to 50$ per panel (50 cm x 50 cm). Please note that salary and travel expenses may or may not be included.
The three types introduced here are the main OA floors (free access floors). Normally, you can only continue to use the OA floor installed at the stage of moving in, but if you introduce a new OA floor, we recommend that you consider the optimal type that will not incur maintenance costs later.