High Pressure Laminates (HLP) Raised Floor Features, Advantages & Applications
Redecorating or building a floor covering for the raised floor in data center or server room from scratch and static is not a subject to be taken lightly since today there are countless materials that can offer us both advantages and disadvantages. Therefore, before starting it is necessary to know very well what type of project you want to have and how to achieve it, taking into account both the budget and the resistance and aesthetics that you need in the place. In this installment, we want to talk to you about high pressure laminates for access floor panels, a material that can undoubtedly be very advantageous if you are thinking of giving a new look to your raised floor system and having the latest materials.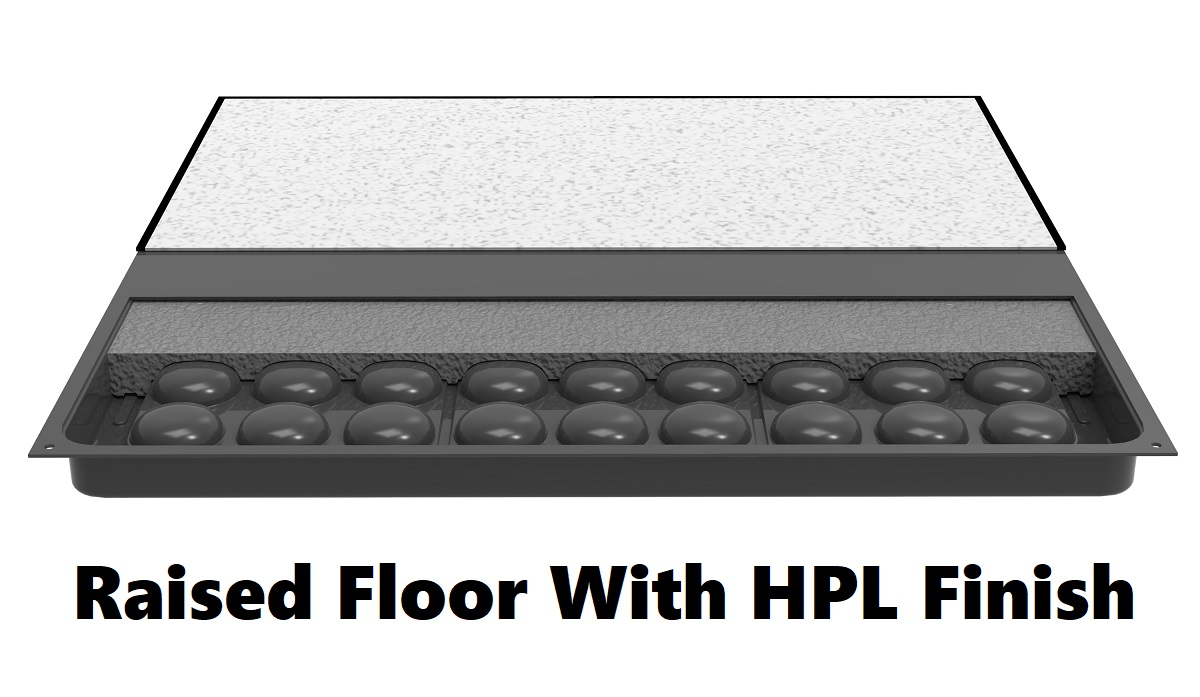 What Is High Pressure Laminates (HPL) Finish For Raised Floor Panel?
High Pressure Laminates covering is a product composed of young wood fibers, which after a process of agglutination with phenolic resin, are exposed to high pressure and temperature, from which thin, uniform, and resistant sheets are obtained for various uses. The result is a stable, non-reactive, homogeneous, non-porous, and high-density product, with totally different physical and chemical characteristics from its constituent parts.
Composition: 70% paper and 30% thermosetting resins.
Advantages of Raised Floor With High Pressure Laminates (HPL) Covering
This material has great advantages to raised floor system as the covering of panel, regardless of the use you want to give it. Below, we will show you some of them.
Scratch and wear resistance
Despite maintaining a great resemblance to its original material, wood, the manufacturing process of high pressure laminates (HPL), allows it to expand its resistance, since it is not affected by blows, cracks, high temperatures or wear due to time.
Material without defects or imperfections in its finishes
One of the great disadvantages of wood, despite its beauty, is that the vast majority of pieces contain natural defects or imperfections. On the contrary, with this type of laminates, these marks are completely eliminated and allow them to have completely smooth surfaces, both in terms of texture and colors.
Affordable price compared to wood
It is no secret to anyone that solid wood parts have high costs and, precisely, that is one of the biggest reasons why many refrain from including it in their remodeling. In the case of high pressure laminates, we have that their costs are much more accessible, so it can be an excellent substitute for wood.
HPL is an easy cleaning material
In terms of cleanliness, it is a really simple material. Even tests have been carried out that affirm that HPL can be exposed to acidic liquids without being affected, as in the case of lemon or coca-cola.
Possess anti-static properties
High pressure laminate (HPL) is a type of static control conductive floor finish, can reduce the static charge in the room, so it is very suitable for areas where there are requirements for a low static generation.
Most Common Uses of High Pressure Laminates Raised Floor
Thanks to its many advantages, it is used for different purposes and is perfect for use in the construction of all types of raised floors such as all steel raised floor panel, woodcore panel, calcium sulfate panel, aluminum panel, etc. HPL is the most common finish found in data centers, communication closets, and other high traffic public places, that as we know is required a durable finish and low static generation, especially suitable for covering of raised floor system in these spaces. So it can be easily installed in:
Data Center

Server Corridor

Clean Room

Computer Room


Offices

Hospitals

High traffic lounges

Raised floor in other industrial premises
It should be said that HPL Raised Floors are an excellent choice for even the most demanding work environment. Now that you know a little more about high pressure laminates (HPL). They will undoubtedly make your workplace look very good and have the resistance you require.