2021 Commercial Flooring Trends - Most Popular Commercial Floor Options
In 2021, sustainability remains the dominant theme of commercial flooring. From this idea came several new developments in the industry. The range of possibilities in commercial flooring is no longer limited to carpet, linoleum and ceramics. Innovations in the field now offer a multitude of options, offering different installation and environmental possibilities. In recent years, vinyl tiles and tile carpets have carved out a larger niche in the non-residential flooring market, replacing roll products. Discover the trends in commercial flooring for the new year here.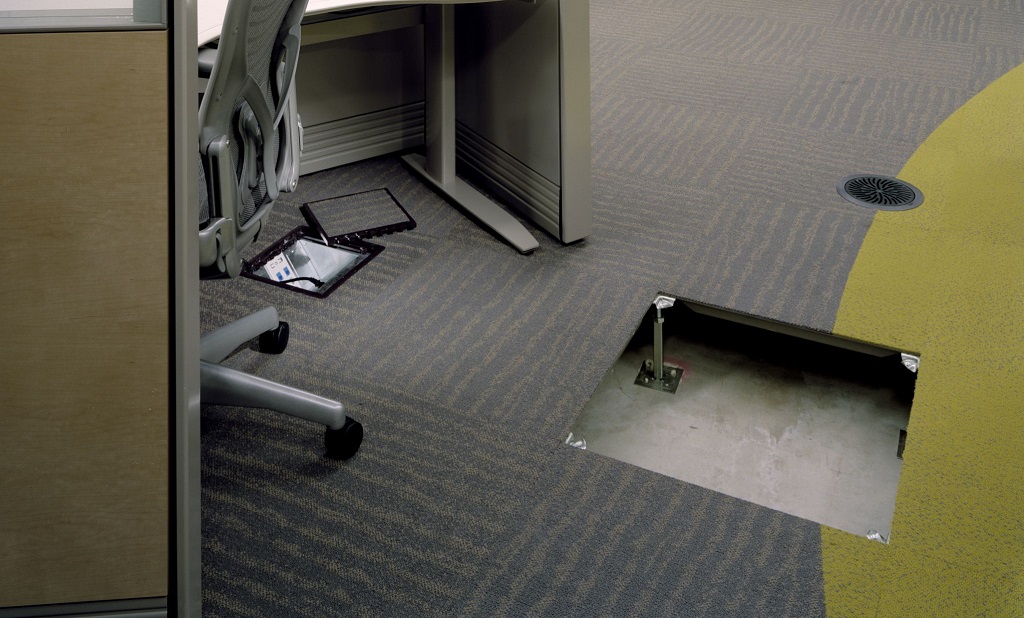 1 - Commercial Vinyl Floor Tiles & Rolls
In recent years, vinyl manufacturers have expanded their product offerings, which has contributed to the rise of this flooring in commercial projects. In 2021, the commercial vinyl floor tiles or rolls, continues its rise in strength. Technological advancements in prints now allow endless possibilities of colors, textures and finishes. Meanwhile, commercial vinyl flooring extends beyond its traditional use in retail to achieve health and education. It is now possible to reproduce your favourite noble materials: wood, ceramics, stone, marble, concrete and many others. Commercial vinyl also offers a different type of performance with its superior water resistance and ease of maintenance. Its installation is flexible because it is offered in roll, as well as tiles, hexagonals, sheets and planks of different sizes/widths. As a result of recent innovations, commercial vinyl is also more durable than ever, making it an ideal choice for commercial applications.
2 - Multi-Use Raised Flooring
Heating, air conditioning and wifi... Workspaces need to set up multiple facilities to be operational. How do you pass through and distribute all these technical fluids without risking walking on a cable or spoiling the décor? By opting for a technical floor!
Composed of a geometric metal structure attached to the floor and access floor panels, the raised floor has the advantage of being disassembled quickly. Equipped with a simple glazier suction cup or lifting claws, it is easy to make technical interventions in case of failure or to pass new cables. Today, modern technical floors have become democratized. They are usually made of removable slabs resistant to heavy loads. This raised floor structure does not cause additional load on the structure, and therefore is particularly well suited in cases of renovation/transformation. It is also used for new construction. The gap between the carrier floor and the raised floor can accommodate pipes and pipes. This is a very practical feature in office buildings. The lightweight design and technical vacuum offer more flexibility in the layout of the parts. An advantage for companies that often have to change their interior layout! This floor is also particularly suited to sophisticated technical installations and rapidly evolving office equipment.
3 - Polished Concrete Floor
In interior design, clean industrial-looking environments are currently popular and the polished concrete floor perfectly complements this trend. Concrete is now integrated into interior design for its aesthetic, practical and resistance. This type of flooring in a corporate space is used in small doses as it does not have the acoustic characteristics of the carpet. For this reason, many designers integrate certain areas into their environment.
4 - Modular Carpet Tiles
Another trend in flooring that has been evolving in recent years: modular carpet tiles. While tiles represented a small share of the market a decade ago, it is now rare that they are not privileged compared to the roll carpet given its greater versatility. The tile carpet market was constantly increasing from 2010 to 2015. It is now slowing down in its growth in the business market by the rapid rise of the vinyl floor. It will still be one of the most specified products this year. Our team also presents the advantages of the tile carpet in another article.
5 - Recycle Carpet
It is not surprising that sustainable development remains a criterion in the choice of commercial flooring. This year, there are more "green" options than ever before, and these planet-friendly options are more resilient and technologically advanced. The world's leading manufacturers are increasingly prioritizing the development of recycled and environmentally friendly materials. Did you know that it is also possible to recycle carpets when they are replaced by our teams? With the growing number of eco-certifications architects and designers are now selecting flooring by prioritizing the environmental aspect. Among commercial flooring manufacturers, Mohawk Flooring and Shaw stand out for their investments in research and development in this area.