Why Buy Weiss Brand Raised Floor System in Germany?
Weiss Doppelbodensysteme GmbH was established in the year 1975, and the stone of the company was laid by Dieter Weiss. For a year now, they have been producing raised floor systems with progressive technology. Well known for the Swabian precision, the raised floor system developed by Weiss has become a standard flooring system across the telecom sector and the technology industry market.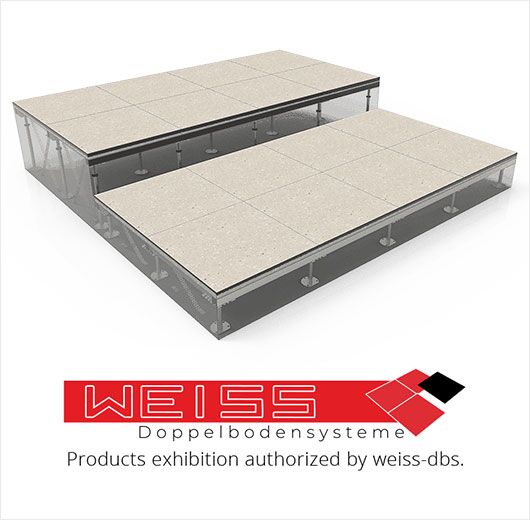 Weiss has been meeting the demand of offices, private and commercial buildings, and other industries' need for flexible interior fittings for several decades now. Weiss is now one of the most reputed companies globally known for producing quality products like active panels.
Since 2010 they have been developing and designing products that have pushed the boundaries of raised floor systems after Terra Raumtechnik purchased them. The technological innovation with quality products has led them to become a global supplier of a raised floor system in Europe, Asia, the Middle East, and the Far East.
Weiss is now well-known in Germany and across the world for offering not only premium quality raised floor but also everything associated with it. It has become a one-stop place to meet all the requirements of installing the raised floor system.
Raised Floor Products Weiss Sales
At Weiss Doppelbodensysteme GmbH, a customer gets a state-of-the-art raised floor system that meets the ingenious logistics of every company that installs it. With the installation of Weiss' raised floor system, the company can also keep adding features to meet the increasingly complex requirements.
To ensure that the global demand and requirements are met, Weiss develops new products constantly in the room conditioning and air conditioning sectors. These new products play a significant role in the market since there is a constant demand for a range of services and products on the raised floor that meets the heat dissipation requirement.
Weiss offers a range of products that are categorized into the following:
Raised Floor: A wide variety of materials for the raised floor panels are offered for customers to choose from; they are:
Wood

Calcium Sulphate

Steel

Aluminium

Glass
Active Panels: Within the spectrum of raised floor panels, Weiss is offering technologically advanced panels like:
Jet Panel

Hydrologic Panel V

Safe Panel
Special Floors: Weiss offers a specially raised floor system to customers with some specific requirements. Some of the special flooring systems that they offer are:
Hollow Floor

Thermo Floor

Steel Ventilation Panel

Acoustic Panel
Accessories: These raised floors, along with active panels need several, accessories for installation. Weiss offers a range of state-of-the-art accessories that ensures the best fittings of the panels:
Pedestals

Pedestals with C-Profile

Pedestals with Stringer
Floor Covering: At Weiss, a customer can also get a range of floor covering to lay on top of the raised floor panels, active panels, or the special floors. Some of the coverings offered are:
HPL: High-Pressure Laminates

Carpet

Linoleum

Parquet

PVC

Rubber

Stone-Covering

Special Flooring
Advantages Of Weiss' Raised Floor System
All the range mentioned above of raised flooring system and the special floors and accessories offers a wide variety of advantages to the customers who install them. Weiss' commitment to launch new products in the market that not only responds to the demand of the customers but also meet the requirements like:
Energy and cost-efficiency

Protects the environment

Reduces CO2 emission

Mountains a balance between economy and ecology
Apart from these, the other advantages that Weiss' raised floor system offers are:
The floor system is highly flexible

It can be used anywhere, irrespective of the building size. The simple reason that Weiss' system offers a range of usage is because of the adjustable heights of the substructures.

The floor panels are independent of each other hence a single panel can be removed and subsequently installed without any hassle at any time.

Special panels like the acoustic panels are constructed to have better sound absorbing properties

Active panels handle air-conditioning solutions better, and for data centers, patented solutions in active floors like JetPanel, Hydraulic Panel, and such can be used.

As the use of raised access floor with new technology is gaining momentum and overcoming passivity that traditional access floor panels, Weiss is offering a comprehensive portfolio of suitable products for every business need. It can also be adapted to the individual requirement that can increase and diversify any flooring system's capacity for the present and future.
Why Use Weiss For Your Next Raised Floor System Project?
Weiss has been developing projects on raised floor systems across Germany and around the world. The rapid development in the volume of data and how these buildings are constructed needs to ensure that infrastructure can adapt itself over time. This is applicable for both the existing data centers and the ones built now to suit the diverse requirement.
Weiss ensures that the requirements are met by developing a new range of active panels that are innovative, where the air volume panel regulation can be controlled electronically.