Choosing The Right Raised Floor For Your Industrial Business
Many things contribute to an organized office but a top-notch functional floor is something that one must not overlook for an innovative business regime. What is a raised floor, and how does it transform the entire space? In this blog, we will discuss everything in detail and even help you decide the right raised floor for your industrial businesses.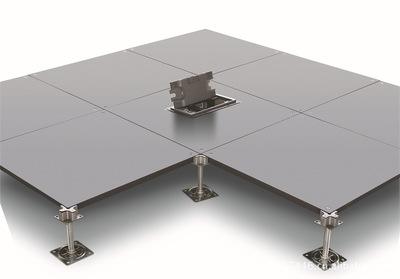 A business never compromises on its efficiency and productivity. So why should one compromise on flooring? A raised floor provides a strong foundation for business success and even ensures ample opportunity to bestow a contemporary, stylish and modern look.
When a raised floor is built several inches above the ground, it provides a cooling, electrical, and mechanical services route. Moreover, it becomes easier for a business to declutter the wiring hassle and instantly change prior to any additional renovation projects.
How Should You Pick the Right Raised Floor Solution?
Choosing the right raised floor might seem like a daunting task, but it is not that difficult in reality. You just have to pay close attention to your business vision, efficiency requirements, and present & future needs. To make your decision process simple and straightforward, we have shortlisted some key points to consider for the best in class raised flooring in industrial space.
1. Low profile vs high profile raised floor
High profile raised floor support height greater than 6 inches. From what we have observed, many organizations don't have enormous technological demands. In that case, a low profile raised floor system is more than enough to support businesses' day-to-day working requirements.
Low profile support height of fewer than 6 inches, which can quickly provide a gateway to route mechanical, HVAC, and communication services.
2. Health & safety
Raised flooring ensures an update to the look and feel of your factory. But it should be built with health & safety in mind. In health, one should focus on gripping and wear load capacity of raised floor tiles, whereas safety covers anti-static features (ESD), fire safety, maintenance, strength, and durability. Installing a new raised floor also requires a well-thought consideration of architecture requirements and enough provision to scale it to the next level (if up-gradation is needed).
3. Style
The right industrial raised floor blends aesthetics with functionality. It often demands upgrading to new stylish/modern flooring that makes an immense difference within the working environment. This simple upgrade often includes tile selection to give your office a whole new look and feel, not to mention -mstrong brand recognition.
4. Cleaning
Raised floors require maintenance on a daily basis. Hence, the system you are planning to install must provide hassle-free cleaning & maintenance. That's why ceramic and Vinyl raised flooring are broadly chosen for their easy-to-clean and maintain characteristics.
5. Performance
A raised floor is usually installed for its underneath space. It's also crucial to see if you're going to have high or low traffic volume. This will help you anticipate if you need a regularly built raised floor system or an upgraded one. In the case of high-traffic areas, additional support may be an ideal option for stable foot traffic.
6. Budget
Choosing the right raised floor does not need to break the bank. There are numerous reasonable options available in the market. Consult HUIYA designers and sales experts for the best recommendations. At HUIYA, we emphasize building a long-term association. Our team will help you uncover various options and provide suitable options according to your needs. We understand your commercial flooring needs and bring you a viable system under your budget.
Don't Settle for Less, Explore 2021 Trendy Raised Floor Options
Your office raised flooring needs to fit the space in both design and usability. Some flooring systems can be expensive, while others are budget-friendly. Nevertheless, with the right décor, our raised floor options will look beautiful, and happen to be a better alternative than conventional options. Some of the trendiest choices are - Ceramic tile, Laminate, Natural stone, Rubber, Vinyl, HPL Carpet tiles.
In the world of construction and design, HUIYA is a brand to trust with. Over the years, we have established a strong benchmark in the industry and globally accredited as a pioneer brand for European, USA, UK, China luxurious raised floor design systems. We have been helping entrepreneurs and small-scale businesses to start their business journeys. Headquartered in China, HUIYA has created a stronghold as a stellar brand for luxury raised floor architecture, outfitting with beautiful, eco-friendly tiles. Our variety of high-end raised floors has already been installed in data centers, call centers, IT space, modern offices, retail chains, and commercial properties.
To see the saga of what we do and how we do it, contact us today. Being able to understand client vision, we can provide you with the experience you seek and execute the requirements flawlessly.