How To Go for Raised Floor on A Budget?
Are you planning to set up a realistic raised floor under budget? One of the primary questions we usually ask is, how much is the raised floor installation going to cost? Clients, particularly the new ones, have no idea what to expect while deciding on their raised floor system budget. If you consider the parameters like robustness, bespoke design, aesthetic façade, and stable support – all this value is the truer way to predict a budget.
A raised floor project comes with very different priorities, and its specifications can diverge to your office/building needs. A practical raised floor design can either make or break a building. Nevertheless, hiring a professional raised floor company is the best way to get the most out of your investment. Amid a professional installer, elevating your floor becomes a hassle-free quest. They ensure a well-planned approach for all-around consistency, covering raised floor's visual appeal, comfort, stability, and functionality. The performance will modestly increase the value of your office and provide a bit of added "enthusiasm" when it comes time to putting productivity.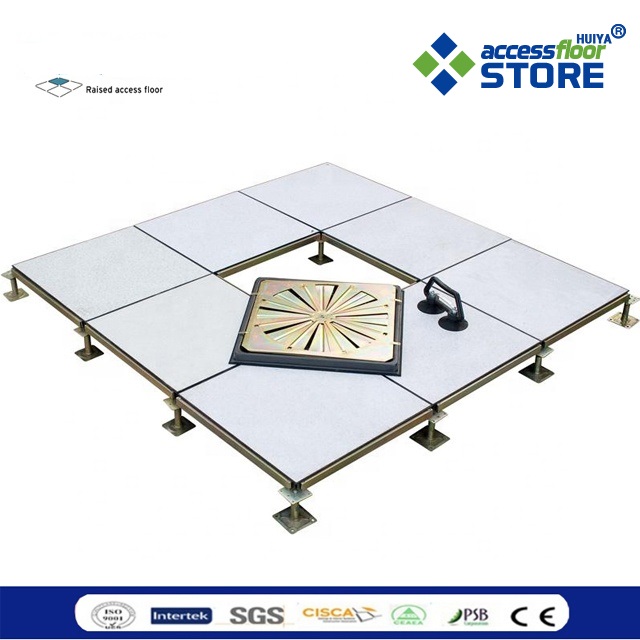 If you have decided it's finally time to upgrade the flooring in your building, you'll be faced with a lot of choices. First, you have to figure out what type of flooring best matches your requirements against your expected budget. In this blog, we will discuss ways to cut costs – which is mostly overlooked in a raised floor model.
What should you keep in mind? It would help if you do not compromise on key criteria for raised floor, such as humidity resistance, slip resistance, ESD tiles, wear load capacity, anti-static coating, and durability. Based on this, some options can be far more expensive. Fortunately, several budget-friendly designs are contributing to that elegant and smart workspace. These are: Hardwood raised flooring, Ceramic raised floor, Vinyl raised floor and stainless steel raised floor is a common choice.
Tips To Save On Raised Floor
Set a budget – How much are you willing to spend on raised floor project? A pre-planning confers you with the right raised floors w.r.t your budget and space. The only upfront investment you make is your personal time. Once you set a budget, you can easily inflate/deflate the expense.
Consider subcontracting to trusted installers, i.e., HUIYA – When it comes to trust, HUIYA is broadly trusted for impeccable work and industrial expertise. HUIYA works within your budget, maintain 100% transparency with the quotation, and don't make exceptions. An in-house team of architects even looks for alternative ways to get what you have envisioned. Outsourcing to HUIYA can benefit your organization in multiple ways, such as:
Cost advantage: The most obvious benefit of outsourcing is cost savings. HUIYA gets the job done at a fraction of the cost and at better quality.

You, as an investor, get to save on infrastructure and technology. HUIYA easily adapts to the latest technology and takes the responsibility of introducing the best-in-class system to the world.
Consider Financing Options: Consider different ways of paying for your new raised floor system. Instead of paying full money in advance, you can consider easy EMI, credit card, or borrow money from the bank. By doing so, you won't feel stress on your shoulder and can pay back the way you want.
Decide on the type of raised floor: If your budget is tight, we'd recommend installing stainless steel raised flooring, vinyl flooring, ceramic tiles, concrete flooring and laminate raised flooring. They are affordable yet durable and capable of providing long-term performance for any modern space, hospital, retail, pharmacy, and medical premises. For data centers, call centers, and IT space, an ESD-raised floor is highly recommended for safe and robust premises.
What Next? – Get 2nd opinion from HUIYA
HUIYA is a one stop for HIGH TECH FLOORING SOLUTIONS, particularly fulfilling the demand for data centers, call centers, and a broad range of technology-driven spaces. Endless practicality, longevity, and value for money - The primary benefit of HUIYA access flooring is to ensure hassle-free circulation of cool air in the desired area from an HVAC point of view of the office. Other than ventilation, HUIYA raised floor also provides enough room to support mechanical, electrical, and power-driven requirements.
FASTER AND RELIABLE SERVICES: At HUIYA, we make your installation procedure better with high-quality tools and equipment. The close association of certified installers and manufacturers decreases work load time and gets your raised system ready to reach the office. Thus, the overall process would be and better at delivering the value-added proposition.
Enjoy the benefits of bespoke raised floor installations.
Most people would prefer HUIYA for a bespoke raised floor system. Each system designed by us comes across as highly durable, highly appealing, and has this robust, luxurious feel. So when you put choice and flexibility on the table, you'll certainly get off-the-rack raised floor design and style.
How about we show you? Contact us today to learn more about what we do and how we do it. You can interact with industry leading experts and clear all your doubts.