Raised Floors for Critical Facility and Seismic Zone
Critical facilities, such as data centers, need a state-of-the-art management operations solution to drive efficiencies, especially when it is being constructed in the seismic zone (affected by a strong earthquake). Thus, in this area, a raised floor with specific provisions in seismic design is required.
This blog will provide a detailed introduction on the concept –" raised floor with seismic design" and seismic design principles, including strategies for designing an earthquake-resistant raised floor to ensure safe working conditions.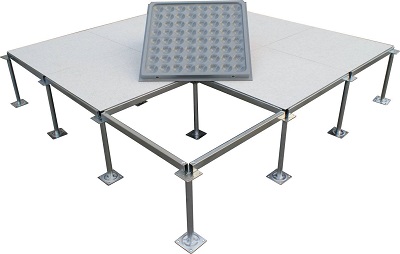 The principle of successful seismic design raised floor is three-fold
First – the design will foresee potential impacts of seismic forces and major vulnerable areas.

Second – ascertaining performance-based requirements, which may include additional structural support and safety requirements.

Third – Minimizing the design complexity, i.e. raised floor construction with a seismic design in mind.
Do We Need Seismic Design Raised Floor In USA?
Seismic Design raised floor is a no.1 priority of USA businesses and entrepreneurs for the reason that almost half of the states & territories in the USA are exposed to risks from seismic hazards. Seismic design is performance-based engineering that minimizes the structural irregularities in floor planning and makes the flooring highly robust against large deformations and damage.
In a raised access floor construction, steel frames are broadly used to resist structural systems throughout the world. They are considerably chosen for their strength and ease of construction.
They are usually designed and installed based on seismic design codes, minimizing the building's total cost and aiding for better design standards. HUIYA designers even proposed different methodologies, which have been proven very effective. Moreover, our practical approach has allowed us to offer more computational efficiency and minimize engineers' difficulties.
The result is astounding because seismic design raised floor show significant improvement in performance (reducing fragility and increasing strength) compared to traditionally designed buildings.
Aiding better raised floor design for SMRF buildings
Raised floor installation for critical facilities is becoming more important than before for several reasons. The selection and installation of raised floor in telecommunication premises, IT space, and call center greatly help maintain business permanence after a destructive earthquake. That's why HUIYA designers and engineers aid in better-raised floor design for SMRF buildings.
Planning is what makes it reliable, and is the most critical phase of a raised floor installation in a seismic environment.
Seismic Design and Installation Considerations
1. Lateral restrain of raised floor. Lateral restrain prevent equipments from hitting each other or thumbing against walls. In most cases, the diagonal bracing component is bolted to the stringer and is generally adequate in high and moderate seismic environments.

2. Restraining Equipment on the raised floor. In this design standard, raised floor brace cable is anchored to the structural floor and secures the heavy equipment's toppling.

3. Retrofitting Design. For critical facilities, sometimes upgrading the raised floor system or equipment support becomes imperative to prevent earthquake damage. The practical way is to strengthen the floor, on which the equipment will be mounted or fastened.
Selection and installation – how to proceed?
A raised access floor is very much needed for almost all types of offices and extremely useful for supporting electronic equipment. Once installed, the raised floor can easily provide a route to HVAC, mechanical, power, signal cables, and cooling infrastructure. Nevertheless, one must be attentive while designing raised floors in seismic areas.
Key factors to consider are:
Lateral loads imposed by earthquake motions

Selection of Structural Sound Pedestals

Using Stringers with Mechanical Connections

Securing Equipment's to Raised Floor

Additional Support to Heavy Equipment
Why Choose "HUIYA" for raised floor in seismic zone?
Heavy Equipment is not a problem. It's the planning that makes the difference. At HUIYA, we make sure that raised floor system adheres to all the safety protocols. We have the largest selection of raised flooring systems – vinyl, tile, hardwood, HPL, stone and laminate. For the most practical approach, we work closely with clients to ascertain standards on earthquake engineering and design requirements.
Highly trusted brand Globally – Years of experience and industrial expertise yields the perfect flooring value, and it's allowing newly established businesses to run for their success.

Trained & Skilled staff – Our company is staffed with raised flooring experts who have undergone rigorous training and understand consumer vision. They can recommend the best possible floor choice based on your needs, business vision, and budget.

Entirely bespoke approach – HUIYA does not believe in one size fit all solution. Our approach is entirely bespoke (i.e., made exclusively for the clients based on their requirements). For complete peace of mind, we offer full-fledged professional installation services.

ISO construction – HUIYA strictly complies to ISO standards. This enables us to make the raised floor system more effective by considering internationally agreed design and manufacturing specifications.
Looking for 100% satisfied result? No matter how big or small your project may be, we strive to find the best fitted raised flooring solution for your project and under your budget. Just get in touch with our professionals, and we will take care of the rest!