What Exactly SPC Flooring is and Benifits?
What exactly SPC Flooring is?
SPC, means Stone Plastic (or Polymer) Composite, stands for stone-plastic composite material, features a core that is typically comprised of calcium carbonate (limestone), polyvinyl chloride and plasticizers. It aims to fully replicate traditional flooring materials such as stone, ceramics or wood. Designed life proof SPC Flooring uses realistic photo printing and a transparent vinyl top layer to open the door to various design concepts. Thus, SPC flooring is becoming more and more popular in the global market.
Each plank of SPC rigid vinyl flooring is constructed with the following layers: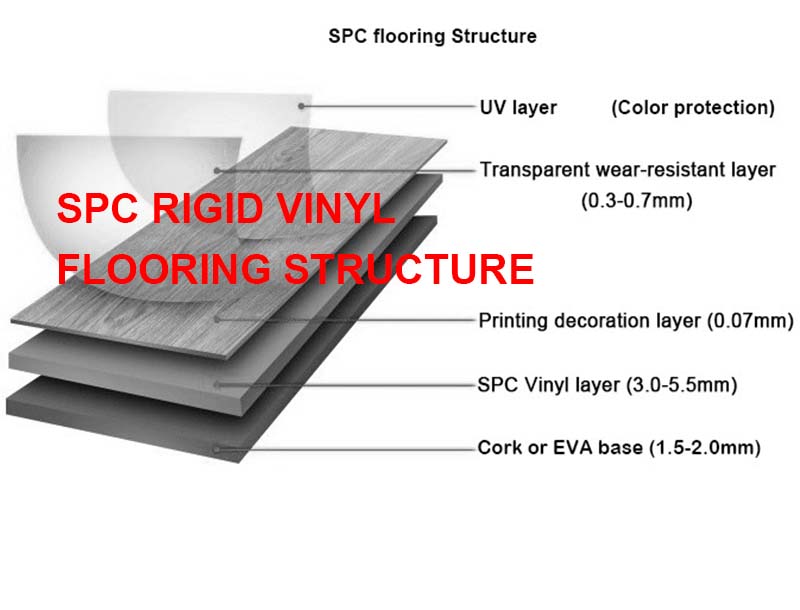 UV Coating:
Coated on the top layer of the SPC vinyl flooring, it's a protection layer against UV rays of sunshine, which is main issue of the color printing process, High quality UV coating layer ensure the color fastness class 6.
Wear layer
This transparent layer is at the top. It provides resistance to scratches and stains and is easy to keep clean.
Décor film layer
This layer provides the decoration for the plank. Colors and patterns are printed onto the vinyl.
SPC rigid core
This is the dense, waterproof core for the plank made of natural limestone powder, polyvinyl chloride, and stabilizers. It provides rigidity and stability for the plank.
Pre-attached underpad
This layer is generally made from IXPE or EVA foam, which provides sound insulation and cushioning.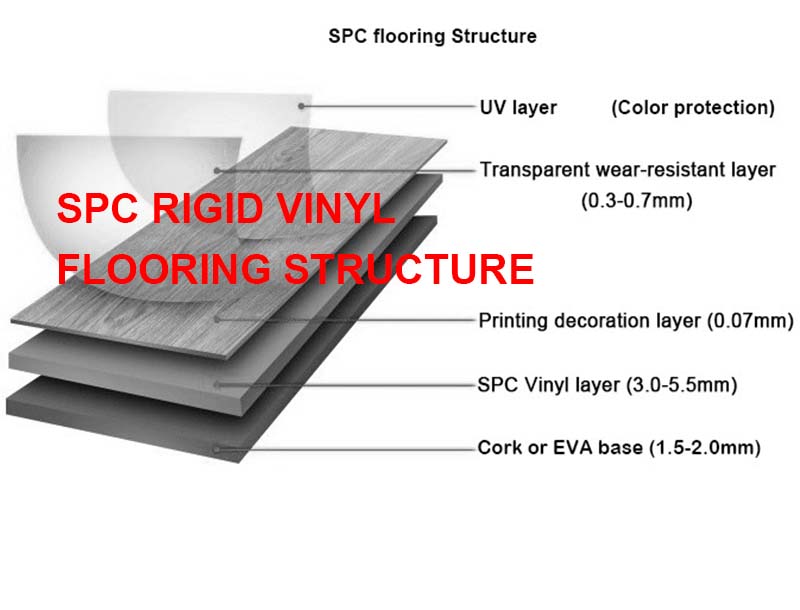 The benefits of choosing Life proof SPC vinyl flooring
With the introduction of rigid core technologies, rigid vinyl flooring looks more dynamic and versatile than ever, it also provides more practical benefits which listed below in this article.
Style and comfort
The surface of SPC flooring is more resilient and softer textured than other flooring materials such as wood or stone. Because the design is copied from real wood timber with high resolution printing process, SPC floor design is very fashion and wood realistic, it is also more comfortable under the feet and reduces sound, which is a very important feature of many facilities.
Environmentally friendly

The materials used in its production are renewable and none toxic, with recyclable ingredients, and low-emission. No formaldehyde release, and totally recyclable.
Super Waterproof
One of the winning qualities of SPC flooring is that it is 100% waterproof, which is a common problem associated with hardwood flooring. SPC floors can also be installed in more places than hardwood floors, such as laundry rooms, bathrooms, etc. SPC floors are more stable in humid environments.
Affordability
SPC flooring is generally cost effective than any other type of flooring covering materials such as Solid wood floor, Stone and Marble tile. It offers many benefits and quality at a lesser price.
Easy installation
SPC can be easily installed by the click system. Using this solution can reduce floor installation costs and installation time. International patent click locking system makes floor installation simple and convenient. Easy to work and quick to lay, lends itself perfectly to both DIY and professional installation.
Simple Maintenance
SPC does not require sanding or sealing, it's durable and very dense, so it's resistant to impacts, stains, scratches, and wear and tear. And much easier to maintain than other floors. Also, it is easy to keep clean since it is completely waterproof, Maintenance involves only regular vacuuming or sweeping and occasional mopping.
SPC FLOORING CONCLUSION
There are more than above Benefits and features for Life proof SPC rigid flooring, if you're ready to give your home a serious upgrade, consider installing life proof SPC rigid vinyl floorings. It has a number of benefits that make it a solid investment, and it's especially practical for families with pets and kids. The easy installation, simple clean and maintenance, and relatively affordable price will also help to keep costs down. With nearly unlimited design options, it's also easy to find a look that suits your style.