Best Carpet Tile Layout Pattern Ideas 2022 - How To Lay Carpet Tiles Fashionable
Even if it is the same kind of product, the interesting thing about tile carpets is that the expression changes drastically when you change the arrangement! In addition, even with the same material and color, it is characteristic that the expression changes just by changing the direction of the arranging. Recently, a wide variety of colors and patterns are sold, so if you match the size, you can enjoy the contrast by combining things with different materials! Here we explain how to apply carpet tile with a stylish layout pattern.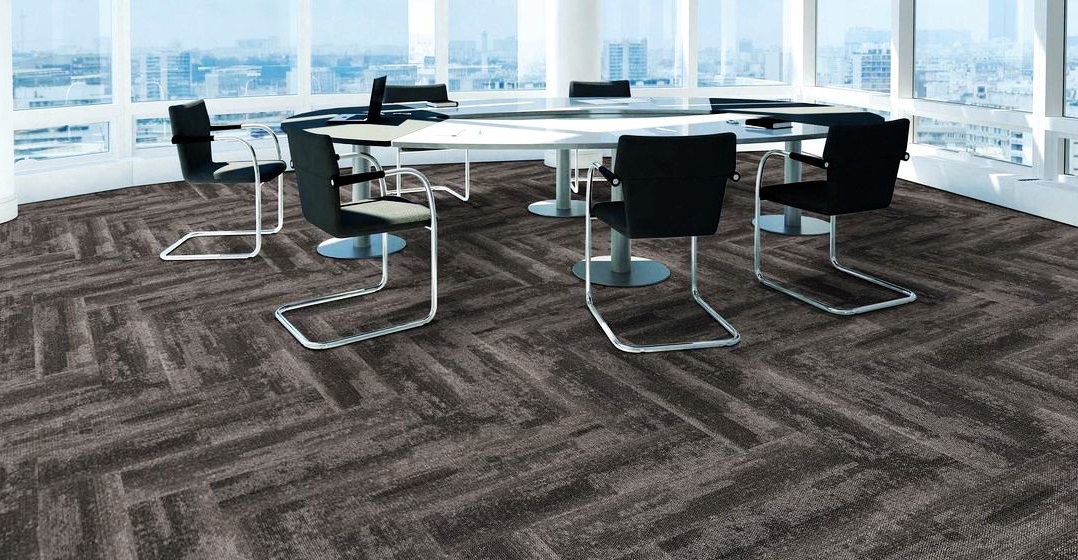 Best Carpet Tile Layout Pattern Ideas 2022
Carpet tiles that can be easily laid side by side and any design can be freely drawn can realize an original interior. You can design the entire floor as you wish, and it is also interesting to arrange parts of it. In addition, only dirty tiles can be turned into the washing machine and washed, so cleaning is easy.
Carpet tiles that can be used regardless of size and have good cost performance have great merits in various aspects. In addition to their charm, the good thing about tile carpets is that the impression can change greatly with design, coloring, and slight placement changes.
Basic Carpet Tile Layouts
Even if it is the same tile carpet, just being able to buy how to paste it will change the impression considerably. Even in the same office, even if the carpet is different, the impression will change drastically, so we will introduce it using a case where the simulation was actually performed.
1. Random Layout
Since it is pasted without worrying about the direction, speedy construction is possible. Replacement and maintenance of dirty tiles is also effortless. Since three colors of carpet are used in the image figure, there is a fluctuation in price than in the case of one color.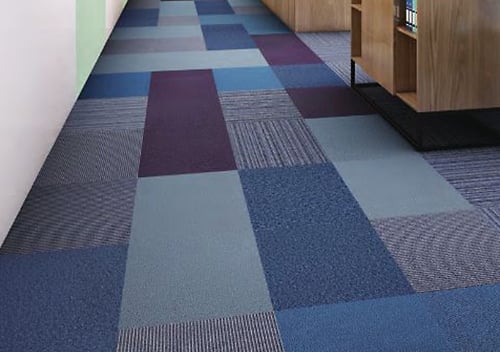 2. Sink Layout
It is a method of pasting carpets with the same pattern and the same color in the same direction. It is a simple and clean impression, but depending on the pattern, it may come out like an office rather than a carpet for home. Since the same pattern continues in one direction, you can feel the depth, and it also has the advantage of looking more spacious.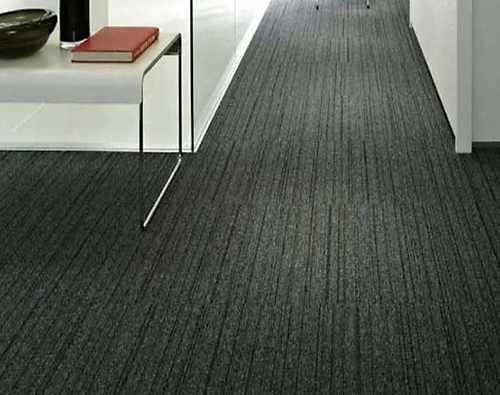 3. Checkered Layout
Because it changes the direction of the tile next to it by 90° and sticks it, it becomes a pattern like a checkered flag.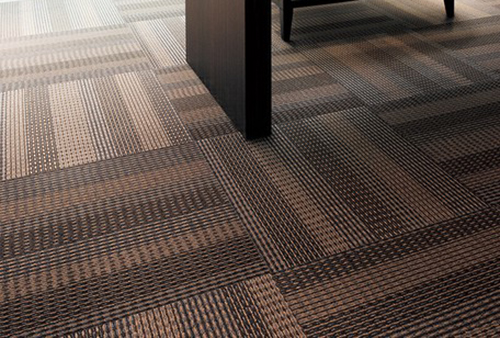 4. Ashlar Layout
Paste the tile with the same orientation as the sink pasting, but stagger it by about 10 cm ~ 25 cm without aligning the four corners of the tile. The lattices of the tiles look like roll carpets that are inconspicuous and have no joints. When replacing dirty tiles, the replaced tiles are less noticeable than when they were constructed with a sink pasting.
5. Brick Layout
Do not align the four corners of the tiles, stagger them horizontally by about 10 cm ~ 25 cm so that they are stacked with bricks. A striped pattern like a band appears, and it becomes an image like planking.
Stylish Carpet Layout Ideas
In addition to these basic layout methods, the good thing about carpet tiles is that you can try various variations, such as lining up several colors to make a border or pasting them in a gradation order. Depending on how you layout the carpet tile, you can make the expression of the room full of originality. We would like to see the layout of the tile carpet that can demonstrate infinite design power.
1. Expressions made in the direction of pasting even if one color is used
Even if it is the same color, just by changing the direction of pasting, the impression that can be seen is different, which is one of the characteristics of tile carpets. Actually, when cleaning the carpet itself, if you vacuum at 10 o'clock in length and width, you can remove the dust in the fiber even more, so it is also an advantage that it is easy to vacuum the carpet itself.
2. Border style that can be made with vivid color
You can choose as many tile carpets as you want where you want, so you can make a border pattern of your favorite line like this. Even if you arrange it in rainbow colors in children's rooms, etc., you may be pleased.
3. Flow in the same direction with patterns and patterns to produce depth
What can produce a different impression from wood grain and wood tile in the style of pasting in the direction of the sink. Because it contains a pattern, the direction is expressed firmly, and the whole room can be deepened, making it look like a larger space.
4. Make a calm impression by pasting checkered
Checkered pasted with soft pastel earth color. It is pop without being too noisy, and it is finished in a clean atmosphere. It is also excellent in soundproofing, so I think it is perfect for children's rooms.
5. Chic & Modern Style Made with L-Shaped Cut
A tile carpet cut into an L shape in a color combination rich in design. The word "design the floor" is a stylish layout that is perfect! The color base is chosen to be a subdued color, so it is also cool in the living room
6. Stylish with regular rectangles
Square tile carpets are deliberately designed and pasted in a rectangular style.
It seems to be orthodox, and I think it is a way of pasting that can show individuality modestly.
There is also the effect of making the room look wider, and the same color unified with shades is stylish!
7. Carpet style used for accents
It is a method of sticking that is used as an accent as a rug rather than laying it down.
It is a layout that takes advantage of the shape of the tile carpet, and it has a different impression from the center rug by daring to show it as a pattern!