News Tag
Products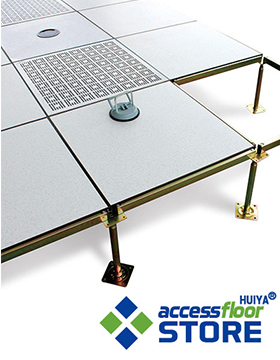 HuiYa Access Floor System Is Favored At Major Exhibitions Related To Raised Floor Industry
2019/8/2 18:38:13
In order to comprehend the international customers' demand for price, function, and service, obtain the latest industry information, improve our access floor product visibility, and enhance market competitiveness, Changzhou Huiya Decoration Materials Co., Ltd as one of the China Top Access Flooring System Supplier/Manufacturer, actively participates in industry-related exhibitions related to access floor held around the world. At the exhibitions, HuiYa's various raised floor systems, as a new type of environmentally friendly access flooring for computer room, data center, clean room, and other applications, have been favored by buyers and distributors all over the world, and they have requested in-depth cooperation. HuiYa Access Floor System is favored by worldwide customers at major exhibitions related to Raised Flooring Industry
HuiYa Access Floor - China International Data Center Expo, November 2018
CIDC China International Data Center Exhibition was held in Shanghai in November 2018. As the leading brand of China's event floor, we were also participated in the exhibition, which held at the Shanghai New International Expo Center from November 6-8, 2019.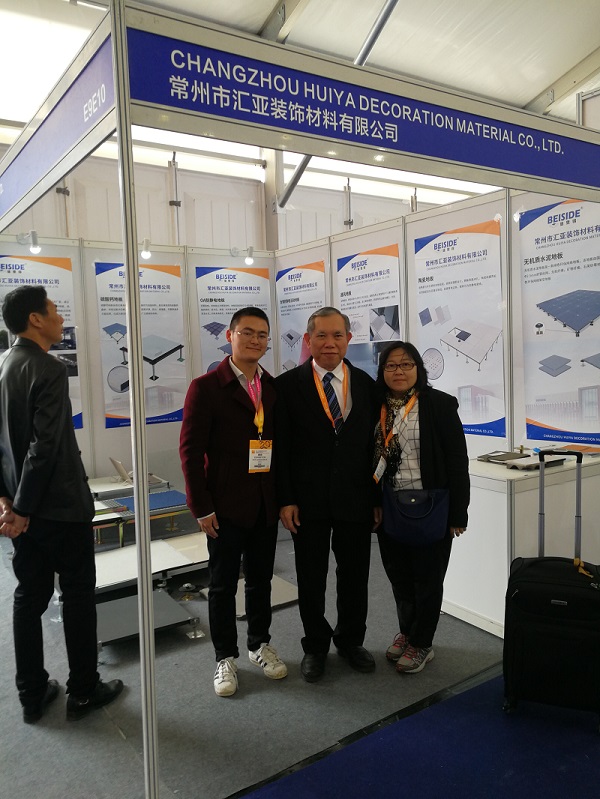 The three-day exhibition promoted the steady development of China's data center and cloud computing industry. The China Data Center Energy Conservation Technology Committee and the Adsale Exhibition Services Co., Ltd. jointly held the "2018 International Data Center and Cloud Computing Industry Exhibition".
The main goal of our company's participation in this exhibition is to broaden horizons, learn advanced tech, exchange industry informastion and build cooperation. Make full use of this exhibition opportunity, exchange, communicate and negotiate with customers and distributors who come to visit, further enhancing the brand awareness, at the same time, get know the product characteristics of the peers in order to better improve their product structure and give play to our own advantages of access flooring systems.
HuiYa Access Floor - Saudi Building & Interiors Exhibition, March 2018
Saudi Building & Interiors Exhibition has been widely watched by professionals in the construction industry and sought after by major media. The annual exhibition has been a purchasing event for building materials suppliers and related industry personnel in the Middle East, Europe and Asia. On the 13th to 16th March 2018, the 27th Saudi Building & Interiors Exhibition was successfully held. HuiYa has been carefully prepared, and with our superb technical standards, high-performance raised access floor (anti-static raised floor, computer room floor, GRC floor, all steel access floor, and raised flooring accessories) has become a highlight in the industry. Many buyers have brought technical problems on the raised floor on the exhibition, after the guidance of HuiYa's highly qualified technicians, the customer got a satisfactory answer and reached a purchase intention of our access flooring system with us.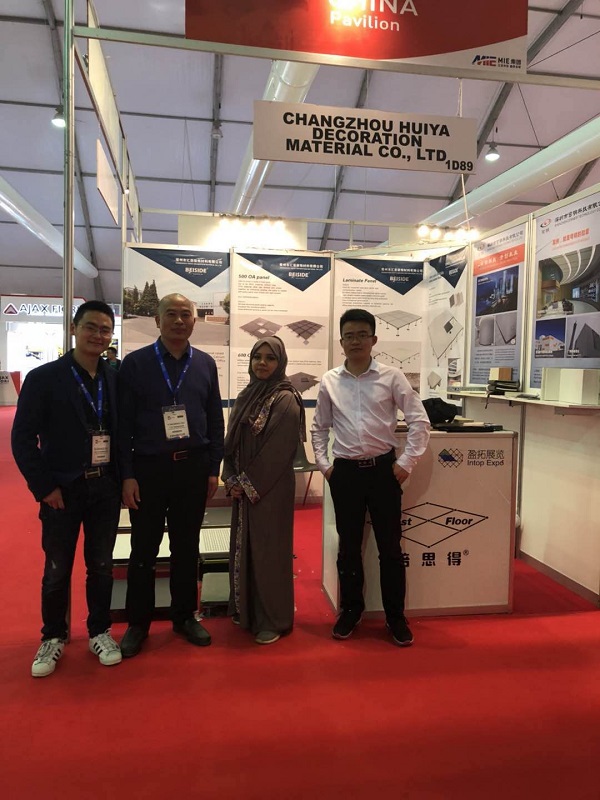 Saudi Building & Interiors Exhibition is hosted by Saudi Arabia's most powerful professional exhibition agency - Al Harithy Company for Exhibitions. The exhibits range from building materials and equipment (construction hardware, building metal materials, pipes, pipe fittings), building gel products, adhesives, doors, windows, paints, wall materials, decorative materials, flooring, access flooring, bricks and tiles). The exhibition has a history of 27 years, has attracted more than 600 exhibitors from worldwide regions; turnover reached 198 million US dollars in 2018.
HuiYa Access Floor - Vietbuild International Exhibition, June 2017
In June 2017, the 19th Vietbuild International Exhibition was held at the SECC of Saigon Exhibition and Convention Center in Ho Chi Minh, Vietnam. Huiya was invited to the exhibition to showcase the company's major product lines of Access Floor System, consolidate existing partnerships and discover a large number of potential customers. Opening up the market has laid a solid foundation.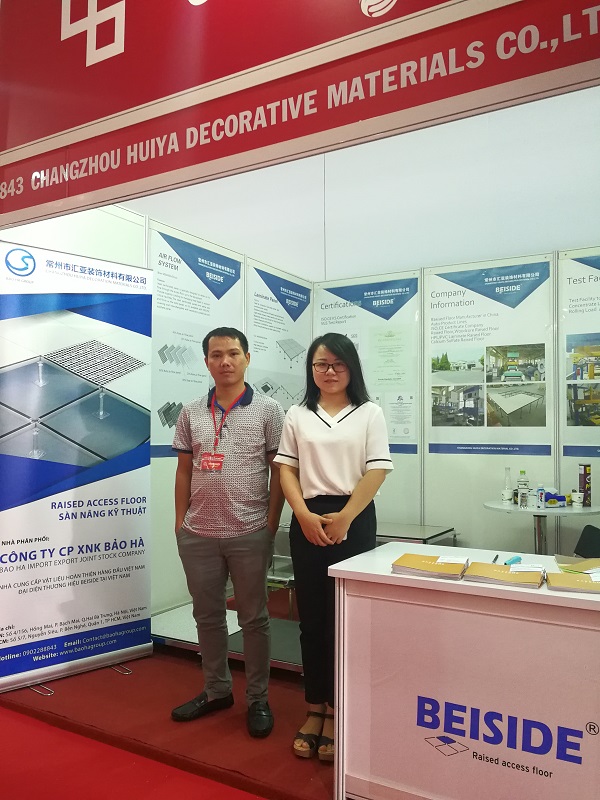 Vietbuild International Exhibition is a large-scale and professional building materials exhibition in Vietnam jointly organized by Vietnam's famous exhibition company - Vietbuild Construction International Exhibition Organization Corp. and Vietnam Ministry of Construction. It has been held for 21 sessions so far, and the exhibition is crowded with people. According to research, many institutions and media have given high marks to the exhibition, fully affirming the large-scale and professionalization of Vietnamese building materials. Variety of exhibitions: Vietnam Building Materials Exhibition will bring together buildings, real estate, building materials, indoor and outdoor decoration products in one exhibition. For more than 20 years, both international exhibitors and local exhibitors in Vietnam have continuously brought new products, new technologies and new services from various industries to the exhibition site. It promotes the interaction between exhibitors and customers, and enables exhibiting companies to capture industry information at the exhibition site.
In the future, HuiYa will continue to uphold the firm belief of "strive to be the leader of the raised floor industry", further develop the market and travel all over the country and world.