55 Airflow Aluminum Raised Floor Grille Panels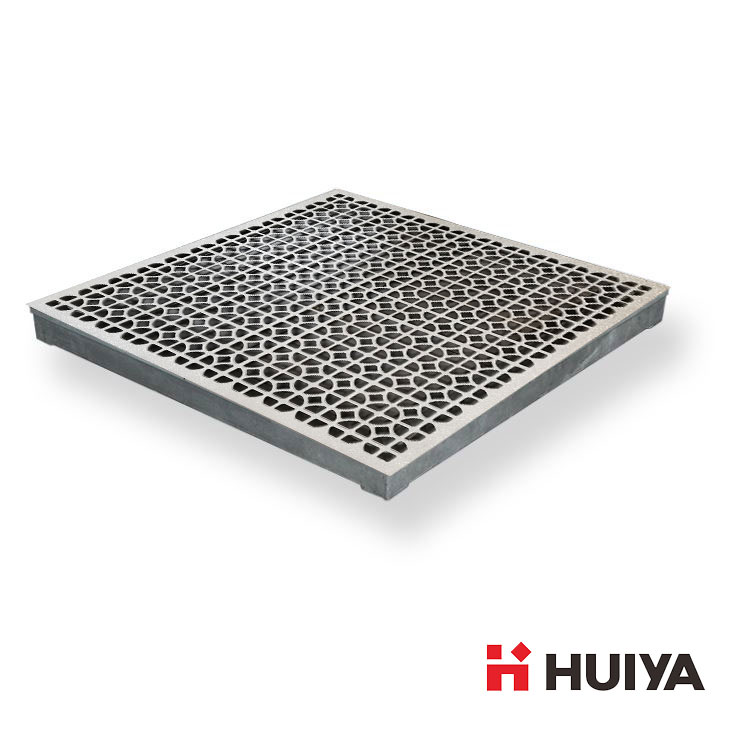 /ImagesProduct/55% Airflow Rate Aluminum Raised Floor Grille Panels.jpg
55% Airflow Aluminum Raised Floor Grille Panels
Sell Type: International business
Product Attributes:
Email: [email protected]
WhatsApp: +86 18018280738
PRODUCT DETAILS
Aluminum Raised Floor Grille Panels With 55% Airflow Rate | Huiya Perforated Raised Floors
Huiya 55% Airflow Perforated Raised Access Floor Tile - Die-cast Aluminum Grille Panels with 55% unobstructed open area, are designed for new and existing data center and computer room applications, also is the ideal solution for use in contained aisles with high foot traffic. This Raised Floor Panels come with features - high strength, low weight, effortless reconfiguration, and retrofit, affordable and cost-effective.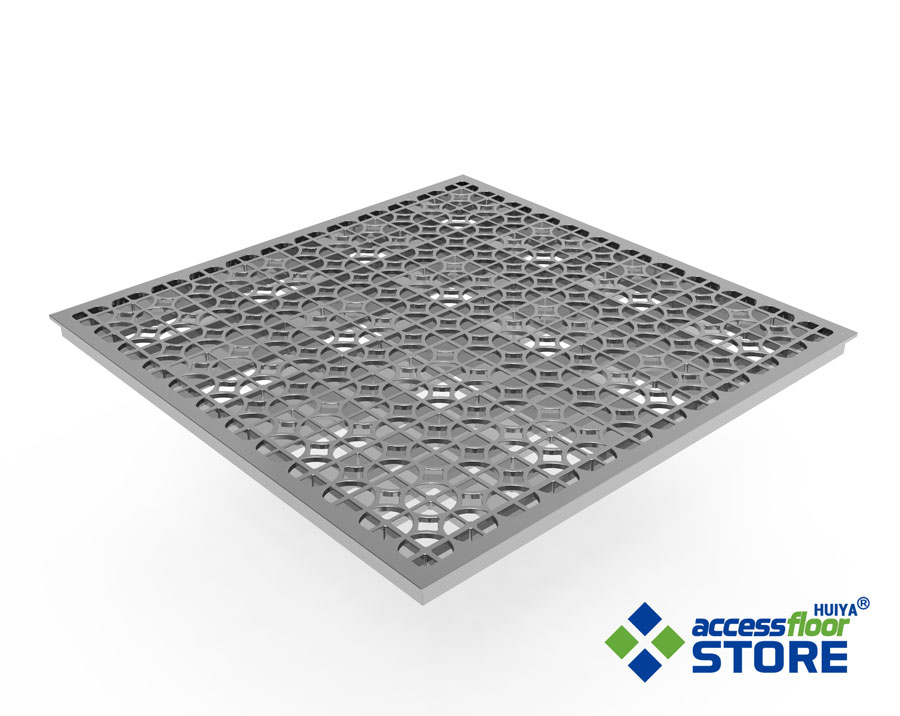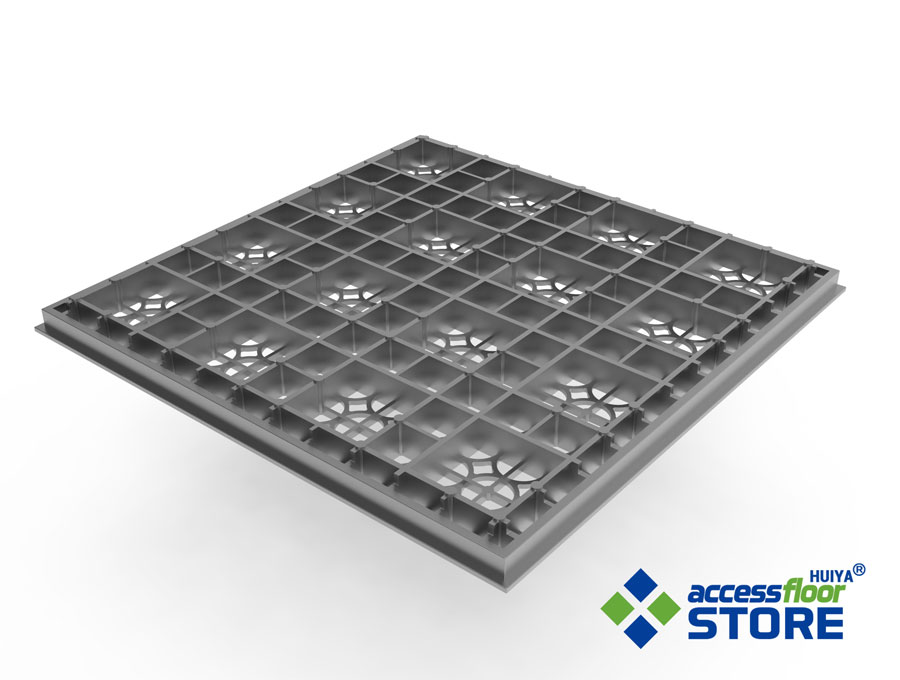 Specification of 55% Airflow Aluminum Raised Floor Grille Panels
HuiYa all-aluminum grille anti-static airflow floor tile is made of high-quality aluminum alloy through precision casting. Its structure of the front and bottom surfaces is similar to that of anti-static all-steel raised floor, but its inner cavity is empty, without foaming cement filling. Ventilation holes are punched in the steel plate and the upper surface panel. Adopting a high load structure design, the surface of the 55% airflow Perforated Raised Floor is sprayed with frosted powder, which has an antistatic effect. In addition to preventing the generation of static electricity and bearing the load, the aluminum grille raised access floor tiles can be equipped with cables, air conditioners, pipes, and can be freely opened and renovated.
Product Model: AFG55

Base Material: Die-cast Aluminum

Airflow Rate: 55% unobstructed open area

Top Surface Finish: Frosted Spray, Anti-static

Size: 600x600x45mm

Tile Weight: 7.4KG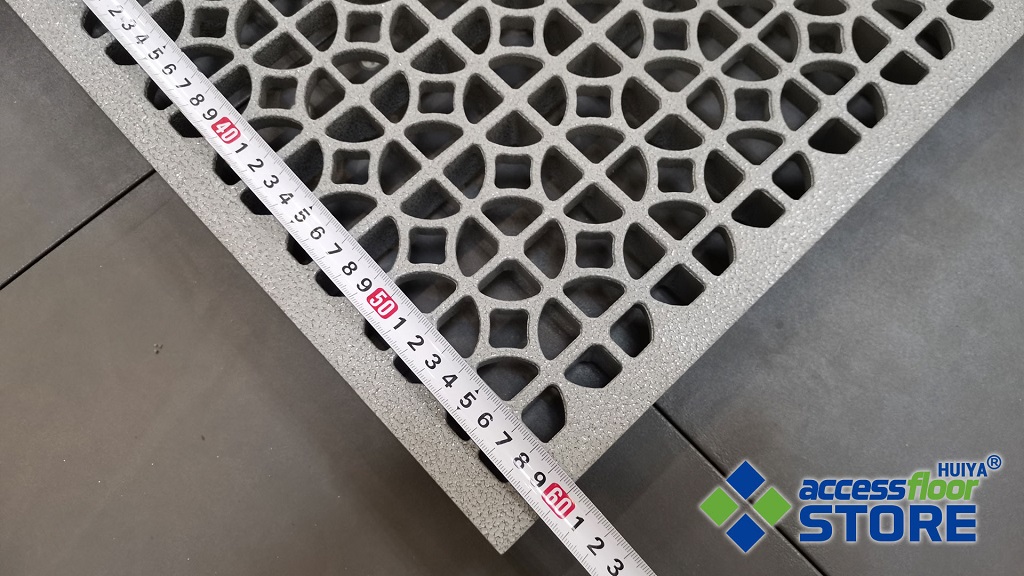 Structure of Aluminum 55% Perforated Raised Floor System
Our Aluminum 55% Perforated Raised Floor System is an elevated structure with a strong overall stability, which is composed of an aluminum alloy antistatic floor, a vertical raised floor pedestal, a transverse traction truss stringer, and a noise reduction gasket. The cross stringer and its height-adjustable pedestal are connected by screws to form a stable lower support system, and the perforated tiles are inlaid on a grid surrounded by the cross stringers.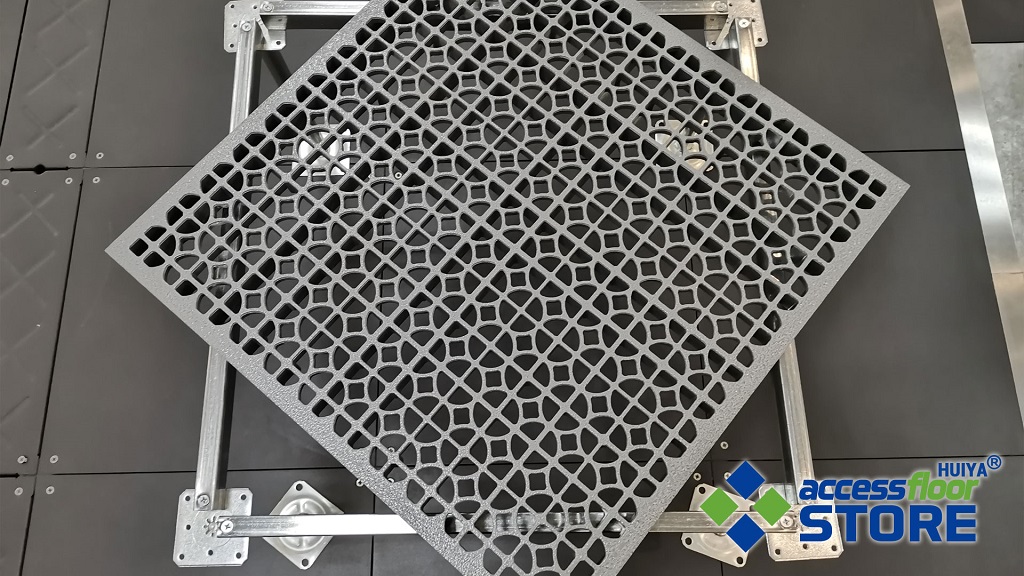 Advantages of Our 55% Airflow Aluminum Grille Access Floor Panels
Standard flooring components, high dimensional accuracy, easy construction and good interchangeability;

High-quality cast aluminum and all-steel combination structure, high strength and strong impact resistance;

High load structure design, adjustable erection height;

Surface electrostatic coating treatment, good corrosion resistance;

Panel color, material and functionality can be selected according to requirements;

Moisture-proof, rust-proof, fire-proof, durable, recycling long-term use of floor materials;

55% ventilation rate, good ventilation performance.
Application of Huiya Aluminum 55% Perforated Access Floor Tile
Cast aluminum honeycomb 55% airflow access floor panel is suitable for telecommunications, power electronics, microelectronics, medical and other industries of program-controlled computer rooms, server rooms, data centers, power dispatching rooms and various computer rooms, even high-grade clean rooms.