News Tag
Products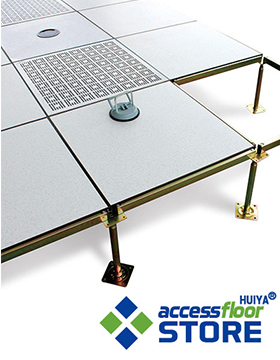 Office Raised Floor Specification, Structure & Benefits of Using Access Floor In Office
2020/1/7 23:01:08
The tertiary and open space offices must be modular to adapt to the business world. To change the configuration of workstations, replace technical equipment and be at the cutting edge of technology, raised floors are the ideal choice for modern offices!
What is the Raised Floor For Offices?
A raised floor (access floor or false floor) is a technical elevated floor created above a solid floor slab usually made of reinforced concrete, leaving a void in between.
Raised floors first appeared in the 1960s and have become more common with the increasing demand for technology in buildings. They are often found in offices or in areas with high demand for information and communication infrastructure such as data centers.
In general, the floor tiles measure 600 mm x 600 mm. Office Raised Floor can be made of a chipboard core, covered with steel or can be laminated with finishes such as wood or stone. The voids on the ground can be as little as 20mm deep, and usually no more than 1,200mm, although custom systems can provide greater depths. For example, the below 600X600mm Office raised access floor on AccessFloorStore.Com is the most popular choice for customers, while Huiya as a professional office raised floor system supplier also accepts other customized sizes due to customers' requirement.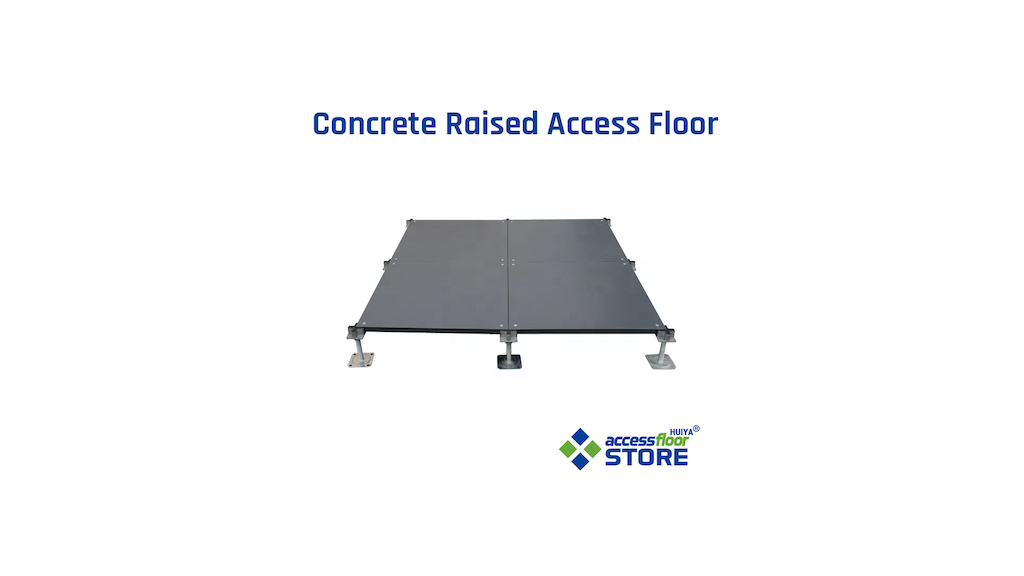 Structure (Components) of Office Raised Access Floor
Typically, the components of raised floors used in office buildings include:
Adjustable Raised Floor Pedestals, providing an adjustable vertical support structure for the raised floor. These can be linked to the basement and adjusted to provide a level plan.

Reinforcement Strangers (bars), which can be used to connect the pedestals together, thus creating a frame for the floor panels and ensuring lateral stability, especially for deep vacuum constructions.

Access Floor Tiles, creating the flat surface of the raised floor.

Raised Flooring Finish, often carpet tiles that can be lifted to give access to the plenum.

Raised Floor Routing Boxes included in the floor tiles allow data services to penetrate through the floor and provide connection points for power, data, telecommunications, etc.
What Are the Benefits of Using Raised Floor In Offices?
The raised floor system provides the flexibility of layout for construction services and, with the inclusion of removable floor tiles, allows quick and easy access for reconfiguration and maintenance. It also makes it possible to reconfigure or rearrange the spaces while disturbing the distribution boxes on the ground as little as possible, the furniture or repositioning partitions.

Today, modern technical floors have become more democratic. They are generally composed of removable access floor tiles resistant to heavy loads. Thus, the underfloor airflow system (the free space between the two floors) allows to pass several networks in all discretion:

- Distribution of electrical power,

- Cabling management for office optical fibre, data, and telecoms,

- Heating, Ventilating and Air Conditioning,

- Water supply and drainage,

- Wiring for environmental controls, fire detection, and extinction or security

They allow great flexibility while ensuring a beautiful visual harmony. Indeed, the raised floor is easily customizable and easily blends into the interior design. You can choose the finish that suits you, the material and the texture (linoleum, laminate, carpet, etc.) to create a space pleasing to the eye! A truly aesthetic and technical solution, the office raised floor also offers good thermal and acoustic insulation between the screed and the upper floor.

Raised floors can be gravity or loose systems in which the floor panels rest on the head of the adjustable foot, providing easy access to voids under the floor, or to raised or screwed floors in which the floor panels are attached to adjustable foot head for added safety.

Raised floors can create sound bridges allowing sound to pass from one office to another under the partitions. Floor coverings and sound barriers can be used to reduce sound transmission, and joints between panels can be minimized or sealed.
Prices of Office Raised Floor System
As for the office raised floor prices, they vary according to the m2 to be covered, the installing technique (freestanding mounting and mounting with sleepers) and the choice of component of the access floor panel. Note that some office raised floors are considered mobile partitions by regulations! If you are looking for affordable but high quality raised access floor for your office project, welcome to send your inquiry to us now!