News Tag
Products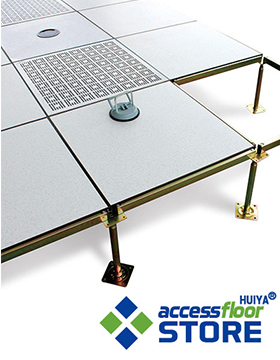 Why is data center raised flooring significant?
2020/1/11 19:49:08
Why is data center raised flooring significant?
Raised floors system is more beneficial compared to other designs such as suspended ceilings, skirting and trunking. Most computer rooms and data centers are configured with this type of flooring system because of the benefits that we shall see later. I know you might be asking yourself what is this raised floor that we are talking about right? Well, the raised floor can be alternatively referred to as platform floor, raised access floor or Access floor. This is a type of flooring that is created to leave an open void between two solid floor slab. Space can be used for water supply and drainage, electrical power cabling for data and telecoms, cabling for environmental control, fire detection and suppression, heating ventilation and air conditioning.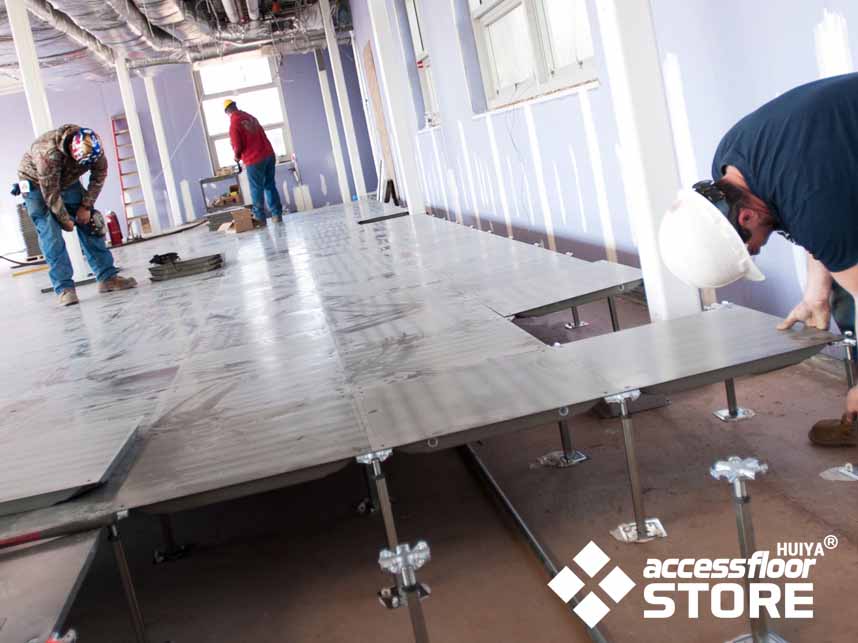 The History of Raised Floor
This type of flooring was the first witness in 1960 but nowadays there is an increase in demand in most of the buildings which require communication and information infrastructure such as data centers. The good thing with this floor system is that they are flexible because of easy maintenance, easy access tor recover configuration and removable floor panels.
Additionally, here are some of the components of raised flooring. These include floor boxes that cut into floor panels to provide connection points for data and power, floor finish which is normally carpet tiles, pedestals and floor panels that create a flat surface on the raised floor. Research has shown that there a lot of impacts as to why data centers use raised flooring. Read on and find out.
The Function of Raised Floor Systems
1:Keeping the data center Cool
The major problem in most of the data centers is the high amounts of heat which are generated by the servers. This makes it problematic among the managers and the designers. Therefore when the servers get overheated it is important to find a way to provide extra cooling for proper maintenance of the existing infrastructure. Such a problem is normally caused by poor airflow Management by cooling systems in place. Therefore, perforated raised floor tiles are very appropriate in keeping the data center cool because they are easy to maintain and make the working environment conducive. However, these styles should not be placed permanently because they can restrict airflow.
Alternatively, grates can also be used as a quick fix of hot temperatures. They are capable of creating up to three times of air circulation. Installation of many tiles allows air to bypass which makes it a preferable option than recirculation.
2:It allows Additional Equipment and cabling
Installation or upgrading of any new equipment has been made easy in a data center courtesy of a raised flooring system. This can include the renovation of premises or installation of cabling. It provides ample space which allows effective cabling and it is cheaper than mounting the cables in the ceiling. It also helps in consolidating power plugs, physical ports and hiding the cables.
This keeps the floor neat and uncluttered. The data center should have an effective wiring system to ensure there is nothing that blocks lighting fixtures and any technician does not need to access the cabling using ladders.
3:Flexible Design
Flexibility in the construction of a data center raised floor needs to be considered so that the facility is given some room in case of future development needs. This will make it easy for the installation of future and current equipment. Once a floor is installed space underneath will allow effective circulation and it will be easy for the technicians to undertake regular maintenance and cleaning.
Additionally, the data center with a raised floor is better than that with a slab based design because more air can be channel under the floor thus allowing effective cooling of the equipment.
Data center raised floor tiles don't require the attachment of the cabinets on the slab or channeling air from the roof because they are more modular and there's no need to install a cooling infrastructure. It also allows the facility to relocate their equipment easily.

4:Raised floor tile is easy to maintain
Effective tile maintenance of a data center is very necessary to keep off potential hazards and Pollutants that could easily lead to occupational health hazards. Therefore, raised floor tiles have been designed in a way that it is easy to clean the dust that at settle underneath the tiles and the equipment. The technicians will have to adhere to the regular cleaning policy of underneath the raised floor this is to ensure that these tiles are clean and free from contaminants that could get into the servers which increases the risk of equipment failure.
Also, a data center with a raised floor should ensure cabling management is taken seriously. This is because if cables are stacked in one area they could prevent some equipment from being effectively cooled or they can even restrict and block the airflow. To avoid such a scenario, data center managers should monitor the cables and arrange for the replacement to be done on existing cables to ensure the optimal performance of the equipment.
5:Grounding capabilities
Raised floor tile system is not grounded but you can easily access the ground of the building because their design allows them to dissipate static energy effectively.
6:It reduces on Cost
Cost is among the top consideration for the construction of a data center facility. This is because there will be running costs alongside the construction cost which requires the planners to effectively come up with a strategy on how they will minimize the overall cost of the data center. Therefore having a raised floor tile system it helps in cost reduction because it can save on the running cost. I know it might be costly at first to install but as time goes it dramatically reduces operation cost.
Conclusion
Raised floor system might appear as one of the oldest designs to be used to meet the cooling needs of a data center but as you have seen it has proven to be very effective. Therefore data center managers should maximize this technology because it offers a lot of benefits as we have seen in this article. Technicians should also adhere to the standards of cleaning and maintenance to obtain sustainable results.