How To Remove Self-Adhesive Vinyl Floor Planks (Peel and Stick PVC Tiles)?
Tired of your self-adhesive vinyl floor plank or your peel and stick PVC floor covering shows signs of damage over time? Perhaps you are thinking of changing this type of floor that you have in any of the rooms. Then you do not have to commission a specialist, but can also remove the peel & stick vinyl floor yourself. It is only important to carry out this preparatory work precisely and conscientiously so that the new covering can be laid without any problems. That is why in this article we show you the steps you have to carry out: how to remove the peel and stick vinyl floor tiles effectively & how to clean the sticky residue from self-adhesive vinyl planks.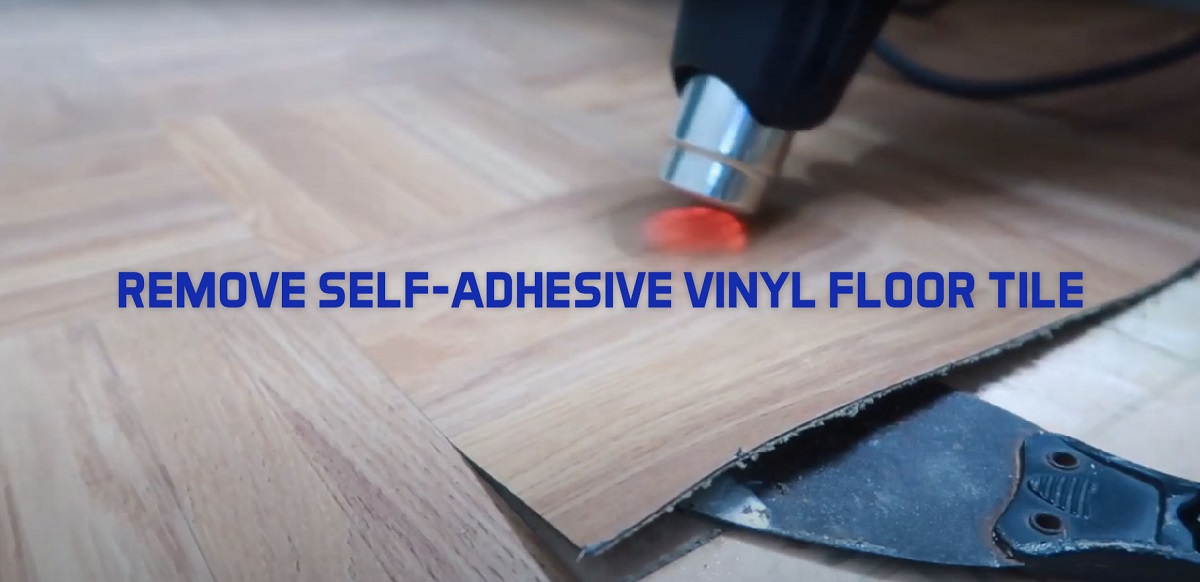 How To Remove Self Adhesive Vinyl Floor Tiles (Peel & Stick Vinyl Plank)?
How complex the removal depends on the adhesive used on the peel and stick vinyl tiles. Because modern adhesives are becoming more and more powerful and are therefore not easy to remove. Conventional adhesives that used to be used are hard and shear resistant. It is usually easier to remove them.
Tools You Need To Remove Peel & Stick PVC Tiles
You will need a spatula, a cutter knife and, if necessary, a dryer or electric scraper to remove the vinyl floor. In addition, you can wear knee pads, gloves and a mouthguard is recommended for all dust allergy sufferers so that the resulting dust is not inhaled.
Steps To Remove Self-Adhesive Vinyl Floor Tiles
1. Prepare the tools you will need well, wear knee pads and gloves to protect yourself.

2. Start cutting the covering in a corner near the wall with the cutter knife.

3. Now put the spatula under the covering and pry up the vinyl. Then do not pull the floor covering flat, but at a right angle.

Tip: If it comes up easily, you can keep using the spatula to warp the remaining self-adhesive vinyl floor; if not, you may need to do further works or use more powerful tools to loose the well-stuck tiles.

If you heat the vinyl floor with a hairdryer in the first step, it will be easier to loosen and remove. The use of strippers or electric scrapers, which can be borrowed from any hardware store, makes work much easier. A mechanical carpet stripper, which is also available in hardware stores, is suitable for large-area vinyl.

4. Then put the spatula under the adjacent peel & stick PVC covering again and pull off another piece.

5. Continue to use the hairdryer or electric scrapers to loosen stubborn tiles. If you are using a mechanical stripper, just need to remove the vinyl floor in rows, so easy!

6. Cut through the flooring as often as necessary until you can remove the entire vinyl floor.
How To Remove Peel & Stick Vinyl Tile Glue (Adhesive Residues) From Floor?
And not the least! Removing the self-stick PVC tile is a breeze, the hardest part is peeling off the ULTRA-POWERFUL glue which is now strewn on your floor! Make sure that any adhesive residue that may still be present after removing the vinyl floor is cleared before a new floor covering is laid out. For these often stubborn adhesive residues, use an electric spatula or, alternatively, methylated spirit or a white spirit replacement solution.
1. Still wear gloves and keen pas, also you need a mask to isolate the pungent smell.

2. Pour a generous amount of acetone over a small area and leave on for 2-3 minutes (let the glue dissolve a little).

3. Remove sticky residue from peel and stick tile as much as possible with a spatula.

4. Remove the rest of the glue by rubbing with your sponge (soaked in acetone) or your scraper.

5. Repeat the operation on the other zones.

6. You just have to wash your floor with water and household product.
Tips for cleanning peel and stick vinyl floor residual glue:
Here it is important to open your windows BIG and keep your door open to benefit from maximum ventilation in the room. You can also use a mask if you are afraid to inhale the product.

Acetone evaporates VERY quickly! it is better to work on small areas rather than pouring them all over the room.

NOT work! The below ways that you would find on the internet and that absolutely does not work well for removing self-adhesive vinyl plank sticky residue:

Use oil (food) = all oily and horrible soil to clean with the added bonus of the glue still present!

Use Coca cola = a can of tempered and the glue still present!

Put strips of paper towels all over the room, pour acetone on them and leave to sit = a spoiled paper towel roll! the acetone evaporated and the paper towel remained stuck on the glue! a disaster.

Use white vinegar = No particular effect, you have to rub again and again and with all your might to remove the glue.